Are you looking for a fun, multiplayer, golf VR game? TopGolf with Pro Putt VR might be the game for you. Let's get started on this Topgolf with ProPutt Review.

What is Topgolf with ProPutt?
Topgolf with Proputt is virtual mini-golf and Top Golf you can do right in your living room. Top golf is a fancy driving range where you shoot balls with microchips in them. This game brings that experience to VR as well as several golf courses to experience.
This game recently had a name change, it used to be called Pro putt with Topgolf but after the recent update with much more emphasis on the Top Golf portion, the name has switched around in the Oculus store.
Who makes Topgolf WIth ProPutt VR?
ProPutt VR is made by GolfScope Inc. This is their main game property.
Which headset is TopGolf With ProPutt Available On?
It is available on Oculus Quest 2.
There are quite a few sports games available on the Oculus Quest 2, from hockey to boxing, and golf. So what makes Topgolf with Pro Putt different? There is quite a lot packed into this game, so let's get to this Topgolf with Pro Putt VR review.
Controls for Topgolf with Pro Putt VR Game
When you start the game, you select left or right-handed. Then there is an in-depth tutorial to play. This gives you the basics on how to golf, as well as taking you to the TopGolf premium inside location.
What is neat about this Topgolf with Pro Putt VR game is that you actually do all the golfing with only one VR Quest 2 controller. Although this might seem strange, it works really well. You grip the one controller with both hands and there are realistic vibrations. It feels just like a club.
You hold down the top trigger button to teleport move to where the ball is. There is also a practice mode which is shown with the purple dot on the ball, then press the trigger again and flip to a live ball. Holding down the bottom trigger on the remote, you will be able to see the contours of the course. If you push the joystick trigger in, you enter 'giant mode'. Here you can see the entire course and figure out where you should be aiming.
There is also a very handy putting guide when you get close to sinking the ball. That is about it for controls. Super straightforward. Because there is minimal movement in this game, Pro Putt by Topgolf game is a good one for those who may experience motion sickness.
Campaign Mode in Topgolf with Pro Putt
In campaign mode, you have 4 courses to explore in both beginner and pro modes. The pro mode offers you less guidance on where you should be putting but is otherwise pretty much the same. In order to move to the next course in the campaign, you need to get Par or below for that level.
Once you finish a course, you can play it again at any time for fun. As you progress through the campaign you will unlock boxes that have fun cosmetic accessories like golf hats, golf balls, and trails.
These are just a nice little extra touch that you get to unlock while you play the game and gives you bragging rights later on in the Top golf multiplayer.
The world of Topgolf with Pro Putt is a beautiful and simple one. Cartoonish low-polygon graphics make up fantastical golf course designs. It set the right mood and allows you to feel like you are traveling to fun locations.
Multiplayer in Topgolf with Pro Putt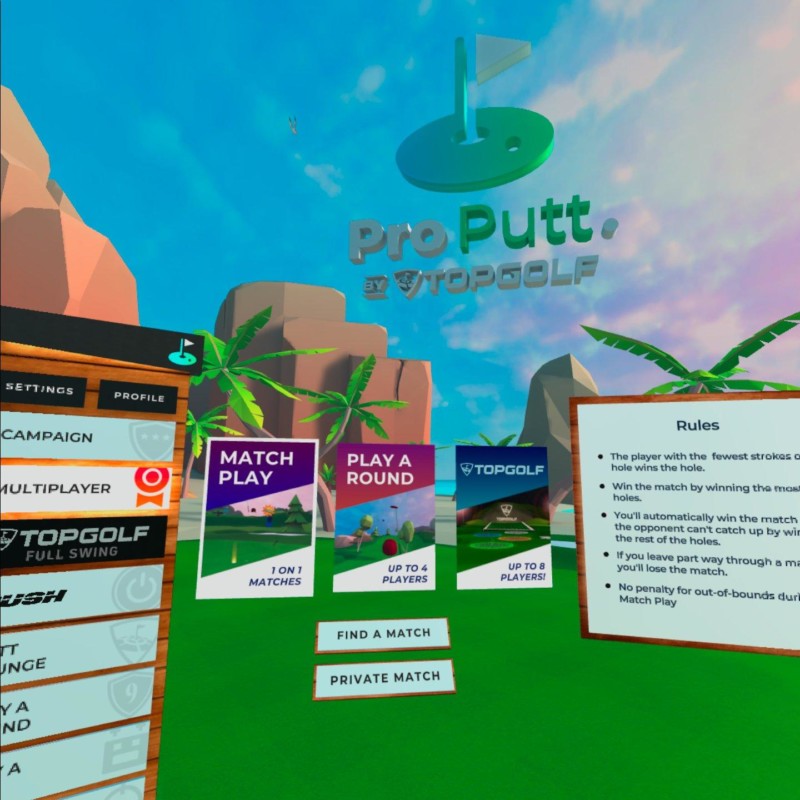 In Multiplayer, there are match play, round play, and TopGolf options. You can play a private match with friends only, chose to play against a random human, or play against a bot. If you choose to play with a random person, you get to play on a practice green, putting around, while you wait. Your partner will be a nice invisible baseball cap.
For the non-Top Golf version of multiplayer, you can play any available course. Whoever sinks the ball first in the round wins, regardless of how many shots the person took to get there.
You may end up waiting a bit in multiplayer depending on the time of day you play at.
Top Golf Lounge Experience
Let's get to the really fun part. The Top Golf VR lounge.
If you have never been to a TopGolf before, they are a huge, modern, fancy, driving ranges with a kind of night club type feel. You hit golf balls that have a tracking device in them towards large colored areas in the driving range. Detailed stats appear on the nearby computer screen showing you how far and well you hit your ball. This Topgolf VR game takes that same concept and bumps it up a step.
Entering the Top Golf VR lounge has the same chill atmosphere as real life. There are couches, a fireplace, mood lighting, party mini-games, video screens, and places to hang out with your friends.
Hang out with your friends in VR
A really cool feature here is the ability to play various types of music or videos via the video player. This is a great relaxing way to get together with your oculus friends. Everyone can sit around, watch videos, play the mini-games like cornhole or putt pong, and of course, play some Top golf. It's almost like 'real-life' socializing. If you are looking for a fun party game with your friends, this is it.
Top Golf Multiplayer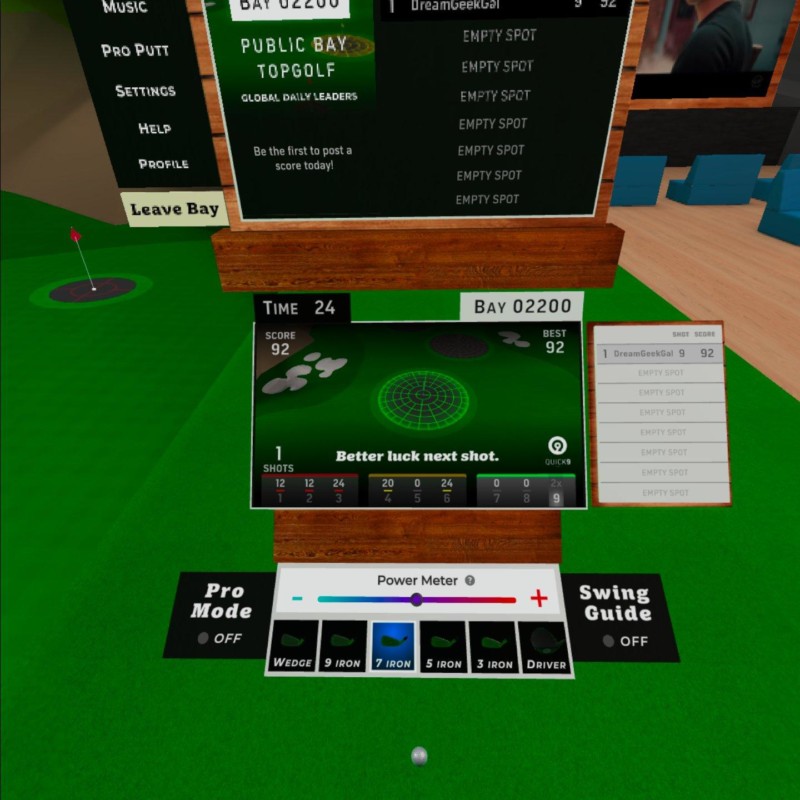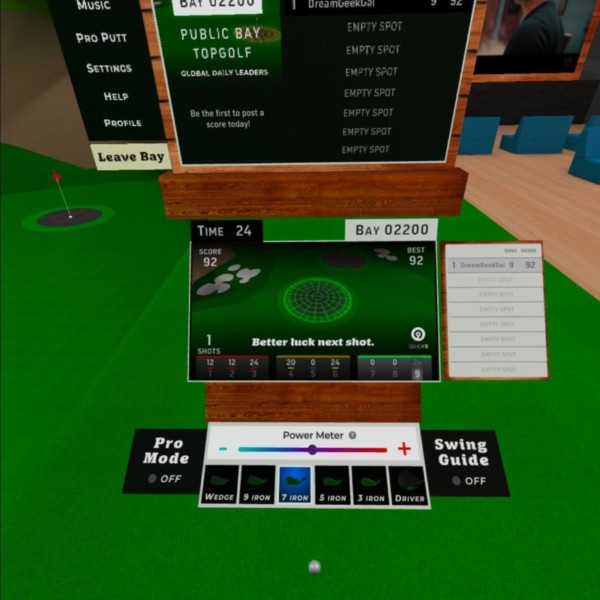 There is also a multiplayer option for the Top golf area. You can play a whole bunch of different versions of Top Golf against other real people. There is even a leader board too.
You have the ability to use a wide selection of clubs. This helps you hit those far-away scores. There is also a local multiplayer option. So if you and your friends all have Quest 2 in the same house, you can sync up and golf together. This makes this a great game for families.
Final Thoughts On Topgolf with Pro Putt VR Review