Antec has released an Xbox One Cooler. Pretty much anyone who had a first generation Xbox 360 console remembers the "red ring of death". For those who avoided the tragedy, Xbox 360 tended to over heat, freeze up, and display a sad red ring that would not go away. Part of the issue of this was determined to be an overheating issue.
Antec jumping ahead to next generation console, decided to keep your Xbox One on track and provide an Xbox One Cooler. They sent me one to review. Now I hear what you are saying.. Xbox One has not had any sign of the over heating issue that plagued its previous counterpart, and you are right. But there are some other unique advantages to this $29.95 item. I have a horrible habit sometimes of leaving my Xbox One on for hours. I pause a game in the middle of something and walk away, expecting to return shortly. Life sometimes gets in the way and I live the console running. The Antec Xbox One Cooler has a lovely temperature display on the front. It shows that the temperature remains around 104 F. Unplugging the Antec Xbox One Cooler, results in the temperature skyrocketing to 108F. This is not good for any electronic. Although the Xbox ONe has no known issue with overheating, im sure temperatures this high are not solid for the longevity for the device. Another rather nice benefit of the Antex Xbox One Cooler is the sleek smooth surface. Placing the cooler on top essentially allows you another top that you can place things on, things like your controller. If you do this without this panel on, you are blocking your fans and could make things even worse. I fully realize this device is not going to be for everyone, but if you like keeping your electronics for a long time and you have any habits similar to mine in terms of "leaving it on" or placing things on top, perhaps for the price, this is something you could check out. I enjoy mine.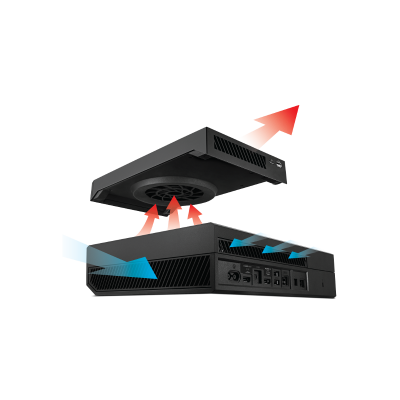 Keeps Xbox One running up to 30% cooler

Rubberized, Non-Skid Platform for charging your remotes and more

Dual temperature displays the temperature of your room and the Xbox One

Automatic On and Off, starting at 86 Degree

Silent Fan for minimal noise during game play
Purchase this item now on Amazon with the link below(aff)
Antec provided me a unit to review.