Rosewill RX202 Review – This year I had the privilege of touring the Rosewill Inc. booth at CES (2016) The reason I put it that way is because I've been a long time customer of theirs. As the "house" brand of Newegg per say, I've always had great success with their stuff and much of what they produce appeals to me from an aesthetic standpoint as well as a financial one. Introductions were made, hands were shook and at the end of it all, I was offered various products* to test & review. Today I'm looking at an aptly named armor looking enclosure.
I'm constantly building PC's and moving data around, so I rely on external drives to help make that task easier. Having the opportunity to test this item, fit right into my needs. The Armer RX202 USB 3.0 Full Aluminum 2.5 Enclosure appears to have the "right stuff" that I can rely on.
What's in the box?
The contents of the packaging are pretty basic. You get the enclosure, USB 3.0 Cable, a screwdriver to open the enclosure  and a quick guide.
Stock photo of Rosewill RX202 USB 3.0 2.5″ Enclosure from Rosewill Inc website
Rosewill products are generally easy to use and pretty self-explanatory. This one was no exception.
 How does the Rosewill RX202 USB 3.0 2.5″ Enclosure work?
Basically, you undo two screws and connect your drive to the Sata connector board. Slide it in, replace the screws and you're ready to plug it to your USB 3.0 port.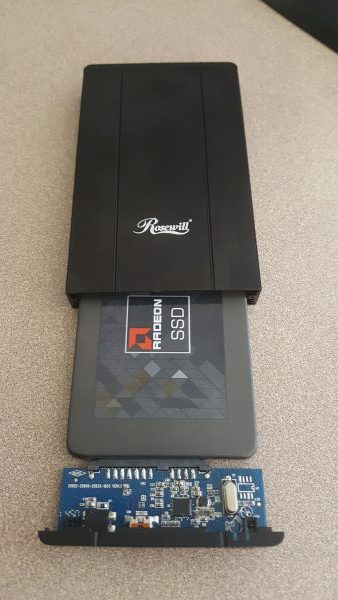 The enclosure will accommodate up to 12.5 MM drives and 2TB capacity.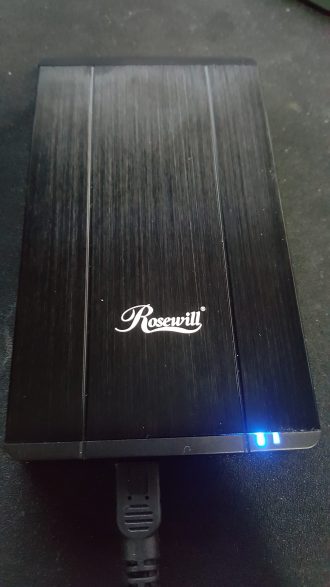 Testing
The drive I chose to test with, is AMD's new 120GB R3 Series SSD. With a theoretical speeds of 520mb/s read /  360 mb/s write, I was curious to see how the controller would handle the thorough put of a Solid State Drive . Running 3 consecutive tests of Crystal Mark & ATTO yielded the following results with the Rosewill RX202 USB 3.0 2.5″ Enclosure.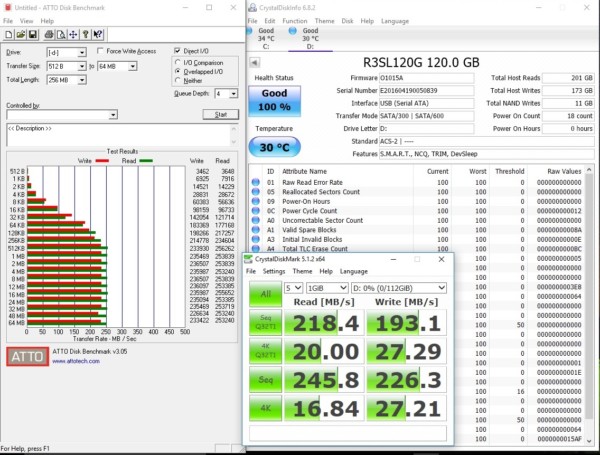 These tests were run 3x with near identical results.
While not hitting the drive's advertised speed, it was fast enough that it wouldn't be noticeable to most users in daily conditions. I did like the recorded temperature of the drive after the 3rd test as shown in Crystal Mark Info. I've been keeping an eye on my data transfers and I rarely see the drive temperature exceed 32 degrees, even on a long write. The device supports super speed USB 3.0 up to 5 Gbps and 2.5″ SATA I/II HDD or SSD. So depending on your setup and drive of choice, you can expect your results to vary.
 Final thoughts on the Rosewill Armor looking enclosure – Rosewill RX202 Review
This external enclosure from Rosewill is a worthy investment in my opinion. At under $30 most of the time, it's a very simple plug & play operation. It has good looks, a sturdy build and the black brushed aluminum housing offers a sweet industrial look along with adequate cooling. After 5 months of regular use it has performed trouble free and as expected. Next time you find yourself needing an external drive enclosure, be sure to give the Rosewill Armer RX202 USB 3.0 2.5″ Enclosure a look. I think you'll be glad you did. I know I am.
*While I did receive this item for free, I've really grown to rely on this armor-looking enclosure and it's proving to be a vital part of Pc building.