Let's get started on this Walkabout Mini Golf Review.
What is Walkabout Mini Golf?
Walkabout Mini Golf VR takes all the parts you love about real-life mini-golf and brings it to you in VR. The game boasts about accurate physics, lots of courses, and tons of multiplayer fun.
Does it live up to the hype?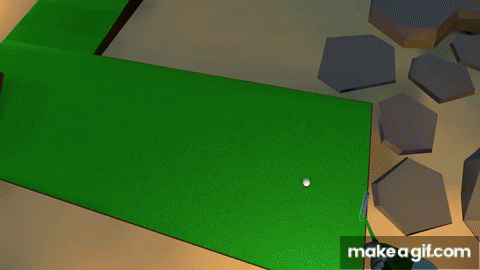 Who Makes Walkabout Mini Golf?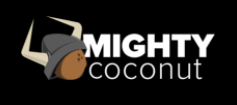 Walkabout Mini Golf is made by Mighty Coconut. They are a game developer and entertainment studio based in Austin, Texas. The team has made several other AR experiences and movies.
Walkabout Mini Golf is their main VR game property and they continue to be very active with the game and the VR community.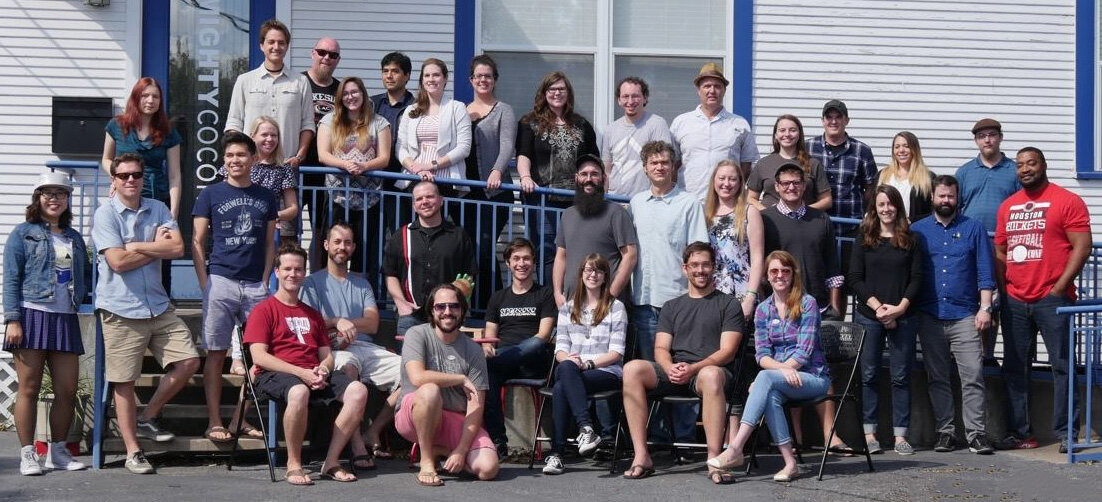 Which VR Headsets is Walkabout Mini Golf On?
You can play Walkabout Mini Golf VR on Steam VR, Viveport, Oculus Rift, and Oculus Quest 2. There is cross-buy between Oculus Rift and Oculus Quest 2.
There is also crossplay so Steam users can play with Oculus users without issue.




A Walkabout Mini Golf Tutorial
This is one of the easiest games to learn how to play in VR. The controls are extremely easy.
You only use one control for the entire experience, the game tells you this immediately and suggests you put the other controller down when you first start playing. You can also look at your wrist and see your stats.
The primary game movement is teleportation and it is done by pushing the joystick or even better by pressing the trigger. A trigger press automatically places you right next to the ball. You may need to turn a bit in real life or with the joystick in the game to get the correct lineup for you, but overall everything is extremely straightforward.
The tutorial is replayable so you can be walked through the easy instructions for any new players at any time.
There are also many different options to customize your player from the main menu character creator. Lots of choices to make your unique golfer.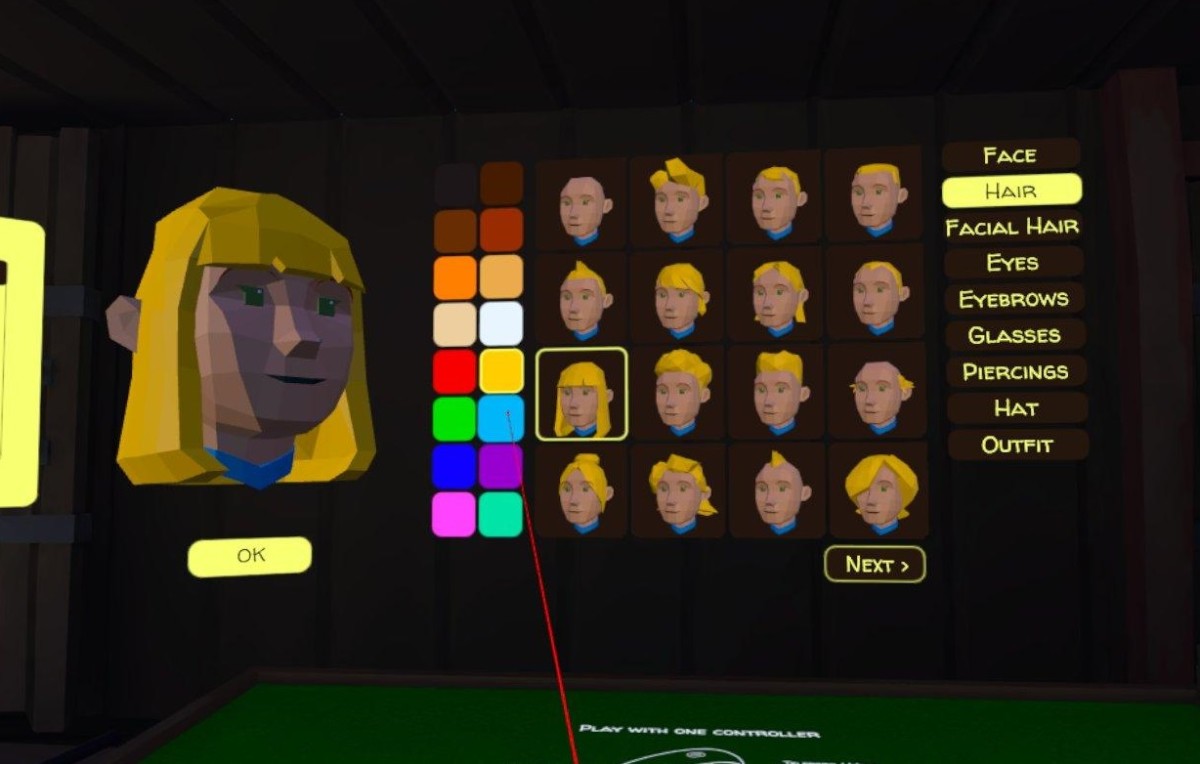 A Walkabout Mini Golf Gameplay Review
Once you pass the simple tutorial you will continue to play a pirate cave mini golf course. The graphics are very whimsical and between the beach waves, waterfalls, and flickering torch sound effects you will really feel like you are there.
There is no triple-A graphics here. Things are simple and use low poly graphics generally, but this vr game somehow feels like one of the most 'real' VR experiences.
In real life, mini golf courses try and create interesting and unique fantasy experiences.
In Walkabout mini golf they shoot for a similar simplistic and beautiful fantasy feel on the maps. There are many different themes to the different courses from space to western, to cherry blossoms gardens, to Celtic themes. You are sure to find a few courses that suit your mood.
As you progress through the map, the holes get more interesting and unique. There is no VR flying holes or mystical floating balls. The game keeps to reality.
In fact, the golf mechanic feels extremely real. When you lightly tap the ball will hardly move, if you give it your all, it will go bouncing and flying around the map. The only noticeable VR moment is when a ball is close to an edge, your putter will float through the rock edge and allow you to hit normally.
There is no fighting, gore, guts, or battles. Just a relaxing atmosphere, pretty locations, and mini-golf entertainment. Walkabout mini-golf delivers exactly what you would expect. A true-to real-life, fun, mini-putt experience.
Lost Balls and Fox Hunt
There are also some extra mini-games and collectibles available.
Each regular map has 18 lost balls, one per hole. You can teleport around before or after playing the hole, and try and find the ball. In fact, I had a lot of fun just looking for the balls and gave up on one play-through with a friend. We just went looking for the hidden balls.
Once you get 10 hidden balls or complete a regular map below par you will unlock Hard mode for each map. There will be newer harder obstacles on each map and everything will be displayed in a nighttime mode.
The hard mode also unlocks Fox Hunt or a Treasure hunt. You start the Fox hunt by going to the first hole. Look around until you see an arrow pointing to a clue. Then you will use your wrist to read various clues and puzzles you will need to follow to find more clues. When you get to the end of the hunt, you will unlock a unique putter!
These are just fun additional included experiences when you get tired of mini putting.
Walkabout Mini Golf Multiplayer Experience
This is one of the best parts of Walkabout Mini Golf. You can quickly and easily set up a room for you and your friends, or even random people to join and play some rounds of mini-golf. Many families that are great distances apart use this game to experience all the fun of playing mini-putt like you are in the same room. This is considered by many to be the best and easiest online multiplayer experience.
You can simply select the private party experience, create a room, provide that information to your friends and you are playing mini putt!
Local Party Mode in Walkabout Mini Golf Review
So this is a big one. There is no local party mode at this time. This means that if you have some people at your house and you want to each take a turn in the headset and then pass to the next person, you are not able to do so at this time.
They have mentioned they are working on this mode, but be aware if you want to play with friends and family at home, you will all need your own headset at this time. You could also try using practice mode and doing one hole at a time, but a local mode would be much welcomed.

Who Will Enjoy Playing Walkabout Mini Golf?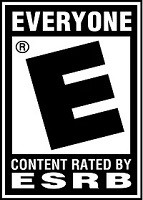 Walkabout Mini Golf is rated E for Everyone. This game is great for people who love mini-golf, people looking for a great multiplayer VR game, or a laid-back and relaxing VR game.
Older folks will enjoy this as the controls are not complicated and it has an easy pace. Kids will enjoy this as well. This is a great game to get for several members of the family on their headsets to all play together, just like real-world mini golf.
What Games are similar to Walkabout Mini Golf?
A similar golf experience in VR would be Golf+. For additional multiplayer games, Real VR Fishing and Cook Out A Sandwich Tale are great choices.
How long is Walkabout Mini Golf?
There are 8 unique 18 hole courses in Walkabout Mini Golf included. Each mode also has a harder night mode to step up the challenge. There are also 2 additional DLC 18 holes courses you can purchase.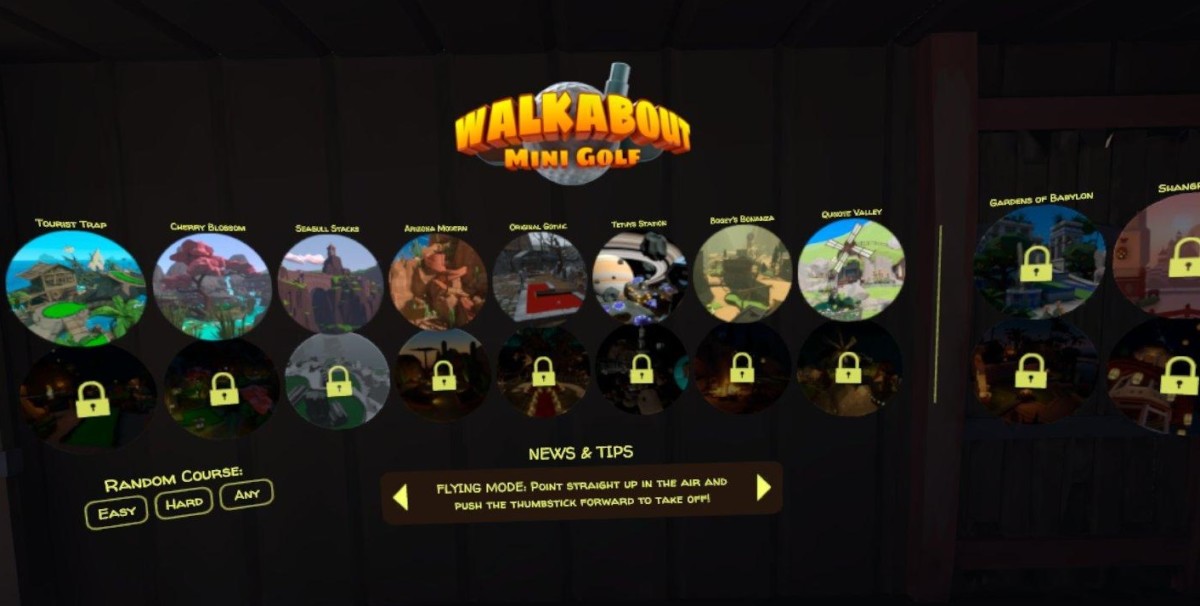 In the core game, There are also 188 hidden golf balls located around the courses, as well as the FoxHunt portion.
One playthrough depending on your speed and skill will take about 25 minutes.
Overall there are many hours of gameplay here to enjoy – 20+ hrs at least.
Can you play Walkabout Mini Golf Sitting Down?
Yes! Walkabout Mini Golf can be played sitting down although you still need some room to putt properly.
The preferred method here though is standing. You will be putting just like in real life. You do not need a large play space or room movement but you will likely be turning around in your play space a fair amount.
Does Walkabout Mini Golf cause motion sickness?

You play Walkabout Mini Golf in a stationary position. The default method of movement is in-game teleportation and instant transport to the next location. This means motion sickness is very unlikely. There is regular movement if you prefer, but it is really easy to just push a button and appear at the next hole.
Walkabout Mini Golf should not cause any motion sickness issues.
Final Thoughts On Walkabout Mini Golf Review. Is Walkabout Mini Golf Worth It?
Walkabout Mini Golf is totally worth it!