Let's get started on this Iron Man VR Review.
What is Iron Man VR?
Marvel's Iron Man VR makes you a superhero! You play as THE Tony Stark, complete with Iron Man suit and all the weapons, gear, and gadgets. You get to fly, shoot down the bad guys, and track down an evil supervillain, all while following a compelling officially licensed Marvel-themed story.
But just how fun is it flying around in VR as Iron Man?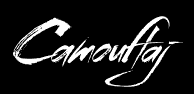 Who Makes Iron Man VR?
Iron Man VR is developed by Camouflaj. They are large game developers located in Seattle, Washington, and Kamakura, Japan. They have created other VR experiences Including Republique.
Iron Man VR was nominated for the Game of The Year award in 2020 and 2022.
Which VR Headsets Can You Play Iron Man VR On?
You can play Iron Man VR on PlayStationVR, and Meta/Oculus Quest 2.
Iron Man VR was previously released on Playstation 2 in 2020.


Iron Man VR Tutorial
There is a very detailed tutorial that walks you through all parts of movement, flying, and interactions. This is SO detailed that even a new person to VR, a senior player, or a younger player can follow these directions and get flying around quite easily.
Everything starts with you extending your arms to get the proper width. Then you get to select exactly how hard you want the game to be from a number of options.
Iron Man VR is a mix between action sequences and cinematics. During the Cinematic story sequences, you will be doing a bit of walking around movement. The tutorial starts you off by selecting which type of movement you are comfortable with regular continuous joystick movements or teleportation. Once you walk over to the stage podium, the game then allows you to confirm this is the type of movement that you are comfortable with.
That is the level of detail in the tutorial.
Then you will learn all about the really cool part. Flying as Iron man. Again the tutorial is detailed and the controls are pretty simple. You positioning your entire controller to control the movement and man does it just work.
As you fly past that Marvel and Iron Man logo, you're likely to feel a few goosebumps. It's good. The remainder of the first chapter gets you involved in the action, and story.
Iron Man VR Review Gameplay
And Boy oh boy is there a story here! There is a full fledge, made-for-VR comic book adventure to play out.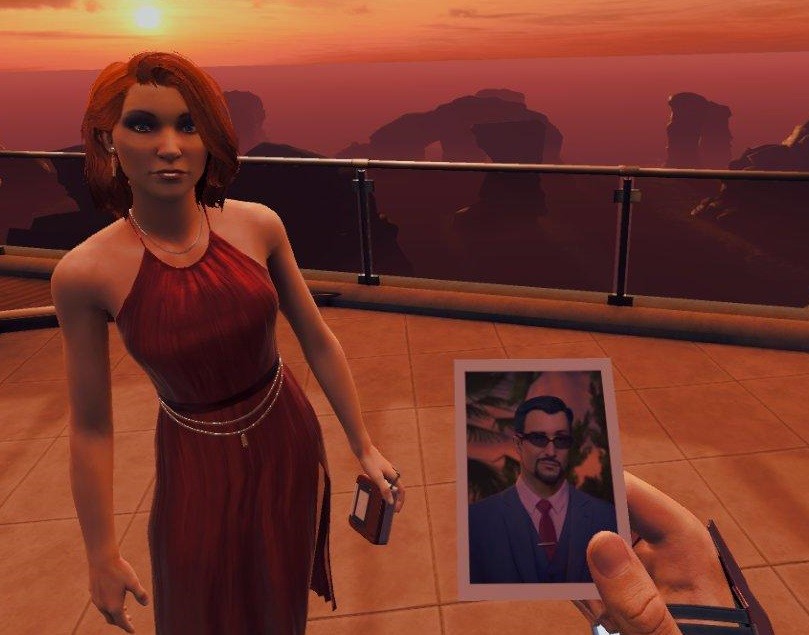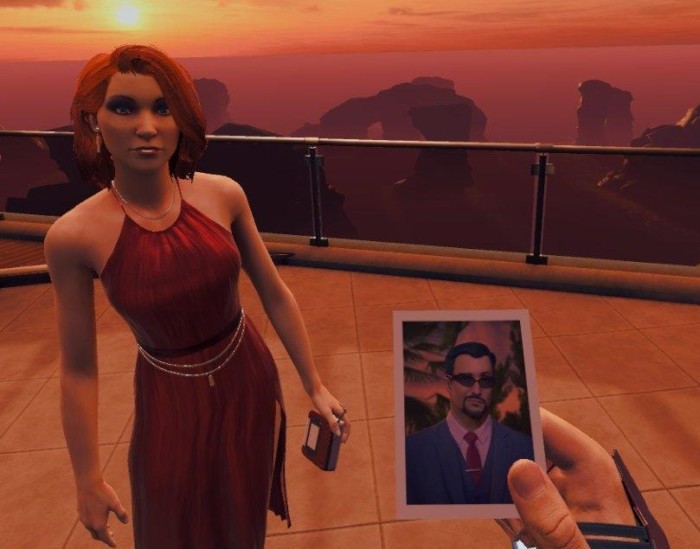 The story starts somewhere between Iron Man 1 and Iron Man 2 movies, with Tony Stark announcing he is getting out of the weapon's manufacturing experience, and moving on to peace and clean energy. He deactivates Gunsmith, which is the AI version of himself that he created to help manufacture weapons and plan out battles. Time moves on until one day Tony and Pepper are attacked by Ghost. A mysterious computer hacker who is using a tech suit of her own. That's all you need to know about this unique story.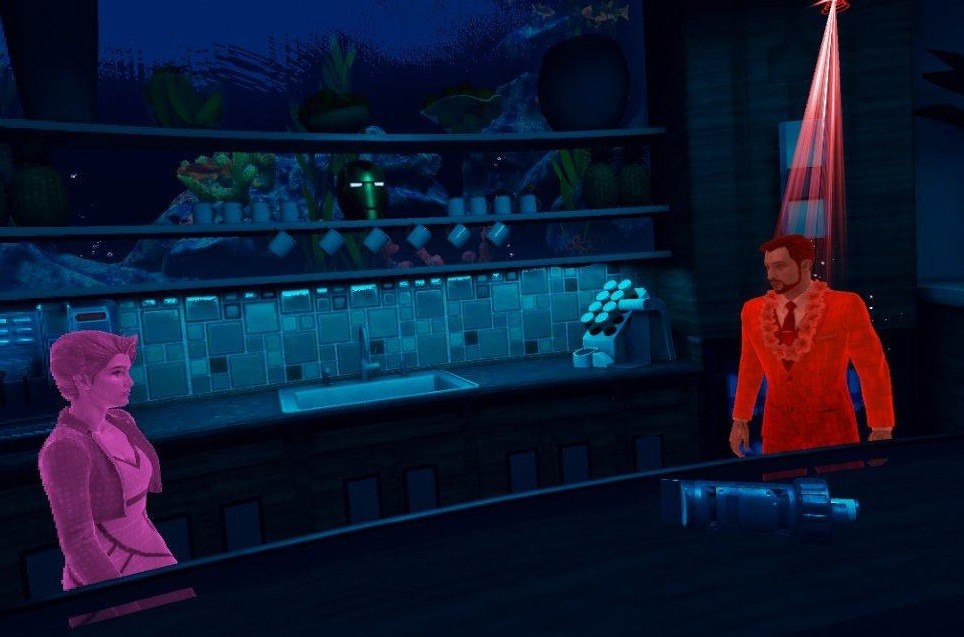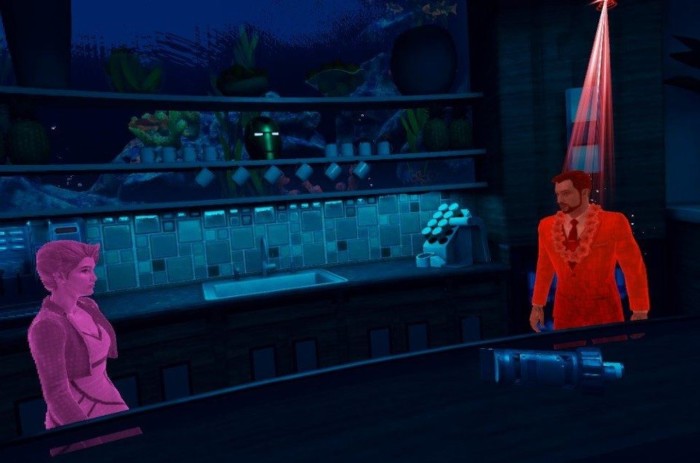 On to the VR game experience….
You get to walk around Tony Starks fancy-pancy house – Complete with AR-upgraded plants, Iron Man Status, and Piano Music experiences. You can interact with a bunch of different objects IN the house besides just the main story items. All these nice little touches help you to feel like you really are there and experiencing the life of Tony Stark.
Pepper Potts is also here in all her glory and interacts with you all throughout the story. Nick Fury makes an appearance as well. This is an official Marvel-licensed experience after all.
When you are interacting as part of the story there will be simple commands to follow like, "investigate music" or "Talk to Pepper". There will be large yellow markers telling you where to go so this part is pretty straightforward and just helps advance the story. There are a few dialog choices and scenes as well.
Then you will switch to the Action combat Iron Man mode. Fighting off drones, flying to marked locations, interacting with objects, and saving the day! This involves a combination of flying around, dodging, shooting obstacles, and attacking drones in a bunch of different locations.
There are 10 different Main Mission Campaigns as well as 10 different timed Flight Challenges. There are also 5 Different Combat Trials. This is where waves of enemies will attack you and you need to destroy them all as quickly as possible.
When you have finished a chapter you will receive a score. Depending on the various factors you will receive Research points. These can be used to upgrade your Iron Man suit in the garage.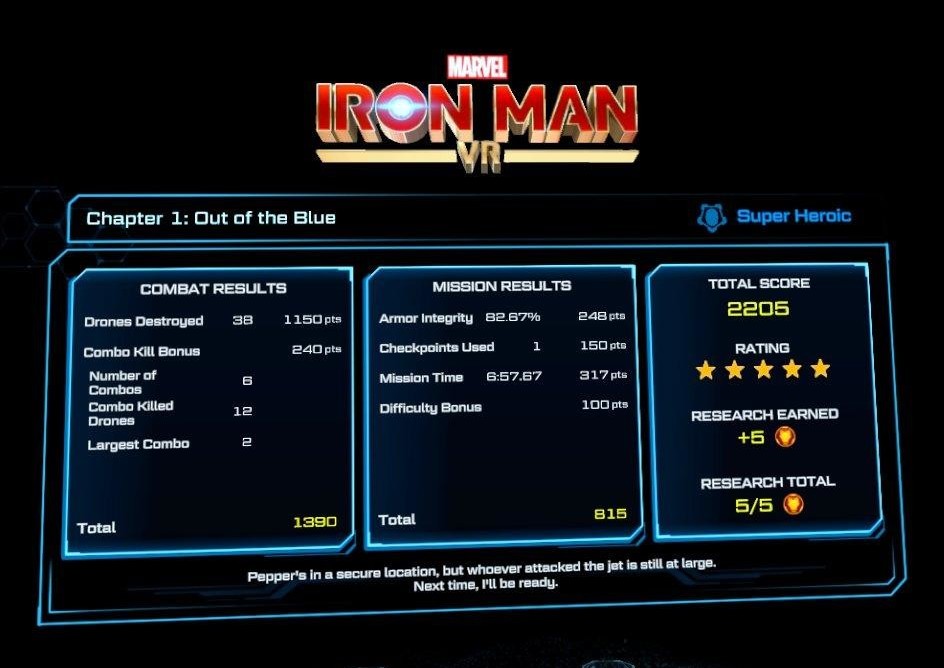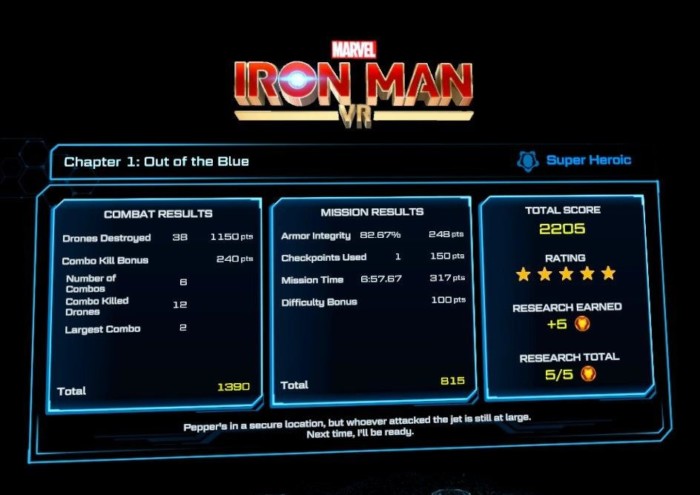 Camouflaj has done a great job of making you feel like you are a superhero.
Iron Man VR Controls
One of the best parts of this game is how the controls work. You have full 360 degrees of wireless movement.
You use your controllers as the palms of your hands, to fly around, speed up, and attack things. This creates a really fun immersive VR experience. You truly feel like you are Iron Man. You have this free range of motion, you can aim your repulsors any way you want. This only increases the feeling that you can 'go anywhere' and be a superhero. There are no rails, paths, or limits (well besides the edge of the game area).
It may take you a bit at first to get used to the flying experience with the controllers, but once mastered this is really fun. You will likely start off pretty hesitant, but as you get more comfortable you will have lots of hours of enjoyment flying around at top speeds and destroying the enemy.
There are a lot of different attacks besides just 'shooting' as well. You can also punch, and shoot heat-seeking missiles, auto cannons, bombs, or the iconic Iron Man unibeam to shoot a ray into the bad guys. Each of these uses different controls and some are hand gestures. The powered-up rocket punch and the artillery drop are definitely Superhero highlights.
Iron Man VR Graphics and Sound
This is another highlight of the game. The graphics are pretty impressive for a Quest 2 experience. Everything has a nice clean look to it and there is an impressive amount of shaders for a Quest 2 game.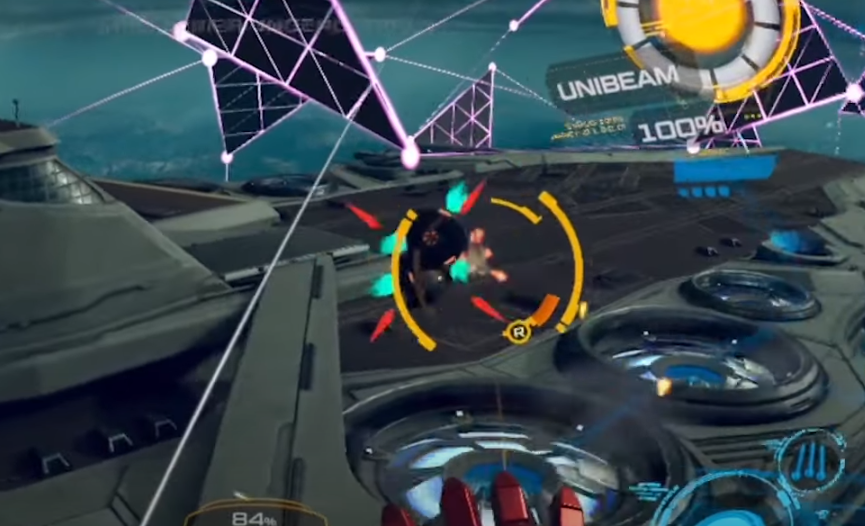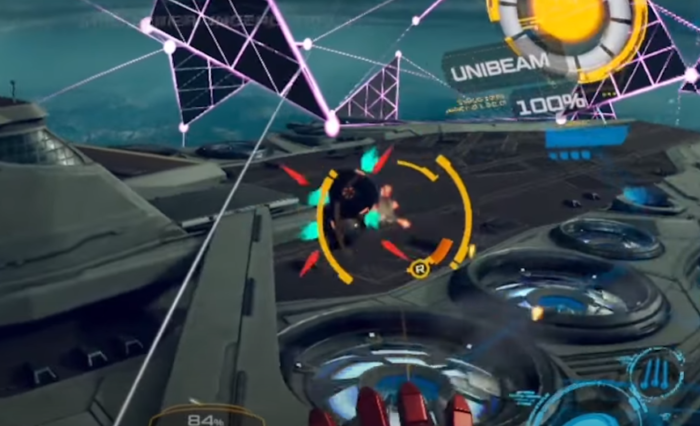 The game devs have done some creative work to make you feel like you are in large spaces. Although at times when you are rapidly flying, you will notice somewhat block-filled environments, it is not game-breaking.
You have a heads-up display on when you are in the Iron Man suit and this not only helps with visual status but helps with motion sickness.
The voice acting is pretty good, and overall the sound makes it feel like you are playing a Marvel movie, with cinematic crescendo moments and well-timed sound effects.
Iron Man VR Bugs and Need Improvement
No bugs in my playthrough.
It would be nice to add a feature that allows you to skip or speed up the dialog or cut scenes. Some people don't want to be Tony Stark, just Iron Man and get to the action.
Some of the action sections can feel a bit repetitive, but overall it was just so much fun to be Iron man that I didn't care if the missions were similar.
It would be nice if there was a way to create a new game profile. This is a great game for people to experience who are new to VR, but if you are in the middle of playing the game, then there is no easy way to restart, and redo the tutorial for someone else to play on your main save file.
Iron Man VR Really Cool Stuff
I mean, this one is pretty straightforward. If you are a fan of Marvel movies, Iron Man, or being a superhero in general, this game lets you live that character and be one. That's pretty neat stuff. It's nice to see big franchises taking an interest in VR and creating quality experiences to explore those franchises.
Walking around and interacting with Tony Starks house is really cool. Spin the globe, pick up the iron man statue, and check out the posters. There is a bunch of neat little side things to take a look at.
There are also several cool VR moments throughout the game like picking up a phone, putting out a fire, or rescuing Pepper from 50 thousand feet. Little immersive VR experiences.
Iron Man VR Multiplayer Experience
There is no Multiplayer Experience in Iron Man VR at this time.
Does Iron Man VR cause motion sickness?

Iron Man VR has in-game movement. You can adjust the settings to use teleportation, free movement, snap turning, or free motion turning. Adjust these settings if you feel any uncomfortable motion sickness feelings.
Iron Man VR is Moderate for Motion Sickness but should be fine for most players when using in-game settings.
Is Iron Man VR Worth It? Final Thoughts On Iron Man VR Review.
Yes! Iron Man VR is Worth it.