Let's get started on this ForeVR Bowl Review.
What is ForeVR Bowl?
ForeVR Bowl is bowling in your VR headset. You explore 8 different bowling lanes and can unlock hundred of unique bowling balls. Play solo, with friends, or with random players.
But is bowling in VR really that fun?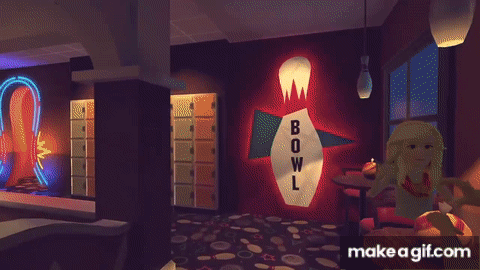 Who Makes ForeVR Bowl?
ForeVR Bowl is developed by ForeVR. They are a small developer team led by Marcus Segal and Mike Doom, that has some serious gaming experience behind them. Segal was SVP of Zynga and Doom and worked on games like Blair Witch and SimCity Social.
ForeVR is fully invested in creating VR experiences from the ground up. They also have created ForeVR Darts and ForeVR Cornhole.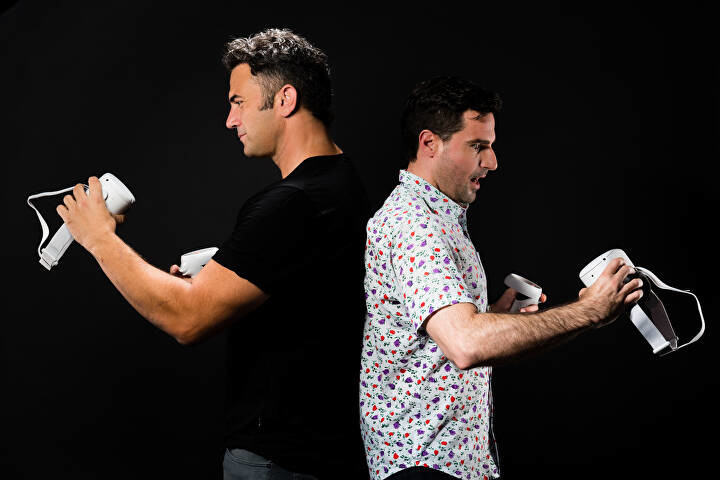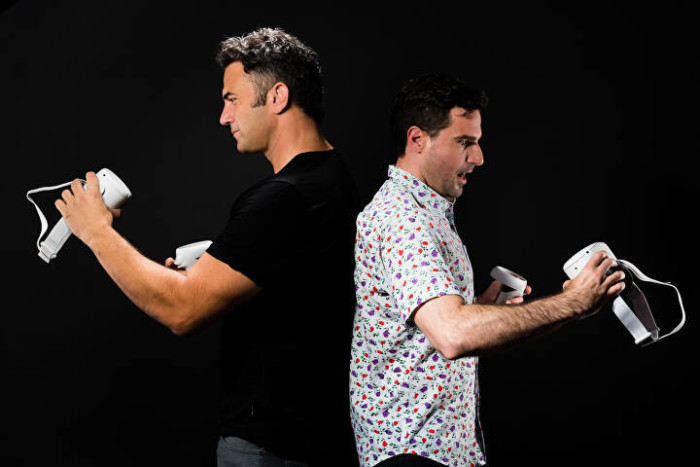 Which VR Headsets is ForeVR Bowl On?
You can play ForeVR Bowl exclusively on Meta Quest and Meta Quest 2.

ForeVR Bowl Review Gameplay
For anyone who remembers the joy of first getting a Wii system and bowling with friends, ForeVR Bowl has a similar feel to it, although this is much more immersive.
ForeVR Bowl starts with a tutorial that is the basics of movement and controls. You learn how to pick up the ball from the ball return and how to throw it down the aisle. It does not go into the details or the rules of bowling. You have the choice between default teleportation movement and also free movement and turning via settings.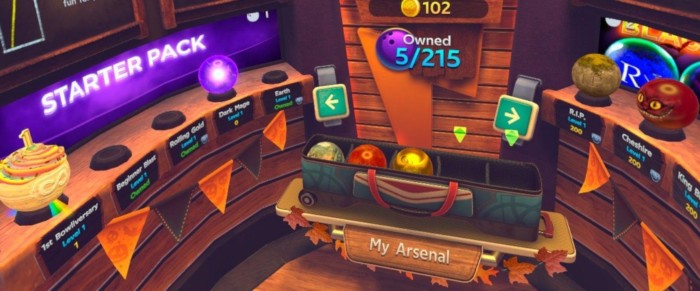 There is also a button that will pop up all of the controls visibly available to you on the controller and an arrow showing which button does what on the controller. This is a nice feature for people who are somewhat new to VR.
Enhanced Bowling For VR
The actual bowling of ForeVR Bowl is pretty simple and somewhat virtually enhanced. If you basically throw the ball in the general direction you have a pretty good chance of knocking down some balls. This also is heavily impacted by the various types of novelty balls that you have in the game. There are "non-gutter" balls for example that will never go in the gutter.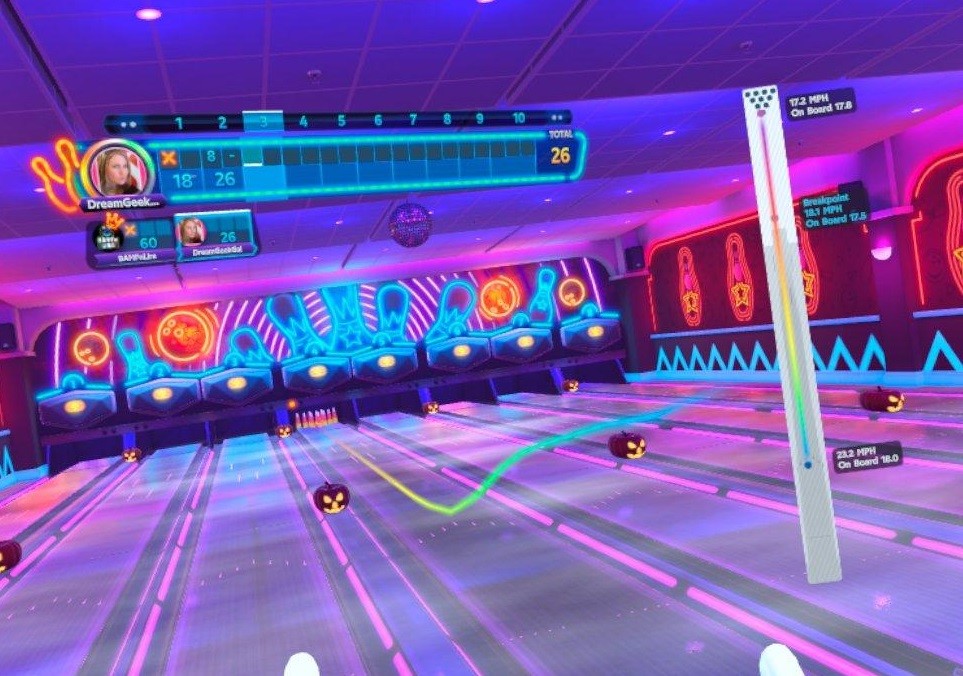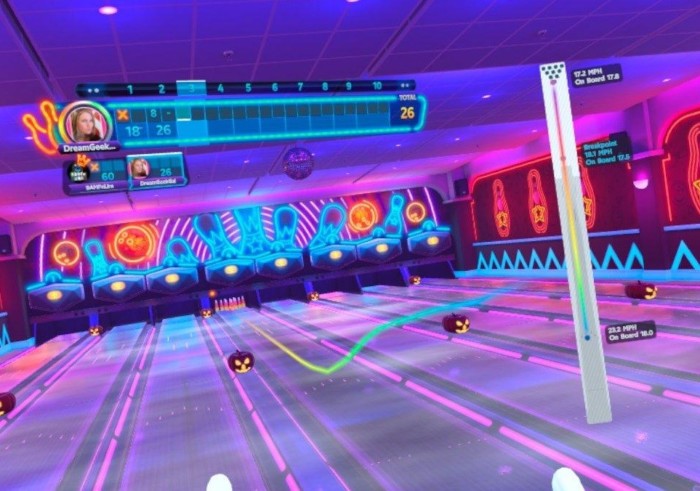 Although initially, I felt this game was somewhat easy, the last thing that you want in sports like VR games is for it to be too complicated for you to actually play. If you get constant gutterballs right when you start playing the game, you'll get pretty frustrated and not want to return. The default setting makes it so that you are not going to experience that. Once you advance in the game and get more comfortable you can change the settings and turn more realistic settings on to have a little bit more realistic physics. You can even turn it up to a pro-level where there's no enhancement of any kind.
Bowling realistically is hard to create in VR since a lot of bowling has to do with putting spin and the weight of the balls. ForeVR makes up for this by providing visual statistics about the balls. After a while of playing, you will learn how the numbers translate into how the ball throws. Heavier balls tend to go straighter. This should be mostly thought of as an 'arcade' experience.
Pro Mode Bowling
Pro mode is also an option if you are looking for something a little more realistic. There are no arcade balls here so it is more 'true' bowling. There are also special events and leaderboards here to challenge yourself.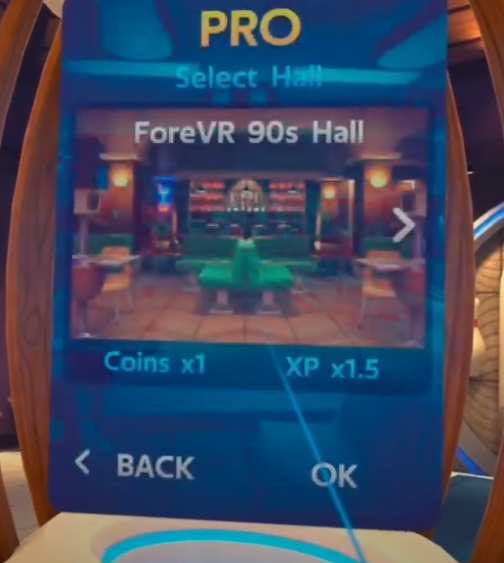 Lots of Maps and Collectables to Unlock
There are eight different lanes for you to explore in ForeVR Bowl. Some of these will be locked until you gain XP by playing matches. There are also more familiar themes including a regular bowling alley complete with a black light option and neon carpeting or a Boston Pub-type experience. Some are pretty far out there themes like the underwater city (Like Atlantas) or outer space lanes. These maps are something that could only be experienced in VR and it's a fun time.
There are hidden balls located on each of the eight different map lanes. This makes for a fun additional little treasure hunt to do to find the special balls. You simply need to find them and pick them up.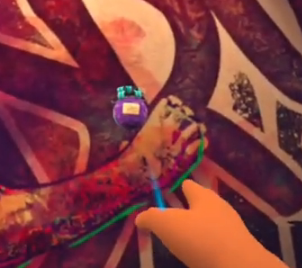 As you progress there are also trophies and achievements to unlock too.
ForeVR Bowl Graphics and Sound
ForeVR Bowl uses your Meta avatars in the game, which is a nice touch. When you pop into a match with your friends they look exactly as you expect them to look. There will also be a bunch of NPC hanging around bowling and sitting at the bar.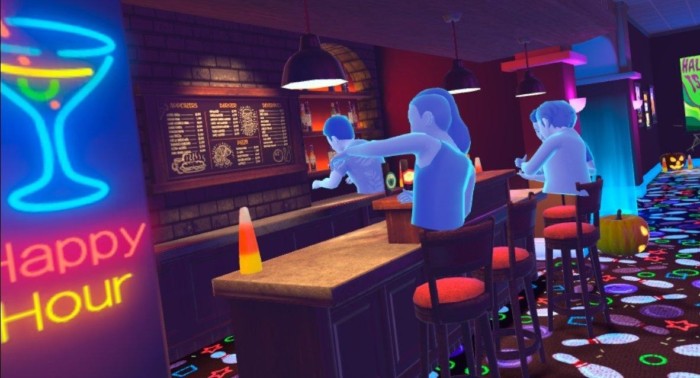 Everything is bright, fun, and pretty realistic looking. Most of the locations look better than most Quest games I've seen including shaders and details on the objects around you.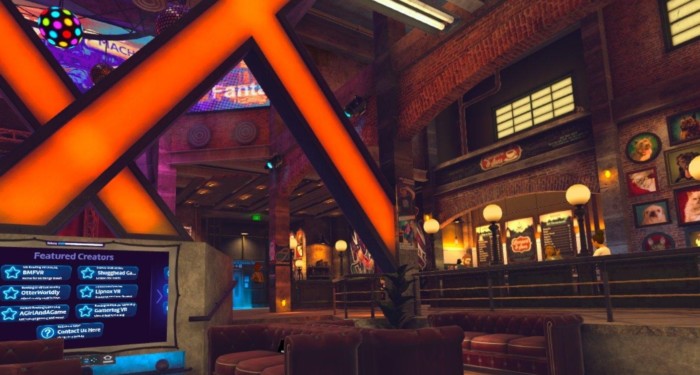 The soundtrack is something to take note of here. It includes several popular licensed songs that you know like 80's hits Eye of the Tiger and Europe's Final Countdown. Unfortunately, there are not all that many songs so you'll likely hear these a few times over the course of an evening, but I appreciate the developers offering a licensed in-game music experience for once.
ForeVR Bowl Bugs and Problems
No bugs to report.
A slight annoyance more than a problem, but something that is a little strange is there are no useable props. There are various bars in a lot of the locations but you can't actually interact with the bar items. You can't pick up a drink that's sitting there and bring it back to your bowling lane. This isn't a big deal but it is kind of strange that it's not included. It's one of the first things I saw people try to do when they move around the room for the first time. Perhaps in a future update.
ForeVR Bowl Really Cool Stuff
ForeVR Bowl remains active with the community and does seasonal updates. There is currently a Halloween update for example, where you can get uniquely themed Halloween balls as well as the entire lobby/certain lanes decorated for Halloween.
There is a YouTube-powered jukebox that allows you to select from several pre-made YouTube playlists so you can have endless popular music playing while you bowl. I can't stress enough how great of a little feature this is. There are several VR games that allow you to play whatever you want on YouTube but having the ability to select a YouTube playlist quickly makes for a much more fun bowling experience. You can even sign into YouTube premium if you have that service to remove the commercials.
The only downside to this is if you are playing with other people, your songs are not going to be synced up. (Try starting at the same time with a countdown) This is a small price to pay for modern music.
If you have other games in the ForeVR family like ForeVR Darts or ForeVR Cornhole, you can switch to them right from the main menu area.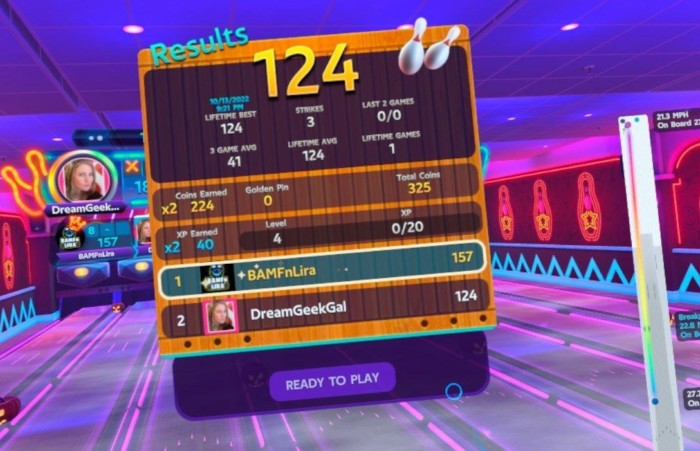 ForeVR Bowl Multiplayer
One of the main highlights of ForeVR Bowl is the ability to get together with family or friends and experience VR bowling in an entertaining, social setting. Send an invite to a friend you haven't seen in a while, pop into a bowling game, and play a round or two. You also have the ability to play completely solo against a bot or against a random party with the "quick play" option.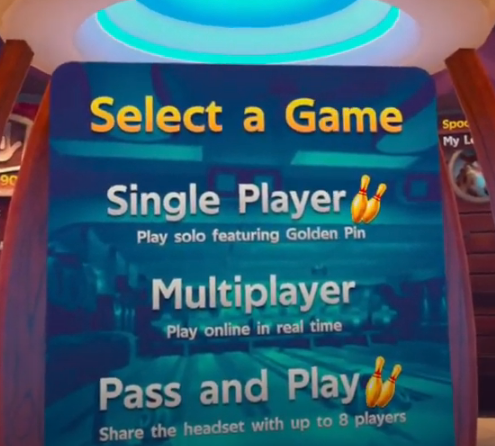 There is also a Party Mode in ForeVR Bowl. This means you can pass the headset back and forth in your house and let up to 8 people bowl one at a time. This makes for an enjoyable family night experience.


Does ForeVR Bowl cause motion sickness?

ForeVR Bowl has in-game movement. You can adjust the settings to use teleportation, free-movement, snap turning, or free-motion turning. Adjust these settings if you feel any uncomfortable motion sickness feelings.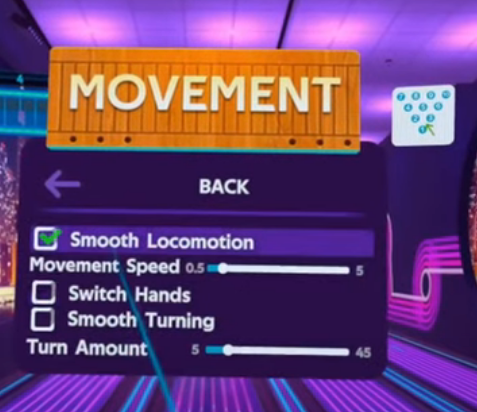 ForeVR Bowl is Comfortable for Motion Sickness and should be fine for most players when using in-game settings.
Final Thoughts On ForeVR Bowl Review. Is ForeVR Bowl Worth It?