Nintendo Amiibo figures have been gaining in popularity since they were announced in May 2014. These highly detailed figures are part of a new category of toys called 'Toys to Life.' Skylanders was first followed by Disney Infinity. Nintendo actually had no idea how popular their figures would become.
Wave 1 Nintendo Amiibo
The first wave was pretty easy for me to get on release day on November 21st, 2014. I casually walked into Target and asked about them since I was already in there buying Super Smash Bros. for my Wii U. They didn't even put the figures out. I had to ask and waited about 20  minutes until they brought them out from the back. Target had all of the figures. I grabbed the last 3 that I needed, Marth, Villager, and Wii Fit Trainer, plus additional for my brother. Little did I know these three would become the "Holy Trinity." I already had the rest of Wave 1 and part of Wave 2 ordered via Loot Crate's special Nintendo amiibo Loot Crate program.
Wave 2 Nintendo Amiibo
Wave 2 wasn't as bad. There were only 6 figures. I already had 2 from Loot Crate. I bought 2 of the 4 I needed by walking into Best Buy, and ordered the other two from my phones right away from Gamestop when I realized that Best Buy didn't have them. The wave 2 Nintendo amiibo hunt was easy.
Wave 3 Nintendo Amiibo
Collecting troubles started with the third wave of figures. Nintendo announced retailer exclusives with Gamestop, Best Buy, Target, and Toys"R"Us. To complete your collection, you had to visit at least 4 different retailers. I was able to secure pre-orders online with Gamestop, Best Buy, Toys"R"Us, and Wal-Mart,but not with Target. I co-ordinated with my brother to stand in line at Target. I am  in the San Francisco area and he lives in Los Angeles. I arrived an hour prior and was #7 in line. My Target had maybe 30 people lined up before the store opened.They only had 20 of their exclusive figure. My brother was #30 out of 50 or so in line, but he was able to get his as well.
Super Mario Series
Nintendo then introduced a new Super Mario Bros. line to coincide with the Mario Party 10 Wii U game release. Five of the six figures in the line were of characters already existing from the Super Smash Bros. line, but in different poses. Toad was the only new figure. He was semi short on supply, but not too difficult to get. Minute differences are enough and many collectors are completionists and have to get them all, me included.
Wave 4 Nintendo Amiibo
Enter Wave 4. What to say. I have since then started utilizing tools to help me with securing this wave. The fandom is so big and competition is fierce. I've utilized online tools to help me in my Nintendo amiibo hunt to completion. I've joined groups on Facebook, followed key Twitter accounts like @AmiiboInq and @AmiiboNews, and most importantly the /r/amiibo subreddit. I had twitter alerts turned on and page monitoring plug-ins installed. You could say I was pretty desperate. I scrounge for every little bit of news that I could gather. Which stores had which exclusive? Who was putting up what first? I had to know.
The Wave 4 Nintendo amiibo hunt introduced a new factor into the mix, lining up to preorder. Gamestop and Toys"R" Us had their exclusives and were the only two stores to offer this. I was not able to line up at a Gamestop for Ness due to being away on a work trip, but my brother was able to secure the exclusive for both of us. I tried lining up at 8 am for at a Toy"R" Us that opened at 10 am for Greninja. To my chagrin, they had given out tickets for the 7 figures allotted to the store already. I was able to order the third exclusive, Jigglypuff, online from Target. I was also able to secure pre-orders for Lucina, Charizard, Wario, and Pac-man online with Best Buy. Unfortunately, Robin was sold out. This left me 2 figures that I hadn't secured. All other retailers had already put up their pre-orders with the exception of Amazon. We all waited for Amazon to put up preorders, but they never happened.
On the day prior to release, Amazon released news that instead of pre-orders they would be staggering their releases on a schedule on release day. They were waiting for their stock to arrive at all of their warehouses. Amazon was going to be my final chance.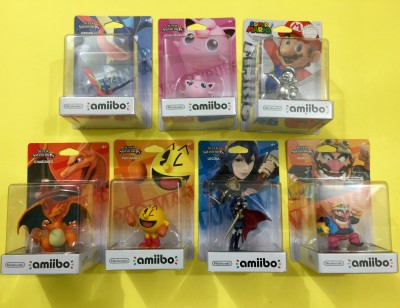 On the morning of release day, I made my way to  Toys"R" Us. I knew I had to get there early to buy Greninja. I got off work early in the morning and went straight there. I was #30 at 815am in line after other people had gone to buy amiibo at Target and then re-lined up at Toys"R" Us for the other exclusive. I wish that I had gotten off work early enough to have lined up for both. Unfortunately, #30 in line was not enough to net me a Robin. There was enough for everyone that had lined up, though. I was able to get my needed Greninja plus a bonus Silver Mario, which was only recently announced.
Now the final battle was at home. Amazon was my opponent. Luckily I had a heads-up on the situation with the scheduled release times. The F5 key was was my ally during all of the 30-minute windows between 2-5pm PST. While waiting, I got a Twitter alert saying that wave 4 was available at Tiger Direct.  I promptly ordered a Lucina for me and a Lucina for my brother. The extra would have been to trade for any other rare that we still needed. Tiger Direct, unfortunately, canceled the orders citing that they got more orders than stock. I had two browsers open with Amazon, each logged in with my account and my brother's, waiting on the product pages. My first chance was Lucina at 3:30 pm. After hundreds of F5 presses, I was lucky to see it appear and nabbed one for my brother. Unfortunately for me, I was able to add it to the cart, but could not check out. Up next was the almost three-hour wait for Robin. It was a bust, I missed my final chance. I didn't get it with either account. I got desperate and paid $35 for one on eBay. Not 20 minutes after I paid for it, I got a Twitter alert that Robin was available on Tigerdirect. I was able to put orders through for both my brother and I. it's been 24 hours and they still haven't canceled the order. Hopefully, it was a situation where they didn't put the stock up initially and will actually ship these last ones.
The Future
This difficult Nintendo Amiibo hunt is almost enough to put me off from collecting these anymore, but I will persevere. I want need them all!  I have already ordered part of Wave 5 from Amazon Japan just to help me feel secure. Also, they get released earlier than their USA counterparts. This way I have more chances to try and complete the next set. Phew, my wallet is hurting. As of writing this, I have seven of the nine from this release. I am still waiting on two more to be delivered. Damn this Nintendo amiibo hunt!
UPDATE 6/1: Looks like Tiger Direct canceled my Robin figure. Good thing I have one coming from Australia.
UPDATE 6/3: Gamestop Exclusive Ness and Splatoon 3-Pack were delivered.