At CES I had the pleasure of testing out the MOCAheart which is a small flat device that helps keep your heart in check. This simple device that is no bigger than a key and would fit on your key ring… will be able to help hopefully in the future keep your loved ones healthy and happy.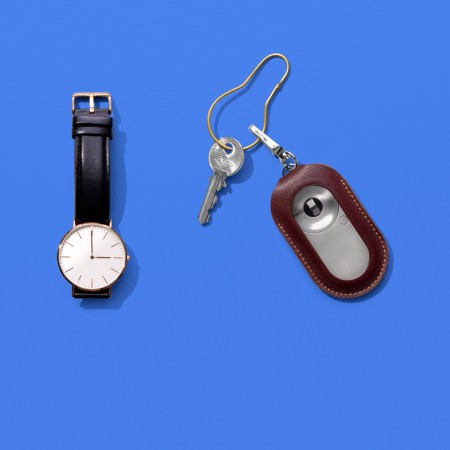 MOCAheart is an elegant smart-health device that gives people a new, intuitive way to track their heart health–without the need for bulky cuffs or complicated monitors. Utilizing a "press and go" method, MOCAheart combines thumb scans with sophisticated algorithms to determine a number of important indicators of heart health, including heart rate and blood oxygen levels. Additionally, MOCAheart provides a measurement on an easy-to-understand 1-5 scale (Low, Ideal, Raised, High or Very High) called the MOCA INDEX.
The MOCA INDEX is calculated from blood velocity, and is correlated to blood pressure. Generally, the faster blood travels through blood vessels, the more pressure the heart is under. Thus, higher blood velocity, meaning higher blood pressure, leads to a higher MOCA INDEX. Because systolic and diastolic blood pressure figures can be hard for everyday users to understand and remember, the MOCA INDEX is an easy way to understand the current state of your cardiovascular health. By tracking daily trends in your MOCA INDEX, it functions both as an everyday tool to monitor known conditions, and as an early warning system.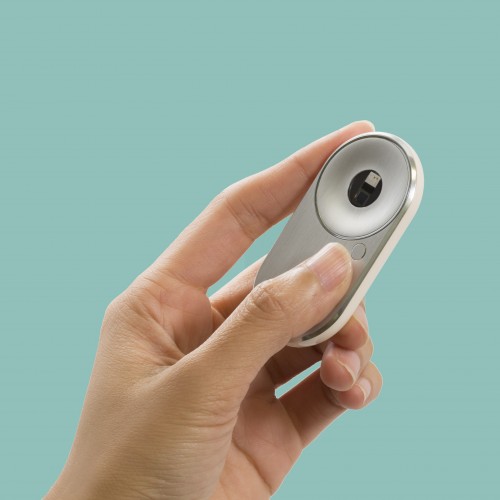 MOCAheart measures your heart beats per minute and your blood oxygen level. It also give you a generic range of stats that show if you are in the ideal, or warn zones. It automatically tracks the date and time, as well as gives you a section to add notes if you want to add in some details about what you are feeling at the time.
MOCAheart can also sync up with medical professionals or family members. Although the company needs to legally stress that they are not a blood pressure monitoring system, this handly little device still offers some really cool features many mainstream blood pressure systems do not. The small size and ability to have family members monitor your stats is a great way to keep a track on your heart's health. Many older people forget to take their blood pressure and this simple in your device pocket can help alert you to an overall need to get things checked out or looked at by a larger more professional device.
What is MOCAheart all about?
Priced at $149.99, MOCAheart is available online at www.mocacare.com, and features:
• Measurement of Heart Rate (HR), Blood Oxygen Level (SpO2) and MOCA Index (MI)
• Materials: Medical-grade stainless steel and biocompatible plastic
• Sensors: Optical sensor and electrode
• Dedicated iOS and Android MOCAheart app
• Displays history and trend views, and automatically records environmental factors such as weather and location
• Provides ability to add notes to each reading and send results via in-app messaging service
• Battery life: 3 days (3~5 times use per day)
• Battery recharge: 40-60 min by micro USB
• Dimension: 1 3/8" x 2 3/4" x 1/4" (35 x 70 x 6.35 mm)
• Weight: est. 0.7 oz~ 1 oz (20~30g)
• Accessories: MOCA leather keychain, MOCA phone case (currently for iPhone 6 only, Android cases coming soon)
• Supports iOS 8 HealthKit Since MOCAheart does not offer medical recommendations and is not used to diagnose or treat medical conditions, it does not require FDA clearance. However, MOCACARE does plan to pursue FDA clearance in the future to enhance its offerings using the data collected from MOCAheart for clinical use.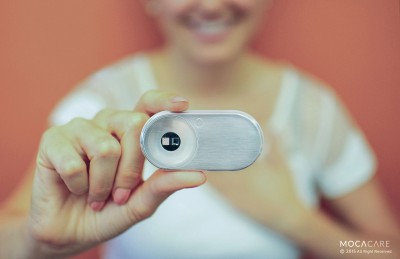 MOCAheart is not a replacement for recommended medical testing, but rather is a simple and quick tool that empowers people to track their health and take action when results are outside the normal range. It was designed over a span of two years by a team of experts from MOCACARE, a leader in connected health. Its multidisciplinary team of scientists, engineers, designers and physicians hail from Stanford, UCSF and California College of the Arts. If you or a loved one needs monitoring in this area, why not check them out?
For further information, visit www.mocacare.com.