Monoprice Medium Tactical Backpack review (PID 14340). I received this knowing that I would be relying on it heavily for an upcoming electronics trade show where I would be lugging around my camera equipment, as well as chargers, fluids, munchies, and numerous other necessities. Thus, I was excited to put this through a vigorous few days of testing. The pack arrived in no-frills packing (not that it needed any) and was pre-stuffed with paper in some areas.
Monoprice Medium Tactical Backpack Review
The Monoprice Tactical backpack has a serious, all-business appearance.
Exterior
The first thing to notice is the 5 rows of sewn loop straps on what I will call the front of the bag. They offer up to 6 areas to hold an item or clip something to. The maximum expandable opening is just large enough for a standard size micro LED flashlight, but it won't hold something as thick as, say, a super-sized "magnum" marker. I had no problem sliding a desktop tripod and a few other things through there. Right above that is a zippered pocket that opens to a pouch able to hold about an 8x8x2″ inch object—definitely a good spot for a smaller tablet, for example.

The sew in loops offer a multitude of options for carrying external items.
Interior
The inside is lined with red nylon material, as is the rest of the bag. Behind the zippered pocket is another zippered compartment that opens almost 180 degrees and is roomy. It offers an 11″ wide x 8″ high by 2″ deep pocket that is actually divided into smaller compartments: a Velcro pocket on one side and a slip pocket on the other side with an attached zippered mesh pocket on the right and room to hold business cards and pens on the left. This section might hold a larger tablet or a mini laptop type device.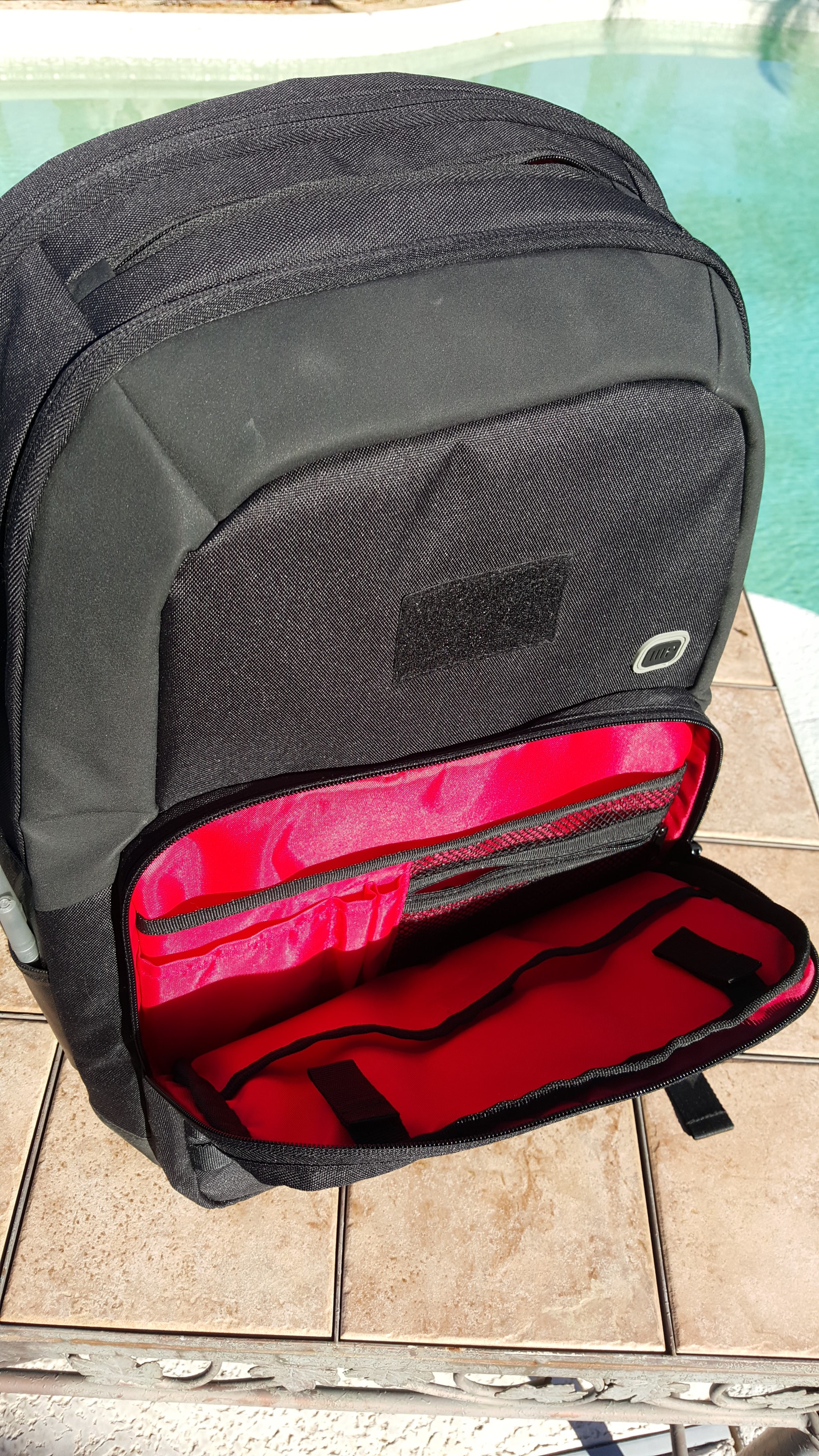 The black and red color scheme was personally appealing.
Above that, in the center of the bag, is a piece of Velcro that may be used as a quick catch area or an exterior secure point for something Velcro-based. To the right is a sewn-on rubber material MP logo. Progressing up the nylon shell, there is a band of material that has a soft non-skid feel to it. Right behind is the next zipper on the bag. This opens a full 180 degrees; a comfortable item size to place in here would be about 12″ wide and 16″ high by about 3″ deep. You could get up to 18″ if your item fell to 10″ or 11″ instead of 12″. These are approximate dimensions based on stuffing each compartment full. In this compartment there is also one Velcro-flapped pocket and 2 Velcro-tabbed pockets measuring around 4.5″ wide by 4.5″ high, but without much depth. I found this great for holding extra batteries for my camera. On the back side of this chamber is another slip pocket that helps divide the area, perhaps good for a folder or some type of notebook.
Though compartments are spacious, many sub pockets help with the division of items.

 Top Pocket
Toward the rear, on top, is a pocket that splits the front and rear chamber of the backpack. It has a 7.5″ zipper and offers 6″ of depth for storage, an easily accessible spot for a cell phone or wallet. However, this was the only point of failure I experienced with this backpack. Once both chambers are loaded, it creates stress on the zipper, and after only two attempts at retrieving something from this pocket, the zipper failed and split open. Just the teeth of the zipper itself, not the stitching, failed to hold. This may be just a fluke or defective part as other reviewers I have talked to have not had this problem. At any rate, it did render a really good pocket useless.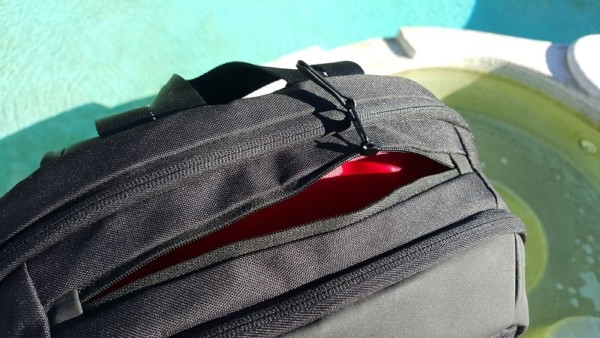 This was a weird defect that Monoprice immediately offered to send a replacement unit for. I declined, as it wasn't a huge deal to me.
Largest Section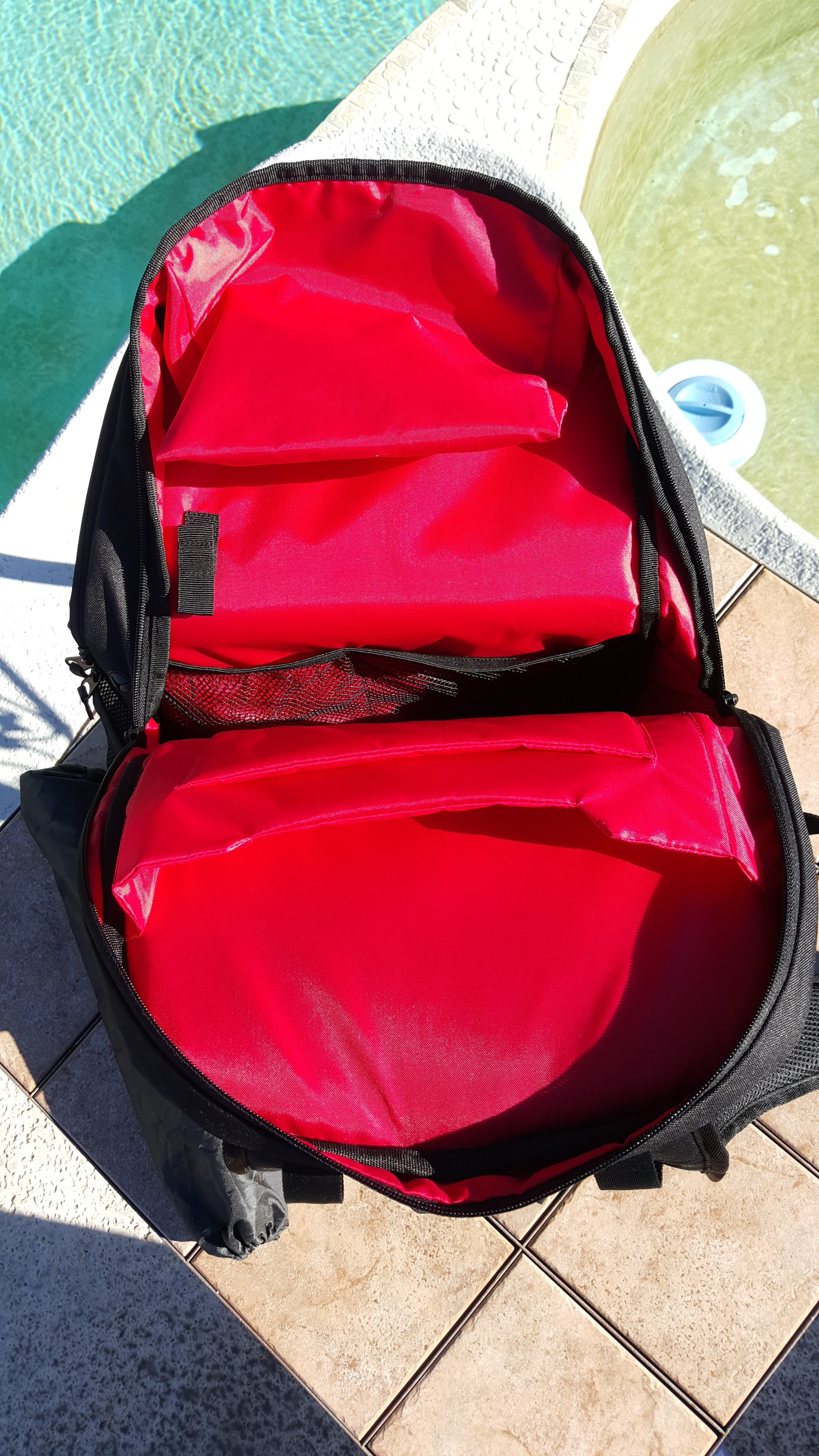 At the back of the pack is a final huge chamber. Still at 12″ x 16″ (or the before-mentioned 18″ depending on configuration) this pocket does offer up to 5″ in depth, again based on full capacity loading. On the lower front side of this chamber are two mesh pockets, while on the rear wall are two padded slip pockets, one large enough to hold a small laptop. I found this to be a great place to house my camera and most of my camera gear, with nothing actually rubbing together and causing any damage.
Huge pockets. Lots of dividers. So easy to organize your items in this pack.
Back
The back of the bag is nylon mesh-covered, offering breathability along with padding. At the bottom, near the lower back, is another lined pocket with extra padding for support and comfort.

Great place to store valuables or an ice pack to help cool your lower back!
The straps are highly adjustable and conveniently secured so that adjustments can be done on the fly. Although I'm not a small frame, I found that the straps offered good expandability whether wearing it as a regular backpack or carrying it over the shoulder. The bag also offers a top-mounted soft carrying handle, as well as a couple loops on the shoulder straps. There is also a center strap for support to create a 3 point harness effect for stability.

Well padded and super adjustable, the straps made carrying the pack comfortable.
Adorned with a few side pockets for pens or small items, this backpack was a comfortable, handy item, whether lugging around a trade show or taking a 5-mile hike down a major tourist strip. I found all the little pockets and nooks excellent for keeping important items within easy reach. There's even a protected pass through hole for a wire to enter the pack.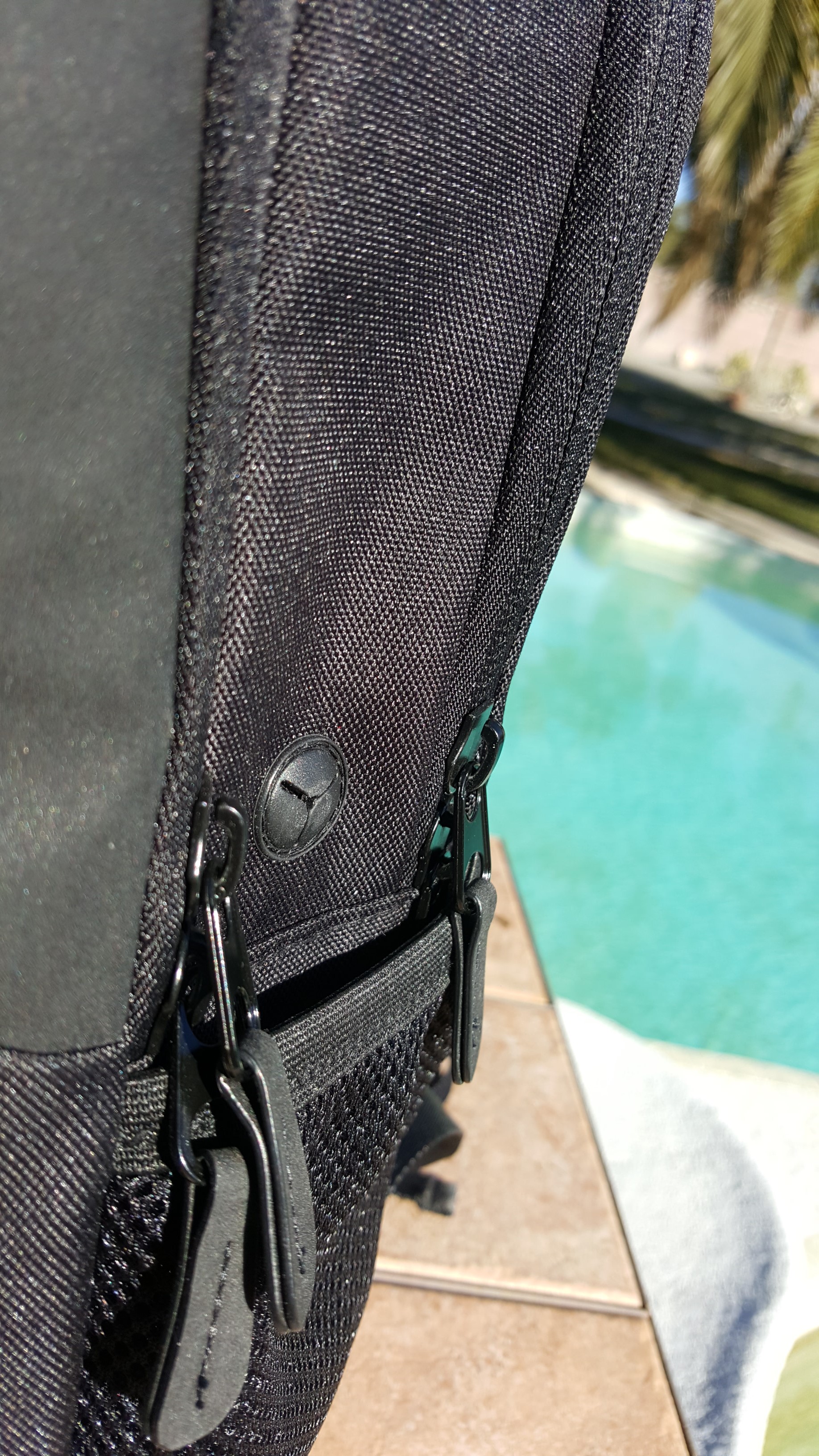 Pass through hole to connect a wired item that might be inside the pack.
While I don't hike or camp, I believe this backpack would be excellent for such activities. It is perfect in size for air travel, particularly for overhead bin storage. However, be careful how you pack it; you could easily store more than the allowed carry-on weight limit.
In conclusion, I would recommend this utilitarian backpack for a multitude of tasks, and with the exception of the one pocket zipper failure, everything else was extremely durable and withstood a week's worth of extensive use.
Monoprice sells this item here (with great pics of how to organize it) or over here on Amazon. If you are in the market for a great versatile backpack then I highly recommend checking this one out.
For Clarity – I did receive his item free of charge in exchange for an honest review and really am glad I did. I foresee a lot of use coming out of it.