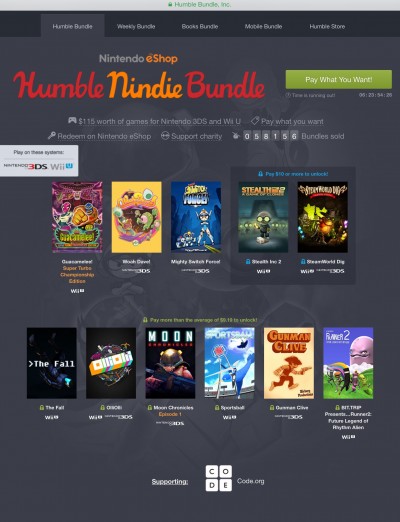 The Nintendo eShop Humble Nindie Bundle is still selling strong. This first console bundle hopefully paves the way to more console game bundles on the Humble Bundle store.
As of writing this, over $500,000 has been raised by over 58,000 purchases made with an average purchase price of $9.19. Top donations include $500, $225, $200, and several 100. Purchases higher than average unlock more games, $10 or more netted bonus games 2 bonus games. The "More games coming soon!" tag has kept us intrigued until today.
People who paid $10 or more in the last week got:
Guacamelee: Super Turbo Championship Edition by DrinkBox Studios
Mighty Switch Force by WayForward
Woah Dave by Minivisions
>The Fall by OverTheMoon Games
OlliOlli by Roll7
Moon Chronicles by Renegade Kid
Stealth Inc. 2: A Game of Clones by YoYo Games
SteamWorld Dig: A Fistful of Dirt by Steamworld Games
New Games Unlocked!
The new games unlocked for those who paid higher than the average are getting codes for the following games:
Sportsball by Too DX for Nintendo Wii U
Gunman Clive by Hörburg Productions for Nintendo 3DS
BIT.TRIP Runner 2: Future Legend of Rhythm Alien by Choice Provisions for Nintendo Wii U
The value of these games has now jumped to $115. Your donation of at least $10 more will net you 11 games and hours upon hours of fun. The initial bunch added to my backlog, and it now just got a couple titles longer. If only I had a time machine. Either way, let's help the CODE.org charity with more funds and also have fun while doing it.  This experiment has shown Nintendo some great results. Who knows, maybe we'll see some first party games. Less than 7 days to go until this deal ends.
Click Here for the Nintendo eShop Humble Nindie Bundle now!