Let's get started on this Nine Noir Lives Review.
What is Nine Noir Lives?
Nine Noir Lives is a point-and-click adventure game that is all about cats and crime. There are heavy comedy elements throughout and overall, a murder mystery to solve.
You are Cuddles Nutterbutter, a feline private detective. You have recently taken on a case from the chief of police that is investigating a murder between the city's two most powerful crime families: the Motameeuws and the Catulets.
Do all those kitty puns hold up?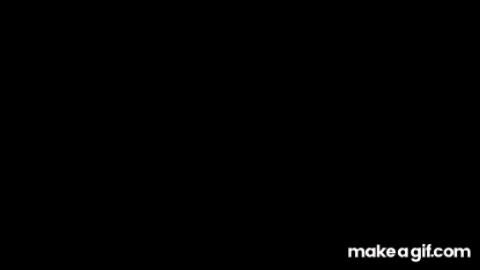 Who Makes Nine Noir Lives?
Nine Noir Lives is made by Silvernode Studios. They are a small team of 2 indie developers located in South Africa. They have self-funded this game which is pretty impressive in this day. They also worked on this for many years in their spare time. Nine Noir Lives is the first game they have released.
Which Platforms is Nine Noir Lives On?
Nine Noir Lives is available on Steam, Gog, and Epic.



Nine Noir Lives Controls
The controllers in Nine Noir Lives are not very complicated and similar to other point-and-click adventures. You use your mouse for all movements. At the four corners of the screen, there are various icons (that will generally not move) – Settings, Book, Briefcase, and Magnifying Glass.
I found I only really used the briefcase which is your inventory and the Magnifying Glass which shows you where items you can interact with are on screen. You can also use the space bar to show the interactive items and ESC to access the main menu. The Book provides some more backstory to the characters you are interacting with if you are interested.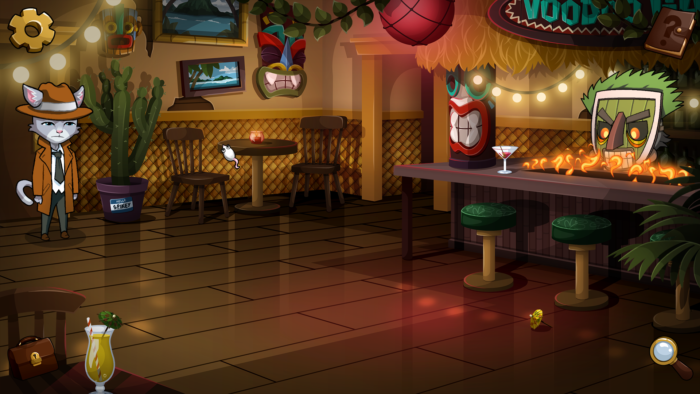 You right-click on the mouse to access the main game functions. You will cycle through a list of options that will allow you to do certain things like use, look, talk to, and lick. Yes, lick. Licking random items is a frequent, funny, and sometimes required part of the game. Each of these interaction icons also has a fun animation.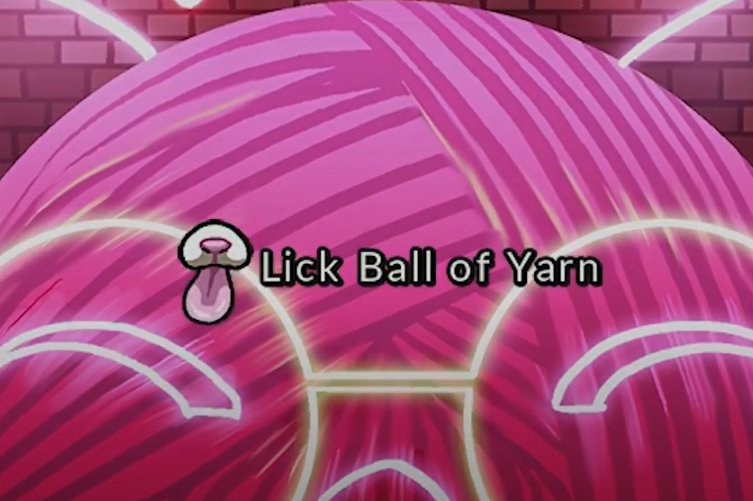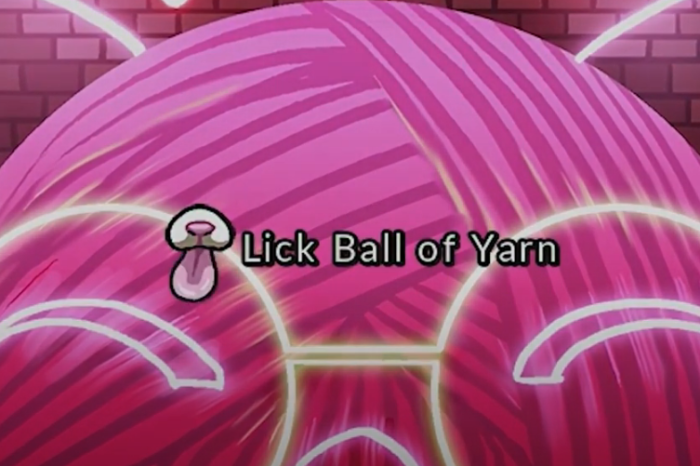 Nine Noir Lives Gameplay Review
The developers describe Nine Noir Lives as a comedy-noir and I believe that is very fitting. Right from the first moment of this game, there is non-stop cat and non-cat humor. Check out some messages from the first scene. Cucumbers is a swear word and whiskers is the more polite version. Funny stuff like this from start to finish.
When the game starts they offer two choices. Normal mode and Story mode. Normal Mode is what I chose to play through, but Story mode could be great for people new to Adventure games.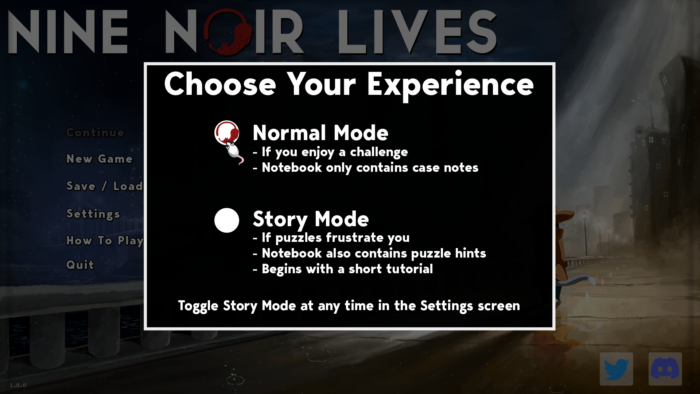 The main story involves the murder of the son of one of the prominent crime families in Meow Meow Furrington, the Montameeuws. Is the rival crime family, the Catulets responsible? Your job will be to figure out the age-old question of Whodunit while navigating through a wonderful cast of quirky and unique characters.
Some of the puzzles in Nine Noir Lives are quite complicated and really require thinking outside the box. There are also several items required to proceed with many of the puzzles that are pretty easy to miss. Occasionally, you may get stuck on a point till you find that missing item. When this inevitably happens to you, I fully recommend going over each screen you have access to, one at a time, and using the look button to see if you've missed something. Overall, the puzzles were some traditional and many that are not the typical ones you see in most games. None of the puzzles were impossible to figure out with some exploration and time. Many involved very funny elements and character developments. (I see you STORN).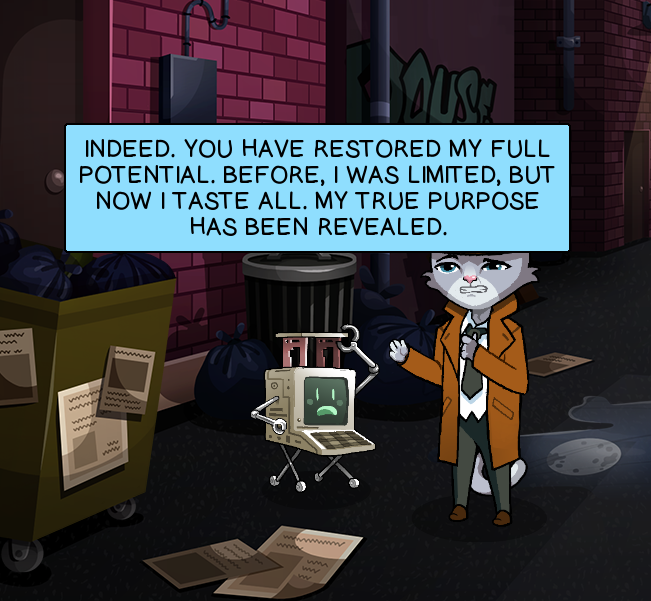 At a few points in the game, you also get to play as your kick-ass secretary, Tabby Marshmallow. Tabby is a really awesome character who brings a different dynamic to the story than when you play as Cuddles. I really enjoyed the slight break in character.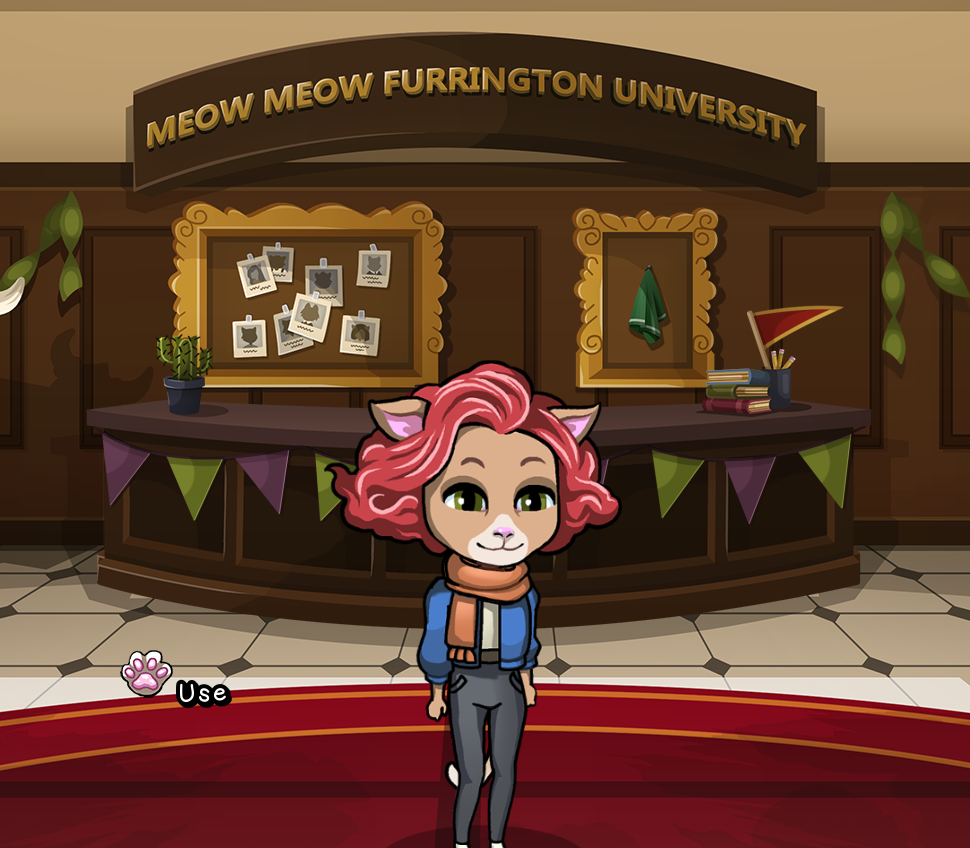 There are 25 different characters in this game that you will interact with, and that is really worth mentioning. They all have unique personalities, quirks, and storylines. They really have created a unique and memorable little cat city.
On top of that, absolutely every character interaction is voiced in this game which really draws you in. EACH interaction generally has at least 2 lines from the look command, as well as a lick interaction. Characters interact with unique voice lines for most items you may show them. This extra dialog is pretty much only here for the laughs so I fully recommend taking your time with the game and exploring some of these very witty lines. There are also many scenes of story animation shorts and talk dialog.
In total, the developers have stated that there are over 12 hours of voice or over a hundred thousand words of fully-voiced dialogue, which is extremely impressive for an indie game dev. There are so many different voice actors and so many with different accents. It really is quite refreshing to see and made this game stand out in the adventure genre.
A final point here, the game does deal with a few pretty serious issues and even though the game is definitely very funny, these serious elements were dealt with concern and respect. It never felt cheap around these more serious elements and I was glad to see that.
Some Minor Issues
There is no autosave which is a bit strange. You should remember to try and frequently return to the main menu from the setting tab and save the game. Other people mention the game autosave for them, but I didn't see any notice of these features(Auto Save icon) or a save slot in the save area reflecting this. I had a crash at one point and lost about an hour of progress (which is pretty frustrating) so try and remember to save every once in a while and especially before you quit the game for the day to be safe. Your mileage may vary.
I also found that I frequently got annoyed between using the pointer "mouse" icon to interact with something and the Use "paw" icon. Merging items in the inventory requires the mouse pointer, and then dragging them off to the main screen, but interacting with items on the main screen frequently required the Use paw icon. Sometimes the mouse icon was used to interact too. This annoyance was definitely the most notable in the inventory screen. These two things could likely have been merged into one function.
Who Will Enjoy Playing Nine Noir Lives?
There is no official rating on Nine Noir Lives. There are discussions of drug abuse, death by overdose, and crude humor at points. I would expect the game to be rated M for mature because of these reasons, but there is no blood, gore, or violence.
If you like indie games, cats, point-and-click, adventure games, and puzzle-solving with a good and really funny story then you will like Nine Noir Lives.
What Games are similar to Nine Noir Lives?
This game goes back to the classic point-and-click adventure days of Maniac Mansion or Secrets of Monkey Island. More recent similar indie adventure games would be Whateverland and Metamorphasis.
How long is Nine Noir Lives?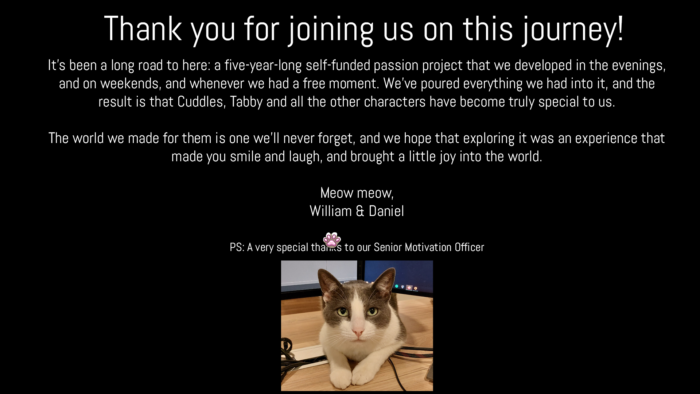 The entire game took me about 15 hours to complete. I got 100% completion on the achievements and spent a fair amount of time clicking the various options on pretty much everything. I expect most users would finish the game in about 10-12 hours.

Final Thoughts On Nine Noir Lives Review. Is Nine Noir Lives Worth It?
Yes, Nine Noir Lives is worth it!