Let's get started on this Tripp VR Review.
What is Tripp?
Are you looking for a relaxing experience on Oculus? How about some focus and calming VR meditations that can help you be a better you? Tripp VR is the answer. Tripp does have a subscription cost to it, so we need to evaluate, "Is Tripp worth the cost"?
There are lots of gaming experiences on VR these days, but what if you are looking for something to help with your mental well-being – an experience you can use to calm your thoughts and focus on yourself. Enter Tripp VR.
I've included many photos from the various Tripp meditations because you need to see how absolutely stunning the experience is.
Who Makes Tripp?
Tripp is developed by TRIPP inc. This is the application they are focused on completely. It is their first VR experience
Which Headsets is Tripp Available On?
Tripp VR is available on PlayStationVR, Oculus Rift, and Oculus Quest 2.



Tripp VR Review
Tripp VR is an interesting and meditative experience that is not like anything else currently available on VR. This experience allows you through vocal guided meditations and simple games to refocus and calm yourself.
Tripp is subscription-based but does offer a lifetime one fee option.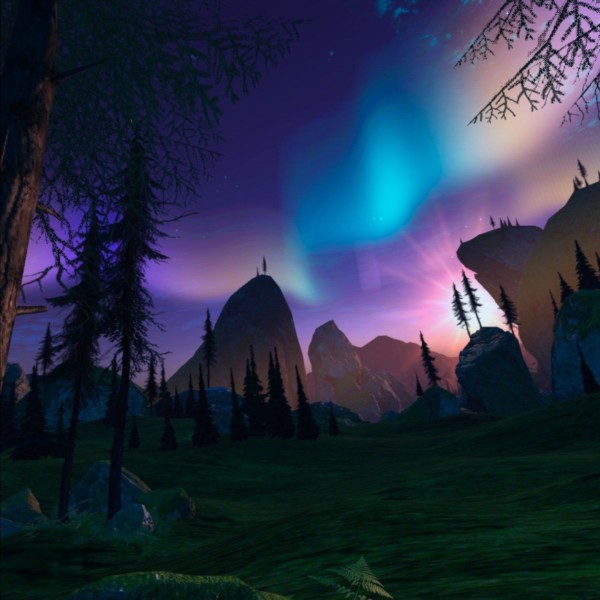 Tripp Subscription and Costs
You start the experience by signing up for a subscription. There is a demo you can try, but it is very limited. There are a few different platforms and a few different options for subscriptions.
At the time of this posting, there are several different costs for Tripp depending on which subscription plan you get $4.99 a month or $14.99 a year. You also can get an optional lifetime offer for a one-time cost of $29.99. This is the price of many Oculus games on the market and is very reasonable. Especially since they are regularly adding new content in both male and female voices.
You can check out their FAQ for the latest information on subscriptions including an exclusive Oculus Quest lifetime option.
Once you sign up, you can download a mobile app version of Tripp to keep track of your habits and sync up your account. Then you need to boot up the VR experience. You can log in with your email and password, or you can use your mobile app to sync with the VR app.
Tripp Basic Settings and Experience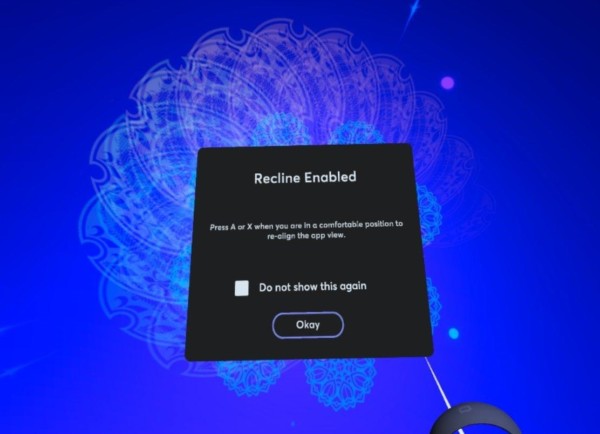 There are a few things to note before we get into breaking all the parts of TRIPP down….
You can select a sitting or a reclined position depending on which is more comfortable for you. The recline position is definitely great for calm sections.
Tripp does not require you to use any controllers after you launch it. You aim a small dot with your head what you want to select and then a circle will slowly move around to select it. All nice and handsfree.
How Do You Feel Before and After?
All of the experiences on Tripp start by asking you how to currently feel out of 10 and several words associated with your current mood. You can disable this if you want to. Although it was mildly annoying to do this each time a session started, I did find it helpful to realize that I did in fact feel my mood improve, or be calmer after each experience.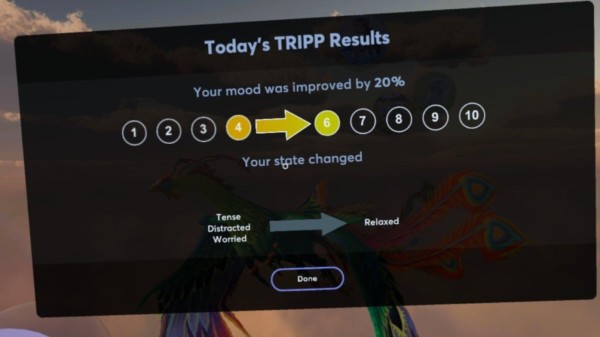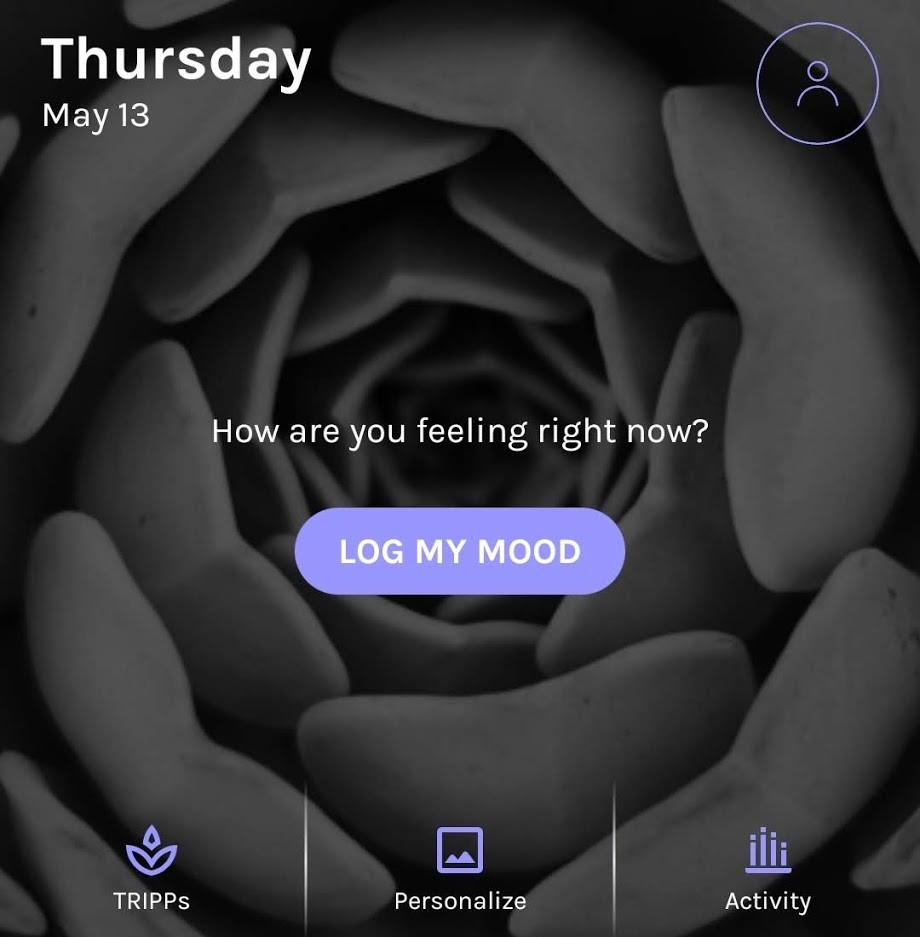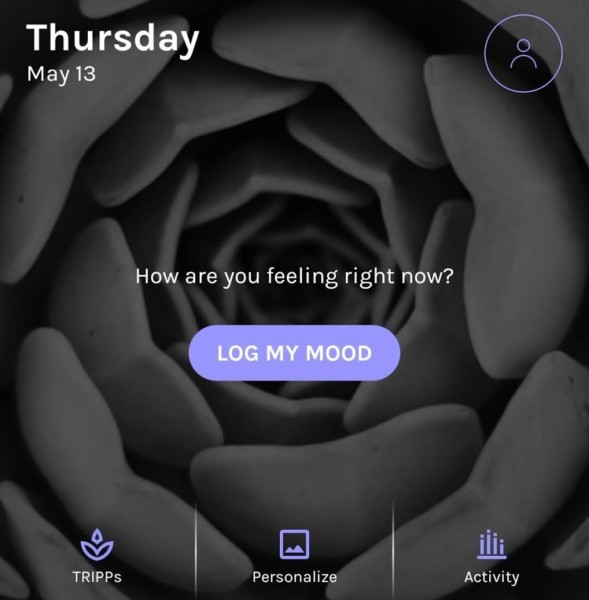 On the app under Personalize, you can upload some photos of your family, friends, or pets that make you happy. These photos will appear in the final moments of the meditation and it's a nice "reward" to see your loved ones once you've made it there. Definitely take a few minutes on the mobile app to upload things that make you smile.
You also have the ability to customize each experience. Do you want lots of guided talking meditation? None? Male voice or Female? How much time do you have? Customize each session to suit you.
After signing in, you are able to access the Tripp main menu. From the main menu screen, there are many options to go over, the most important being with your daily focus and your daily calm, so that is where will start this Tripp VR Review. Each and every single day you can log into the app to find brand new scenes of daily focus meditation and daily calm meditation.
Focus Meditation in Tripp VR Review
The focus meditation is a short roughly 8-minute long break that you can take to help you refocus and get your head back in the game – great for early morning, or a mid-afternoon break. Each Tripp will have a different beautiful background theme, as well as a different topic to explore.
The meditation starts off with a beautiful setting and some very simple breathing. A soothing voice will walk you through all parts of the experience. These can cover a wide variety of topics but some of the ones I've explored this week are Empathy, Focus on Self Care, and Quieting the Mind.
After the breathing exercise, you are teleported up to the next area where you will play a short game. This game involves you using the headset to stare in the direction ahead of you and control an item like birds or kites. Blocks will float towards you and you are required to miss them and collect the coins that appear. It's pretty easy and the point isn't really the game or the complicatedness of it, it's more to focus on something and relax.
After the game, the screen will focus on a very interesting and different kaleidoscope experience for a few moments as you float towards its center.
Eventually, you will appear at the final scene which includes some beautiful and interesting larger items to look at. You have reached the end of the experience. This is the section that will also have the photos that you upload if you choose to do this in the mobile app.
All in all, the focus meditation is an 8-minute experience that helps you relax and focus.
Calm meditation
The calm meditation is different from the focus one. The settings can be changed to make the experience last up to 30 minutes or remain a short 8 minutes like the Focus.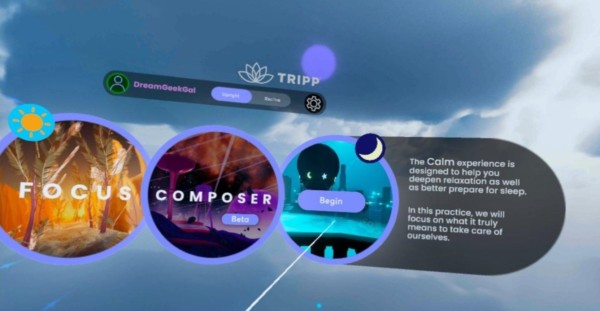 Once again a beautiful landscape will load. The calming voice will help you focus on different types of controlled breathing. The ones I've experienced so far are box breathing, regular breathing, and humming breathing.
There will also be a mindfulness topic for you to focus on. Some of the ones I've experienced this week are Centering on Forgiveness, Feeling Gratitude, and Manifesting Desires. I found the topics insightful and helpful in thinking about myself and ways to improve. As mentioned if these are not for you, you can turn the voice off.
There's definitely a much larger emphasis on breathing in the calming experience. It can be very hard to meditate, so having a guided voice walk you through it as well as easy-to-follow visual representations on the VR headset is a nice way to be calm and stay present.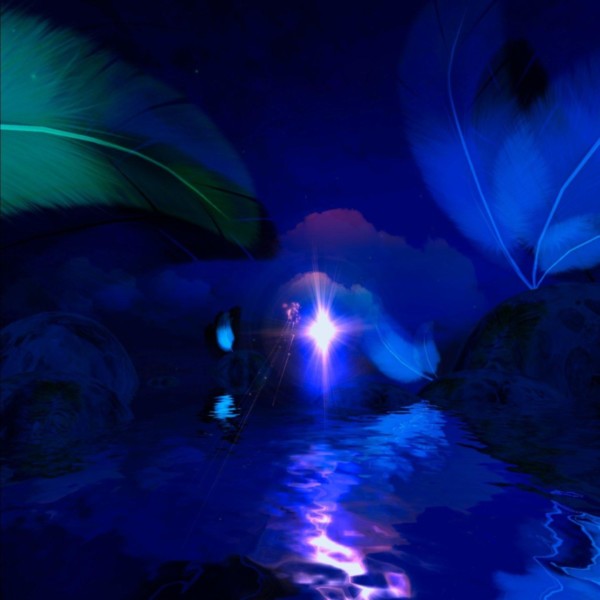 You will be teleported two different times during the calm experience shortest duration, both will involve guided voice and breathing exercises. As you are moved upwards, I did have a brief moment of uneasiness as you are not really moving upwards in real life. It quickly passed, but I noticed I felt it each time. I wish this could be optionally turned off as it doesn't really add anything to the experience.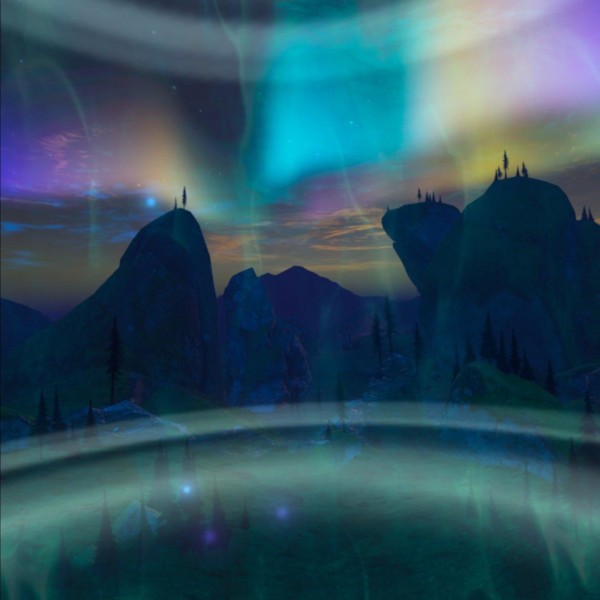 Custom Tripp Composer – Beta
The final main experience in the middle of the main menu is called Composer. This is the tab you select if you want to completely customize your experience. You can select up to 26 different locations of visual background for the calm and 32 for the focus.
Depending on the background choice, a few topic choices will be presented. You can then select which one you are interested in focusing on for the meditation.
This is much needed in my opinion because I found there are certain areas that I wanted to focus on and other topics that maybe didn't resonate with me.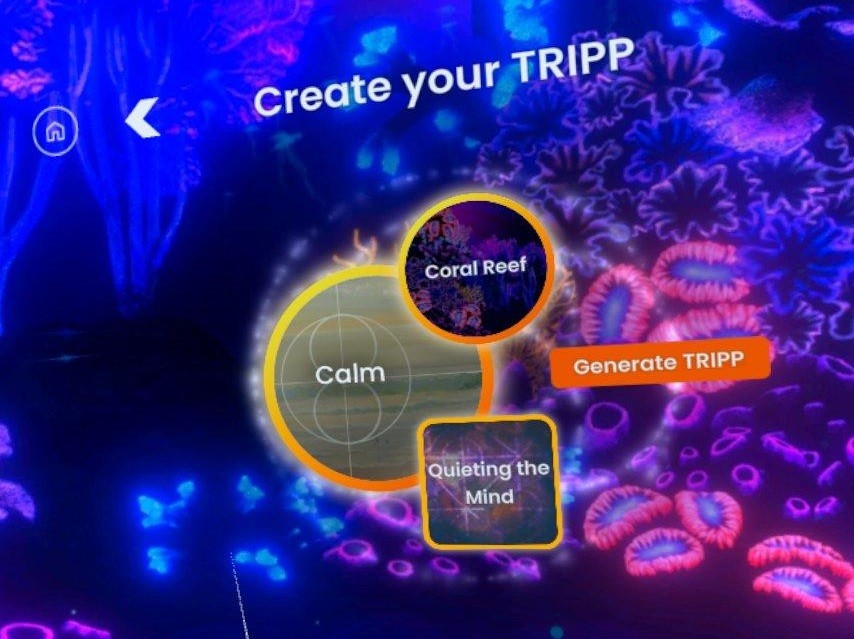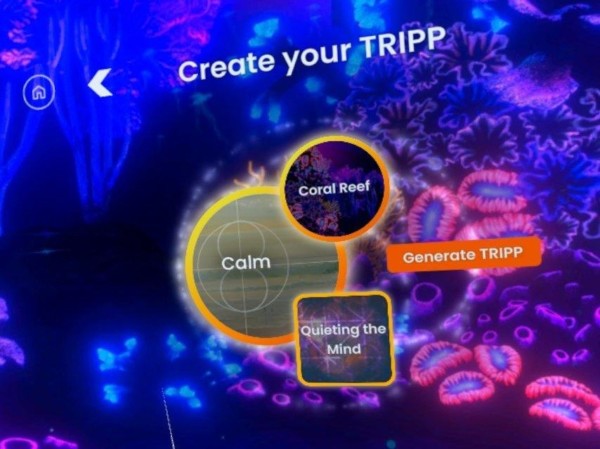 The ability to focus on only certain parts of the Tripp Experience is still missing though. For example, I really enjoy the kaleidoscope meditations in the focus part. I would like to just be able to have some relaxing music and that section. That is not an option. If you wanted a sea experience, you can select that in composer, but again it will still teleport you twice and you will still need to go through the whole experience. You can turn off the guiding voice, but you will still transport through the various sections.
I hope in the future there is more "one part" of the experience on repeat to customize here.
Other Parts of Tripp
There are many other experiences available from the main menu, including Ascend, Escape, Learn, and Meditate.
Ascend
The ascend category is a selection of artistic videos that you can watch in 360°. Many of these include trippy visuals and out-there experiences for those looking for that type of thing. They are interesting to look at but not somewhere I focused a lot of time.
Escape and Meditation
Both of these tabs are pretty much the same thing, you are able to travel to various relaxing locations. For example, you can have a waterfall in front of you or a winter landscape. I found the visuals here on the Oculus Quest 2 were pretty bad and blurry. I didn't find them all that relaxing or meditative. Some looked better than others. They also load rather slowly and sometimes time out. You can get the same experience on the Youtube Oculus tab and 360 Videos.
Learn
The learn tab has a few videos about meditation. If you are looking for more information about meditation, this is the tab to check out.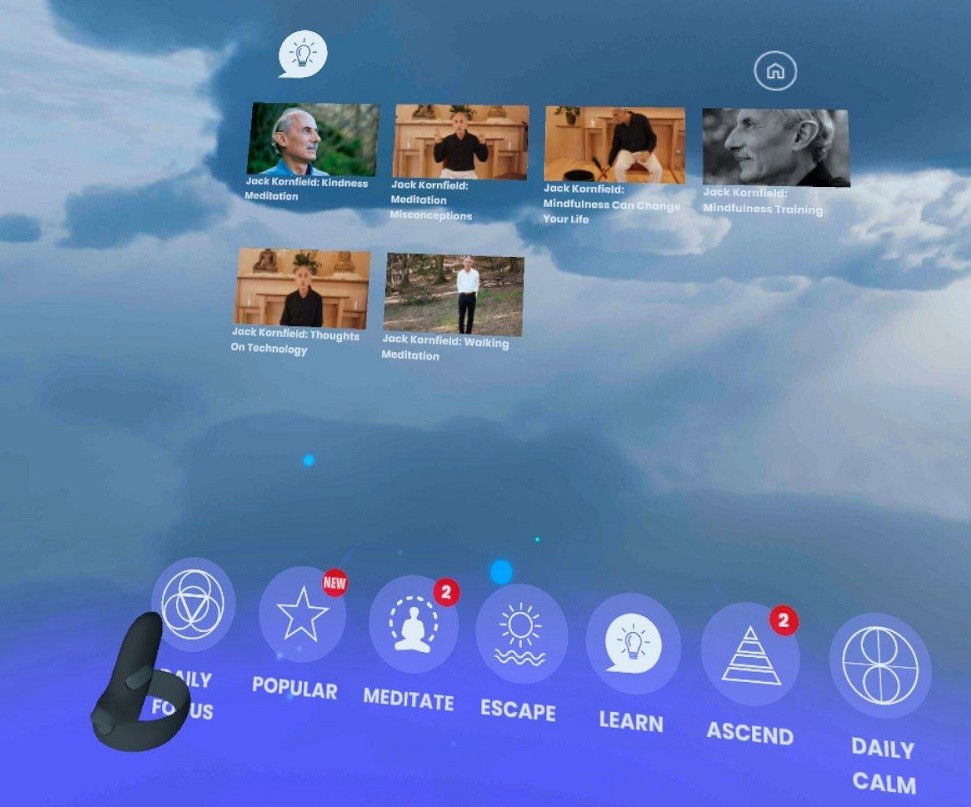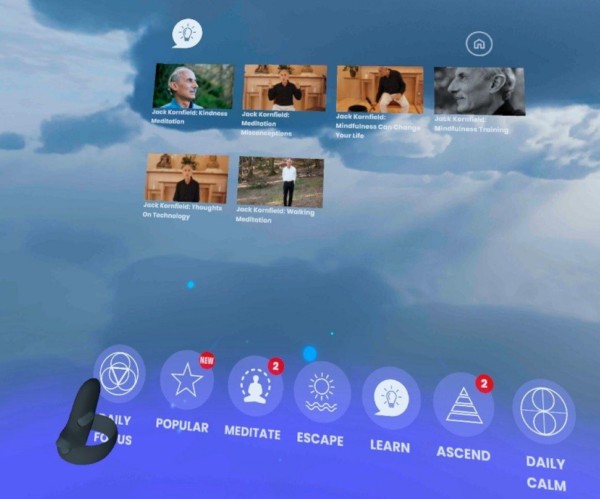 Popular
The popular tab is what you would expect. The most popular experiences other people are watching on Tripp. Oddly enough, they include the demo on this screen.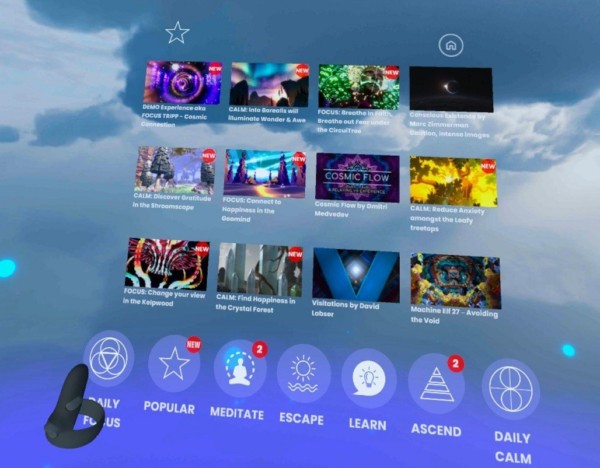 All in all, most of these other extra were not really used by me and I imagine most people won't be daily using them either. They were just too blurry for me to relax in.
Tripp Downloads Each Experience – Each Time
One thing to note is that each experience is required to download at the moment you select it, to your headset. Tripp has a base size of 1.5 GB on your Oculus Quest 2. It caches your last 750MB experience, but a daily calm can easily be that big. Daily Focus and Calm meditations are roughly between 200MB-700MB sizes.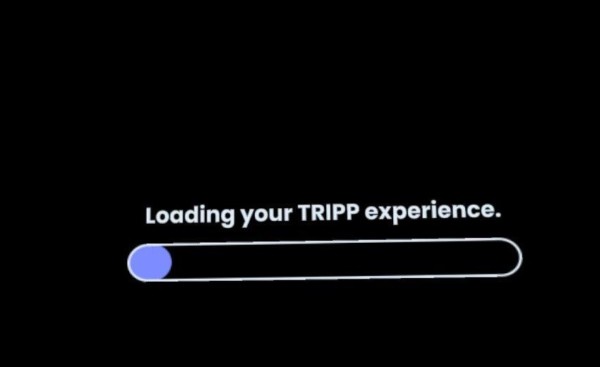 Because these worlds are quite large, a lot of the time these file sizes will be quite large. If you have slower internet, it can take a few minutes for that download to happen.
I wish there was a way to save some of these on the headset itself so that this downloading wasn't needed. Perhaps a favorite tab so I could just immediately save the versions I like and load them instantly. I realize this can make the size of Tripp grow quite large, but I do feel this is an option that should be added.
Tripp is using Medical Science to Prove It Is Good For You
There have been quite a few studies that trip is participating in with the medical community and I am happy to see that. We definitely need more scientific research papers to talk about how VR can impact humanity in amazing and positive ways.
Tripp is currently working with people who have a mental illness like Scziophenia and anger management. They are using Tripp and VR to determine if they can help them.
They are also doing a very interesting study on using the VR headset before surgery to help people remain calm and less stressed. Very neat stuff. You can read more about these medical studies here.
Tripp Achievements
Recently Tripp updated and added Oculus achievements. Just a nice little extra to add some gamification to your Meditation journey, and shows that they are continuing to invest and work on the product.
Does Tripp cause motion sickness?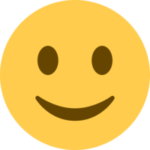 You experience Tripp in a stationary environment. There is only one moment of movement as you elevate to the 'next level' in experiences where I felt a bit off, but it was brief.
Tripp should not cause any motion sickness issues.
Final Thoughts On Tripp VR … Is Tripp Worth the Subscription Cost?
I have been using Tripp for several weeks now to see the experience and how it changes over time. As mentioned in the review, the core section is the daily focus and calm meditations. The other sections have a few neat things to look at, but you will be spending your time on the daily and the composer.
I found it pretty neat to track my feelings before starting and then being aware that yes, at the end of an 8-minute "video game" experience I did indeed feel different and usually better. That's pretty fascinating stuff.
Is Tripp worth it? Yes! $29 for lifetime access to ongoing relaxing mental health time? Yes, please!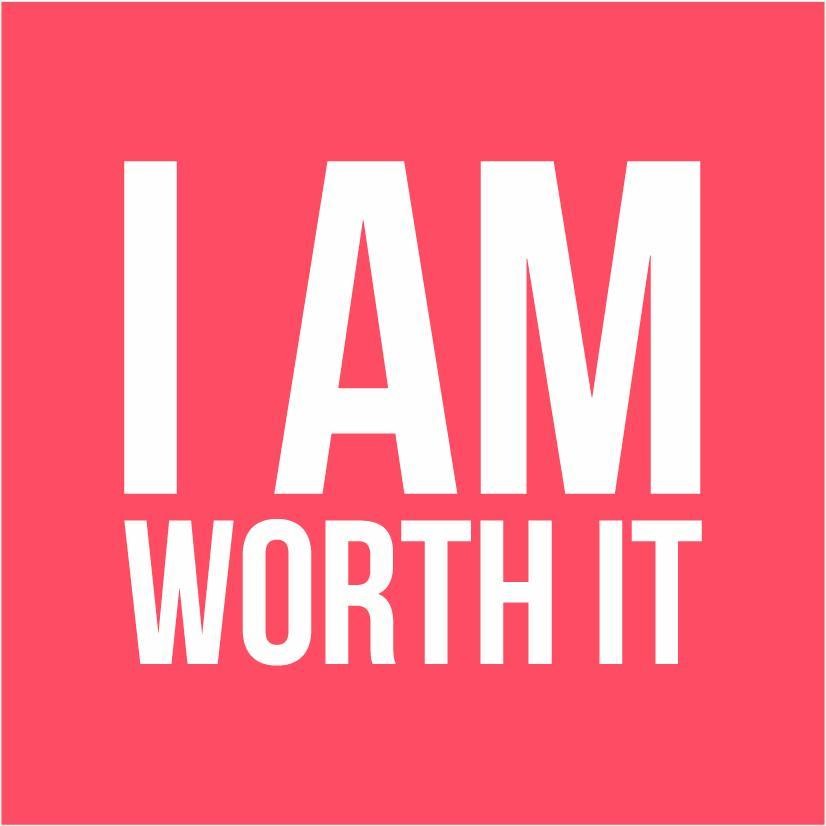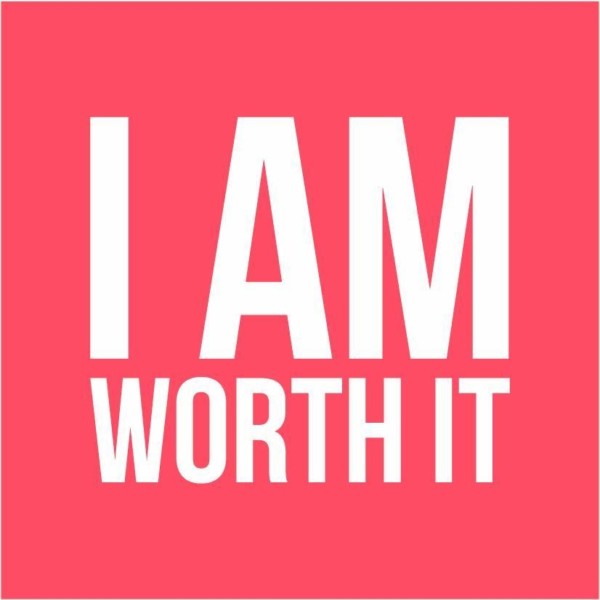 There really is nothing else like this available currently on the Oculus Quest. Tripp offers you the ability to take a moment for your mental health and focus on yourself. It gives you easy access to guided voice meditations and an app that keeps track of your well-being. I do hope they can continue to customize the experience and add in additional 360 videos and experiences that are designed for the Oculus Quest. In the meantime, I will definitely pop into a calm session after a hard VR workout, or a quick afternoon focus when I find myself dragging.