"You have thirteen hours in which to solve the labyrinth, before your baby brother becomes one of us… forever."
Labyrinth fans rejoice! River Horse, Who have created tabletop games like My little Pony, Terminator Genisys and The Hunger Games, have secured the rights to making a brand new table top game of beauty called – Jim Henson's Labyrinth The Board Game.
This game is now available for purchase on amazon.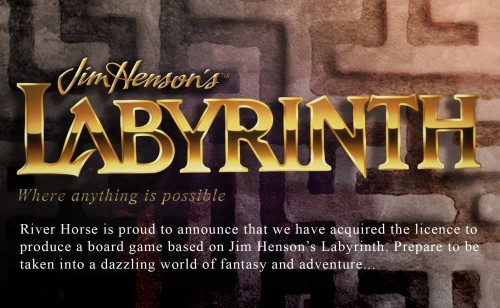 The game has been created in partnership with The Jim Henson Company and will feature the likeness of the main characters from the movie – including Sarah, Hoggle, Ludo and Sir Didymus –  in some beautifully crafted miniatures you can see here.
Look at these awesome figures! Such detail and look exactly like the movie. Labyrinth the Board Game board also includes a lot of detail and beautiful artwork.
What will Labyrinth the Board Game Play Like?
"Each game is different with the blank card spaces being filled with the magical encounters and monsters that are depicted on the deck of cards that comes with the game, this ensures a great deal of replayability and unpredictability in the game, giving the Labyrinth its signature feel.
The game consists of two distinct stages, one where the group must adventure through the labyrinth trying to find the goblin city whilst keeping their willpower as high as possible (nobody wants to fall into the oubliette!), and a second action packed stage where the players must fight their way into Jareth's castle where Sarah must say the  magical words that will release her brother." – according to the website.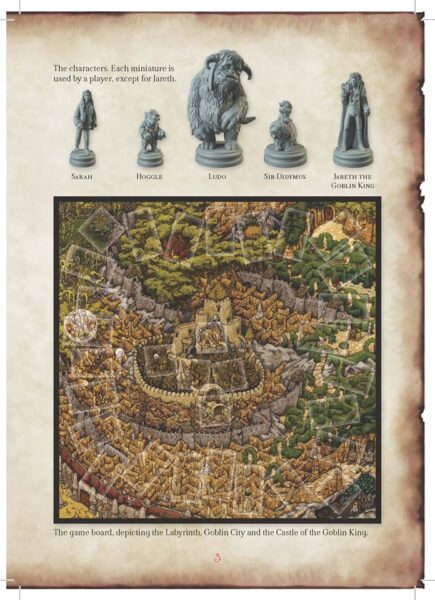 The game is said to include:
5 highly collectible figurine renditions of the main characters
2′ x 2′ game board lavishly illustrated with inspiring new artwork featuring all the legendary places from the movie, including the Oubliette, the Bog of Eternal Stench, the Goblin City and Jareth's Castle.
32 Labyrinth cards
Over 30 game tokens
6 polyhedral dice (D4, D6, D8, D10, D12, D20)
6 reference cards
4 character sheets, 4 Ability cards & 4 Weakness cards
4 card stand-ups: Humongous, Goblin Infantry, Goblin Cavalry & Goblin Artillery
Goblin Clock & Clock hand
Rules Booklet
Jim Henson's Labyrinth The Board Game is for up to 4 players ages 6 and up and is scheduled for a summer release. There is currently no MSRP but you can stay up to date on the project on River Horse website and the Facebook group that is full of fans here. Labyrinth the Board Game does seem to be still being worked on but its nice to see the creators actively updating fans via the pages.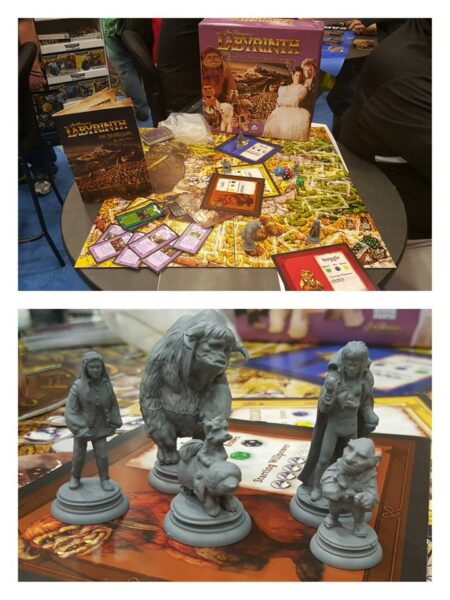 (image taken from Facebook – Beast of War) This sounds amazing and the artwork looks really awesome.. Who's looking forward to this Labyrinth the Board Game?
Why not check out some other cool Labyrinth Items you can get today?