Founded in 2012, Loot Crate was formed to create a sense of community among fans of gaming and other things geek. Thousands have subscribed to their monthly boxes, which include exclusive items from geek, gaming, and pop culture. Late last year, they developed another subscription service in which the boxes would cater to fans of anime/Japanese animation. These too would contain exclusive merchandise, mainly focusing on various animated series. Since their launch in November, Loot Anime boxes have consistently sold out. Last month's theme was Haunted. The following items are based on popular anime series from the supernatural genre. Check out my review of the Loot Anime Haunted crate.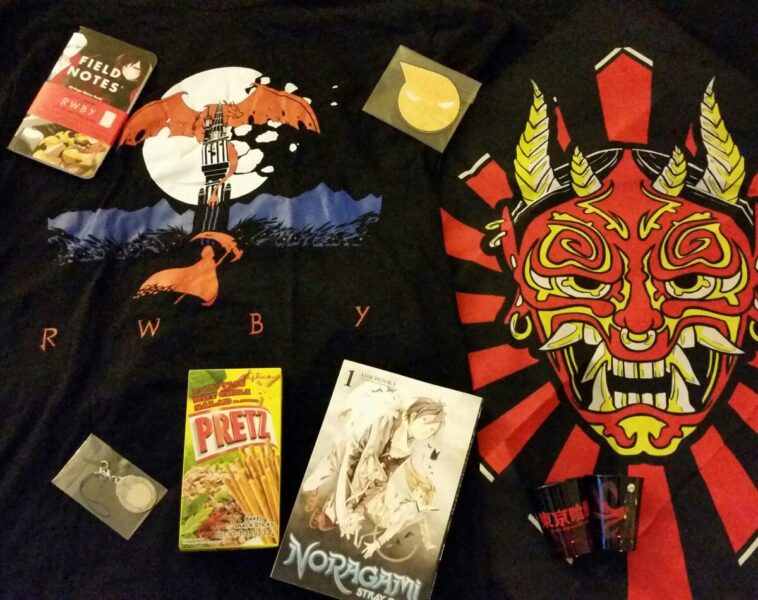 What's inside the Loot Anime Haunted box:
RWBY T-shirt and Field Notes – This show was first released on YouTube in 2013. It has 3 seasons and is now also available on Netflix. Do check it out! The shirt and notebooks are surely rare collectibles fans of this show would love.
Tokyo Ghoul shot glasses – The glasses in this set feature graphics of the series' title and its main character, Ken Kaneki. What "poison" would you choose to swig out of these?
Soul Eater patch – Soul Eater was one of the best random finds for me on Netflix. I was instantly hooked to the series after viewing the first episode. I even dressed up as one of their main characters, Maka Albarn, for a few years during SD Comic-Con. I had wondered when they would include an item from this show. So surely I was excited to receive this item the most because I'm a huge fan. I'll have to figure out a good place to put it. Maybe make a DIY of Soul's jacket? That actually sounds like an awesome idea.
Noragami Manga Volume 1 – Because Netflix is so darn awesome, I also discovered this series, which was first released via manga in 2011. This first volume of the manga has an exclusive variant cover. I'm going to try and see if I can read through it first before watching it.
Oni bandana mask – The Setsubun Festival is celebrated in Japan during the month of February. It is also the time to observe the coming of Spring and get rid of evil spirits, such as the oni, roughly translated as demons, devils, ogres, or trolls. These characters are often seen in Japanese art, theater, and literature.
Haunted Phone Charm – Every Loot Anime box comes with a specialized phone charm based on the month's theme. The charm itself isn't actually haunted, but mirrors are said to be portals into the spirit realm.
Hot Chili Salad flavored Pretz – I wasn't expecting an edible item with this month's box, so this was a nice surprise. I had actually received this in one of my past Japan Crates and it's pretty darn tasty. Has a bit of a kick too. Instant thumbs up from me.
I've been on this subscription for almost 6 months and will be receiving boxes until next month. Both Loot Crate and Loot Anime offer fun items for closet and hard core geeks alike. Subscriptions range from month to month to yearly. If you've been curious about checking either one out, click here to get $5 off your first box.