I came home from a trip to New York City to find a stack of packages waiting for me at home. One of them was this month's Loot Crate.
Loot Crate's theme for May 2015 is UNITE. In Loot Crate's teasers we saw hints of many franchises including Power Rangers, Rick and Morty, Team Fortress 2, The Avengers, and Bravest Warriors.
Let's see what's inside Loot Crate May 2015:
As always, there's lots of really cool stuff.
Green/White Ranger T-Shirt by FlopHouse– Many friends know I've been a Power Ranger's fan for the longest time. Tommy as the Green and White Ranger's was the best. I couldn't resist and had to take a picture of me with this shirt on along with my action figures.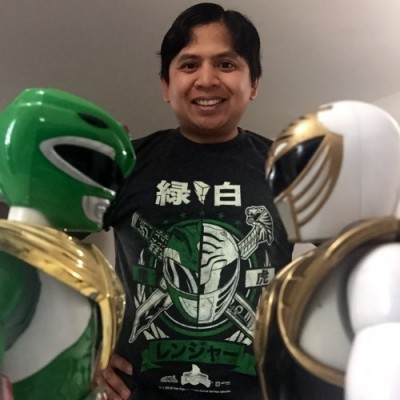 Loot Crate Exclusive Marvel Printed Shoe Laces by Esquire Footwear- These comic-printed laces are pretty cool, yet they only show Captain America, The Hulk, and Spiderman. The same 3 images are repeated on both sides of the laces. Each shoe lace is about 48" long and should fit most shoes. I got the color version, while others got the black and white.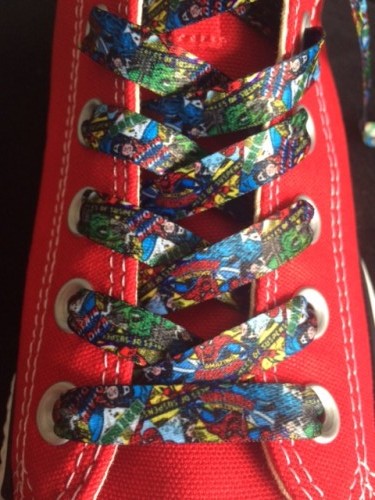 Marvel Ice Tray by ICUP – This silicon mold can not only be used to make ice cubes, but probably jello and candy as well. I think I'm gonna try my hand at making chocolate. There 8 spaces with 4 total designs: The Thing, Hulk's Fist, Captain America's Shield, Iron Man's mask. Personally I would have liked to have seen 8 different molds, but it is what it is.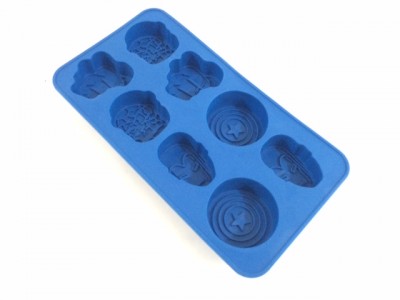 Team Fortress Buttons – Four great buttons all properly mounted on their backs with the pin portion horizontal as it should be. Cheaper button makes don't care which way the pin part aligns making for awkward pinning.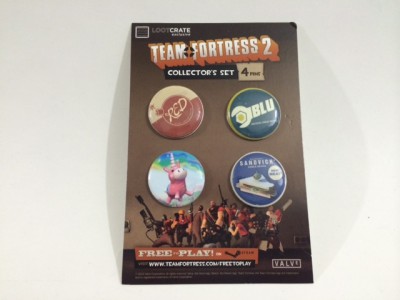 Rick and Morty Jigsaw Puzzle by Cardinal Games– This is a pretty sizeable 300-piece puzzle. Completed, it measures 11 x 14. The design features many characters from the show. Now I've got to find some time to sit down and complete it.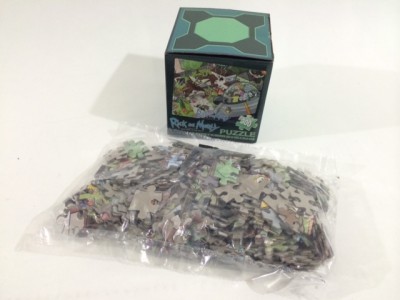 Avengers: Age of Ultron Car Decal – This is another cool sizable decal. I did just get a new car, but I'm not sure if I'd want to stick it on my car. On the side of my computer case maybe?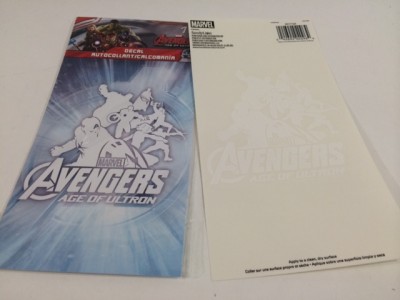 Loot Crate Exclusive Bravest Warriors #1– If you're a fan of Adventure Time, then you'd probably like this. This comic features 5 shorts stories that center around the bathroom, hence the subtitle, "Tales from the Holo John."
Special Loot Crate Edition of MAD Magazine – It dawned on my during my unboxing video that Alfred E. Neuman was made up to be the new Aquaman. I haven't opened up an issue of MAD for years and forgotten how funny they could be. This little 'zine-sized issue was packed with lots of content. It also comes with a free full sized issue of iPad version.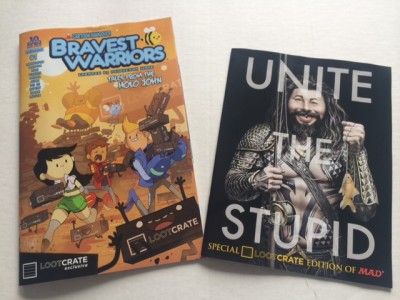 The Box- This months box features a superhero locker room complete a dirty tile floor and a fold up wooden bench. Luckily it doesn't come with the locker room smell.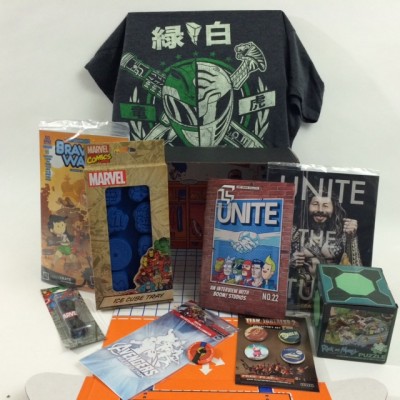 Overall Loot Crate May 2015 was a pretty good box. There was a slight overabundance of Marvel Items at 3 in this box. That's not really a complaint as I really do love Marvel, but I would have liked to have seen a little more variety when it comes to franchises showcased. I always love any surprises that Loot Crate sends my way.
You know you want in on this awesome Loot Crate swag. Why not subscribe?