What is Back to The Future Day?
October 21, 2015 is Back to the Future Day. This is the day that the characters in Back to the Future movies arrive in the future. It has become a holiday and is now celebrated as "Back to the Future Day".
Happy Back to the Future Day! The Future is here!
Back to the Future day is here. Many of us have been waiting many years for this day to come. Back to the Future predicted many things. Some came true, some are almost here, and some are way off. Either way, it was a fun ride along the way. Here's some of my thoughts

The Back To The Future Movies
The movie trilogy has been a part of the greater part of my life. I remember watching it on TV as a little kid and being mesmerized by time travel. We then found out there was going to be a Back to the Future II being released and it took place in the future! I think there was a special on TV that showed the original film, but showed sneak peeks of Back to the Future III with hints of III to be released a quick 6 months after. They had filmed the second and third back to back.
All of the movies were supposed to be part of one story, but 2 and 3 were scrapped to make the original its own story. The ending of the original was supposed t be open-ended. Had they originally intended for sequels, they wouldn't have included Jennifer in the car to travel into the future. That created some writing problems when it came time to write the sequels. Parts II and III are the second and third act of the Back to the Future trilogy. They were filmed back to back as they would have been too long as one movie.
The latter two films were amongst the first my siblings and I were able to see in movie theaters.
The original release dates of the movies
Back to the Future – July 3, 1985 (pushed up from July 17)
Back to the Future II – November 22 1989
Back to the Future III – May 25, 1990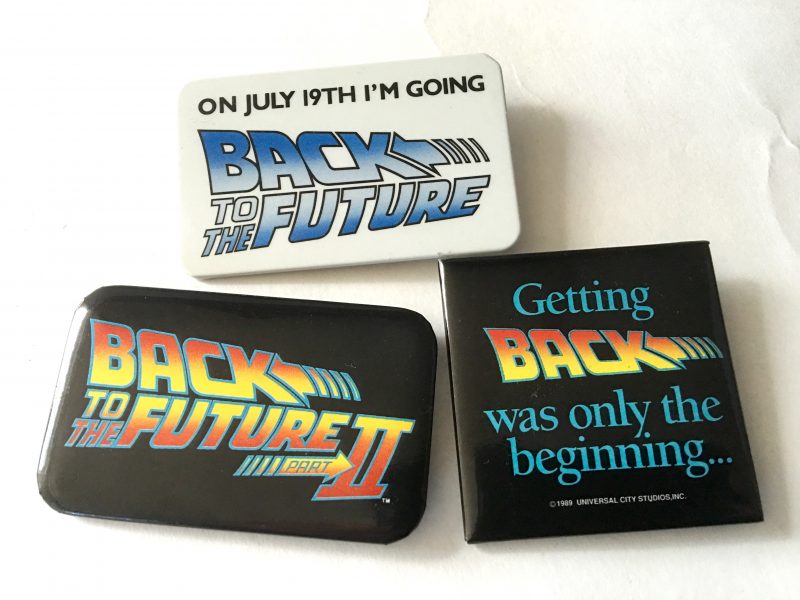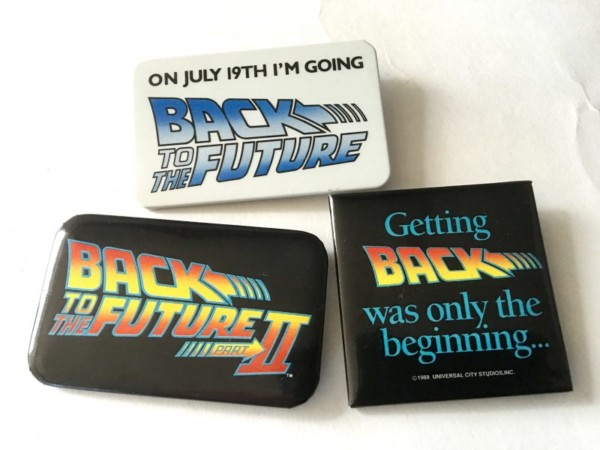 Favorite Back To The Future Parts
My brother, sister, and I used to watch the movies back to back on Saturdays. I'm pretty sure wore out our original VHS tapes and have replaced them a couple of times. One of our favorite scenes was in the opening when Marty would blow the giant speaker in Doc Brown's home/garage. We would turn up the volume on the TV, set up a pile of pillows behind us, and jump back into them as Marty gets blown back. We would often repeat this.
More Back To The Future
We couldn't get enough. We ate up anything related to Back to the Future. There are so many things out here. Toys, clothes, books, games, and other collectibles.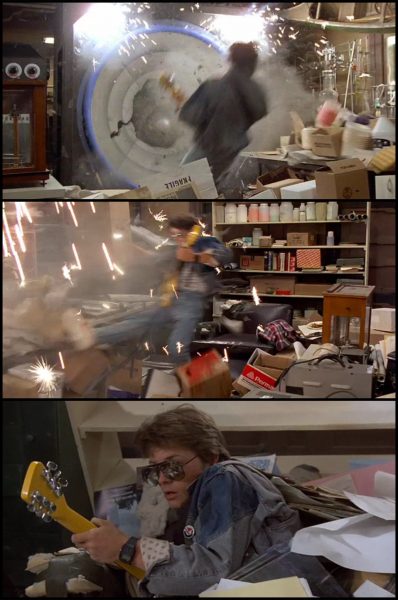 Back To The Future Video Games
We had a Nintendo Entertainment system and got the games. Those were extremely difficult. I don't think I ever finished them. The Telltale Games Back to the Future game was actually pretty fun to play. The cast came in to voice it. Bob Gale helped work on the script. It helped expand the universe.
Back To The Future Cartoons
The cartoon series ran for 2 years. It was fun, but kind of hokey. We would later on find out that even though they were after the films, Bob Gale considered them as part of an alternate timeline. The same goes for the old comics.
Back To The Future Comics
Speaking of comics, there is a new Back to the Future mini series out today, Oct 21, from IDW that will help fill in gaps in the storyline. I'm excited about this one. The first issue shows how Marty met Doc Brown.
http://nerdist.com/idws-back-to-the-future-comic-shows-us-how-marty-met-doc-brown/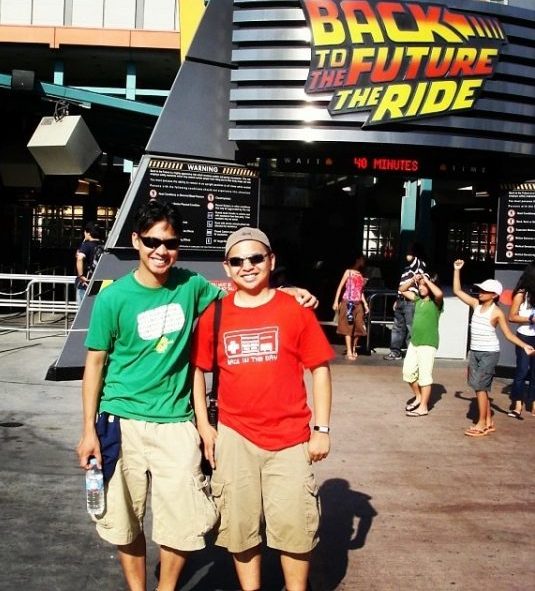 Back To The Future Theme Park Rides
We also found out about the ride being built at Universal Studios Hollywood. We begged our mom to bring us there after it opened. The line was long, but it was fun being immersed in a the Back to the Future universe within the Institute of Future technology. There were hover boards and gadgets displayed everywhere. Unfortunately advancing technology made the light look dated later on. My brother and I got to ride it one last time before it closed.
DeLorean Driving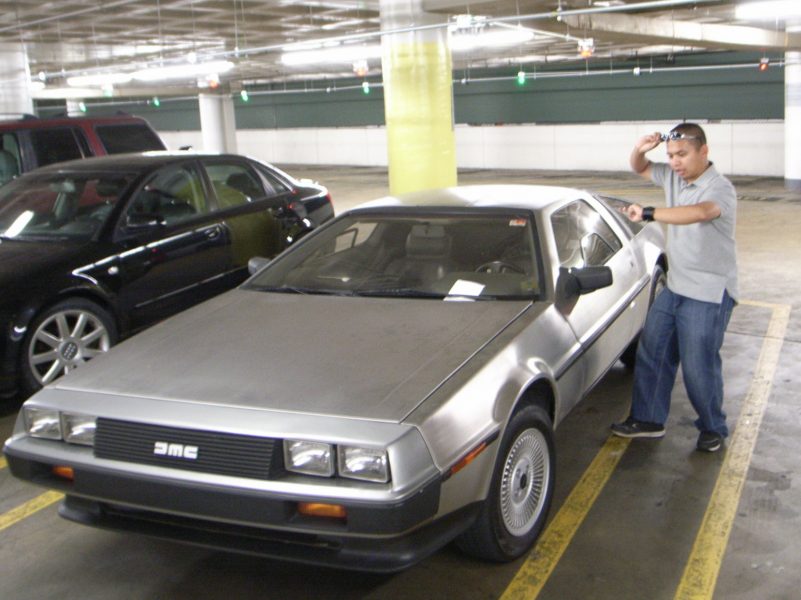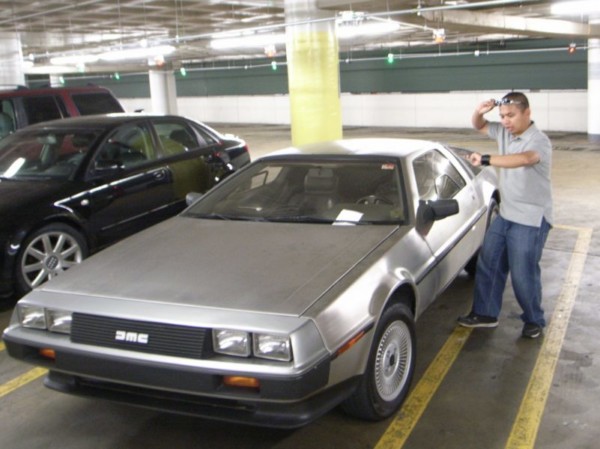 While in college, I was still a fan and thought I was the only one. The Japanese students I lived with actually loved the film and I learned about how they loved it as well. I finally got to see a Delores in real life unexpectedly one day. At that time, my girlfriend lived with a host family. Her host mother's boyfriend drove every day to the house. He let me drive it when he found out how excited I was about it. Luckily I knew how to drive a manual car. Unfortunately, it was only in the neighborhoods, so I wasn't able to get it up to 88mph. He then offered to sell it to me for cheap, but I didn't have $5,000 to spare at that time.
Back To The Future Collectibles
As a college student, I had no money to spend on collectives, but now that I'm making my own money, I can spend galore! I've collected many things along the way. It helps that many companies are now pandering to those growing up and are now able to afford the collectibles they want.
Various Scale Models/Replicas
I started collecting 1:18 scale Back to the future DeLoreans. They now reside at my brother's place. I then started collecting mini-mates figures that I spotted at San Diego Comic-Con.  I then saw that Diamond select was creating 1:15 scale vehicles with lights and sounds. They had concepts for every single version of the movie. So far, I've nabbed the original and hover versions. I've yet to get the white-walled western version. I'm still waiting on the Jules Verne flying train though.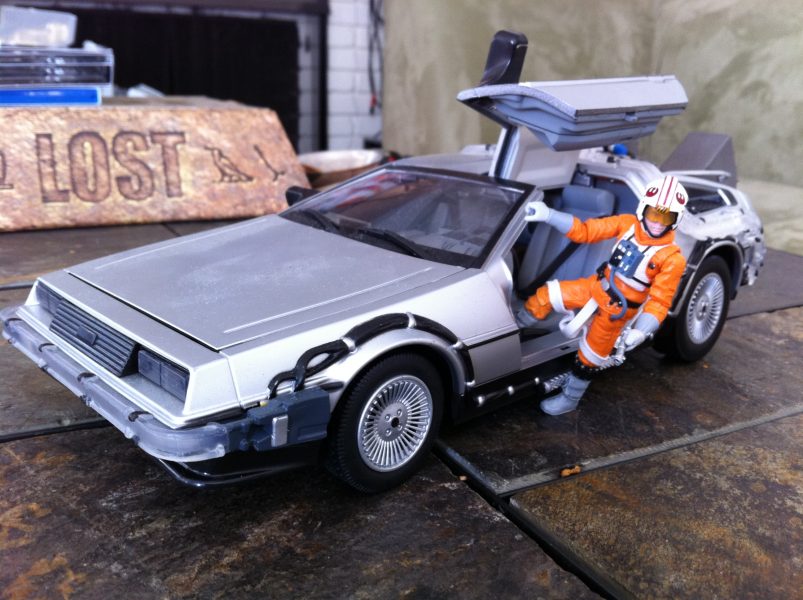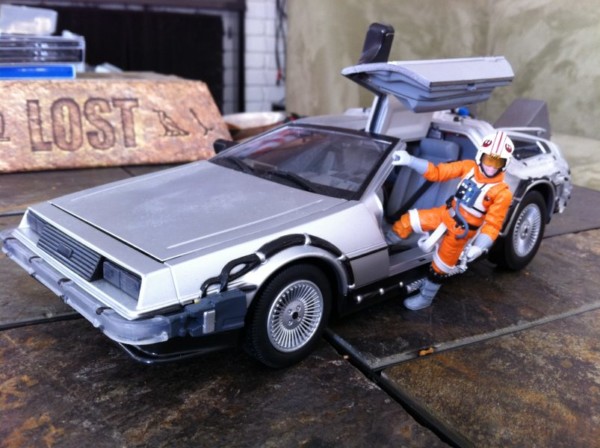 San Diego Comic Con yielded a collectible Hot Wheels Deloreans in Plutonium Case. I've also gotten other BttF Hot Wheels along the way. One of my favorites is Biff's Ford covered in manure.
The Big Back To The Future Stuff
I also got a couple of the higher end collectibles. The limited edition Flux Capacitor was one of my first big BttF purchases. That one was limited to 1000 pieces. They later on created a normal unlimited edition. The Mattel Hoverboard was my second big one. A couple years later, they created a 1:1 scale Mr. Fusion which I have as well. These are my 3 faves.
View this post on Instagram
I even used the Flux Capacitor as part of an Aprils Fools joke on a PC Build. I made like it was a cooling device.
Mini Flux Capacitor
Rather than "install" the full sized Flux Capacitor in my car, I got a little one that lights up. Check it out
here
.
Hoverboard
Mattel decided to release a 1:1 scale Hoverboard prop replica with lights and sounds. Unfortunately, it was a little lesser quality than people expected.
I also have several mini desk hover boards on different sized tracks by
NeoLev Technologies
that actually float. I reviewed them
here
Clothing
I've got a couple BttF related shirts. My favorite clothing is my futuristic hat.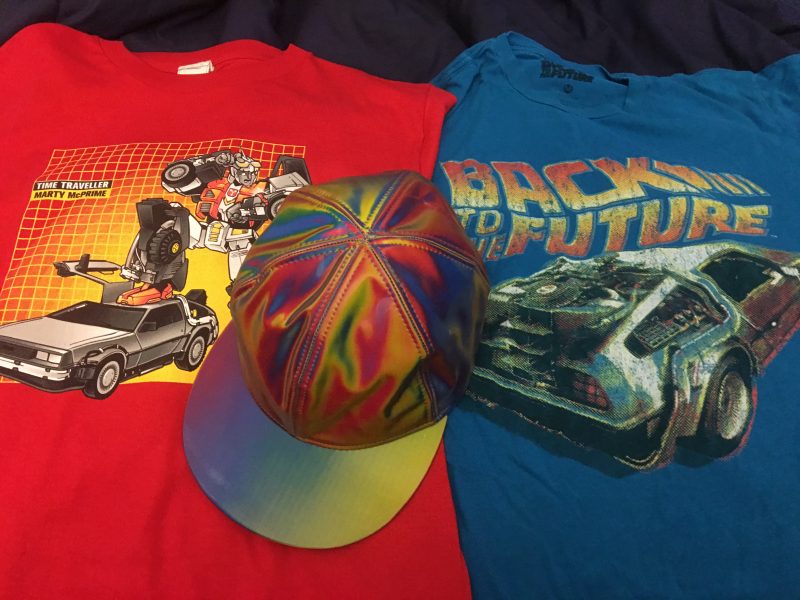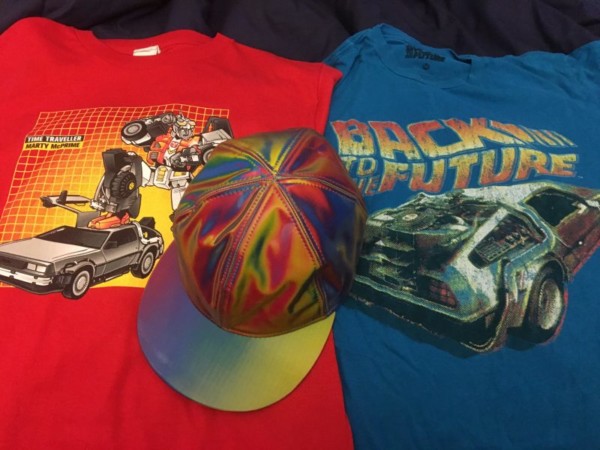 Back to the Future Media
I knew that when DVD came out, I would need to upgrade to DVDs. I quickly bought the trilogy set when it came out. Soon after they started releasing individual DVDs. The first volume included footage from the Back to the Future: The Ride. So I bought that one. It had a nice slipcase as well. I bought the second DVD later one, but the third with slipcase was hard to find. I saw it everywhere in plain DVD packaging, but not slipcase. I didn't want an oddball disc in my collection. The blurry 25th anniversary was then released. I HAD to have those. And just when I'd given up hope, I eventually found BttF III DVD with slipcase at a random store. My DVD collection was complete. This week a new Blurry boxed set was released for the 30th anniversary. This one includes the entire cartoon series as well.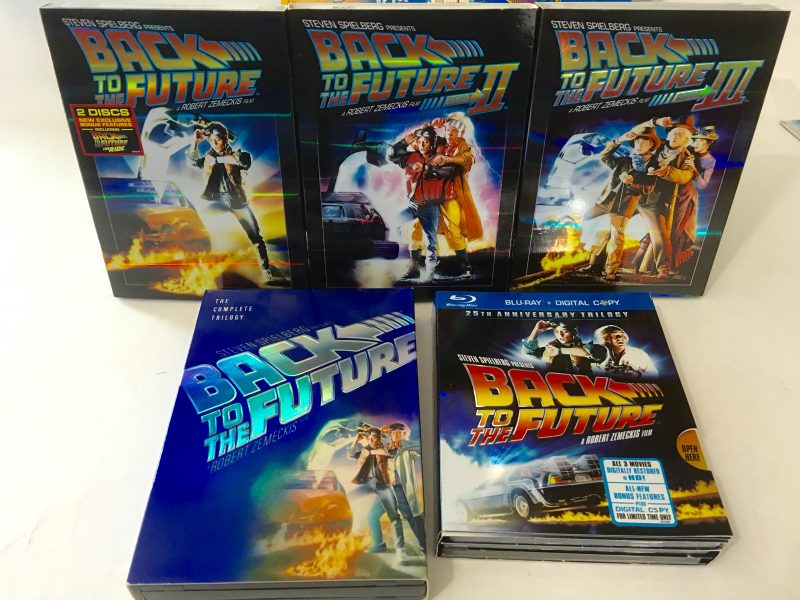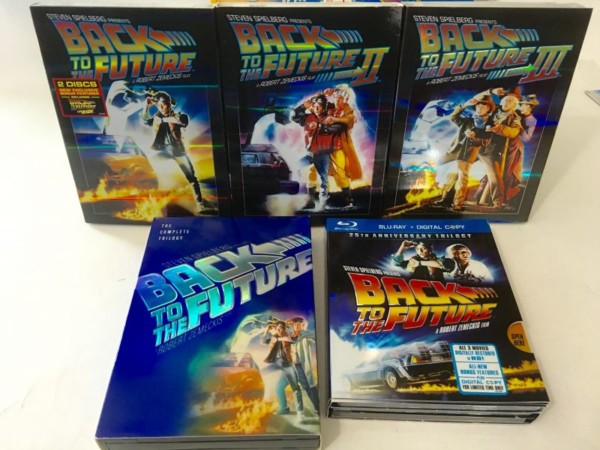 Back To The Future Figures
Diamond Select has created some Minimates figures and cars. I have some, but not all of them.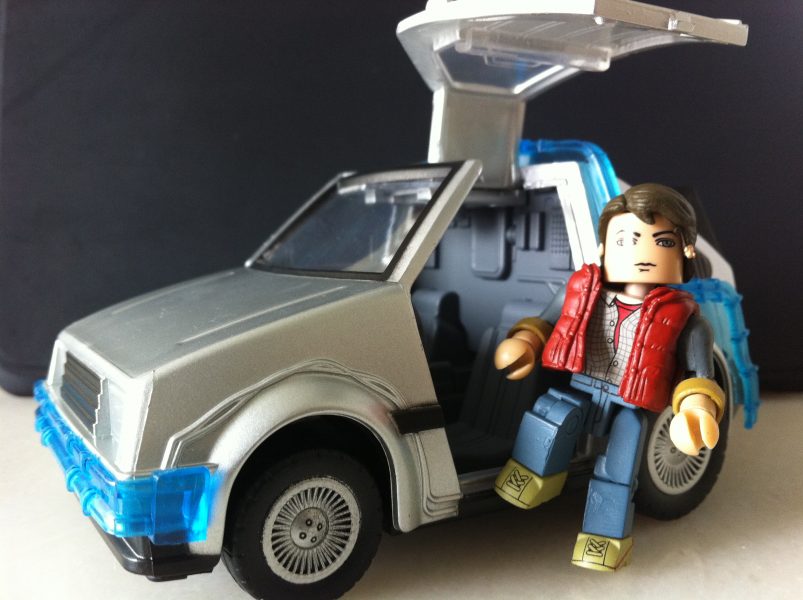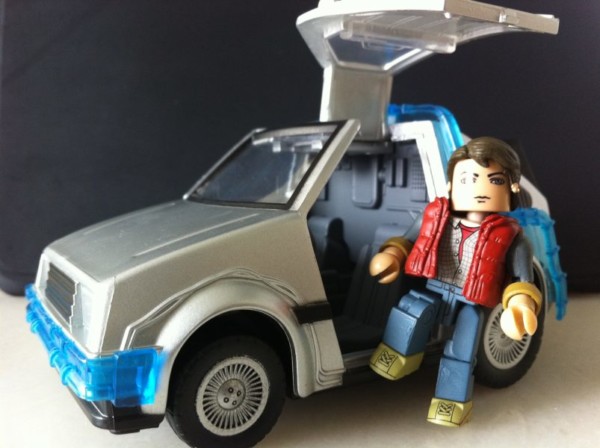 ReAction has created some simple figures. They're kind of in scale with the Diamond Select vehicles, but may be slightly smaller.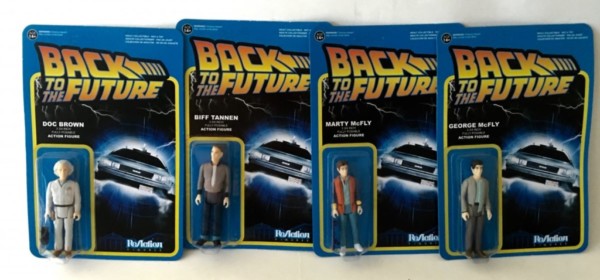 Pops has created a Marty and Doc as well as a Marty in a Delorean. I'm not a big fan of Pops, but I'll get these eventually.
I want a 1:6 scale Marty McFly, but at $200 a figure, I think I'm gonna wait for the Back to the Future II version rather than the first version. Same goes with the $600 1:6 scale Delorean. I'm waiting for the hover converted version as well.
Back To The Future Books
This is a recent crowdfunded book that was released that shows all sorts of collectibles that have been released through the years. It also hints at some future collectibles to be released.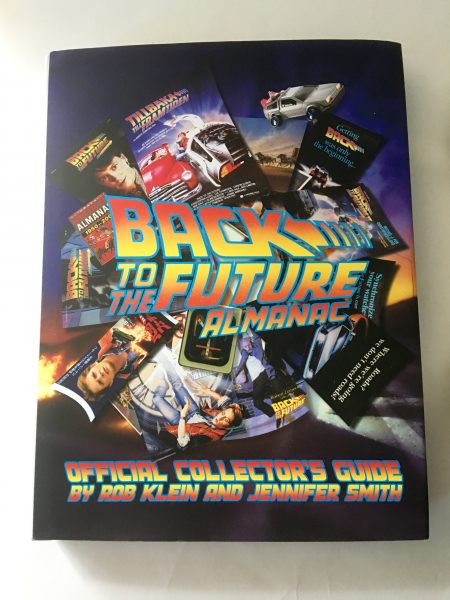 Other Back To The Future Wants
Unfortunately today, I wasn't able to score a Pepsi Perfect from Amazon or Walmart. Apparently many people are mad, but that was to be expected when only 6,500 were made available t the public.  You can still win one over on
Amanda Blain's Blog
. It's Canada only though.
Somewhere along the way, I was able to actually sit in a screen used DeLorean from Back to the Future III. It was before SDCC opened to the public. This was made possible by helping out the Fox Foundation with a donation.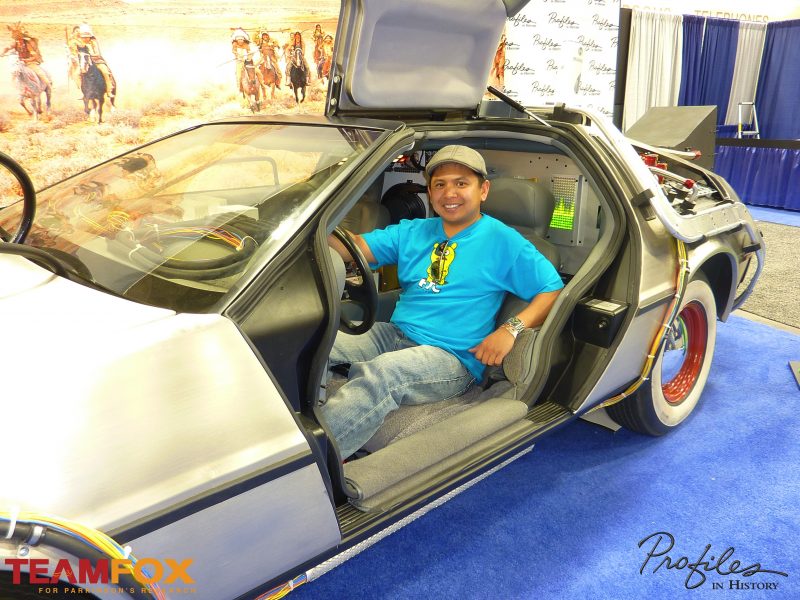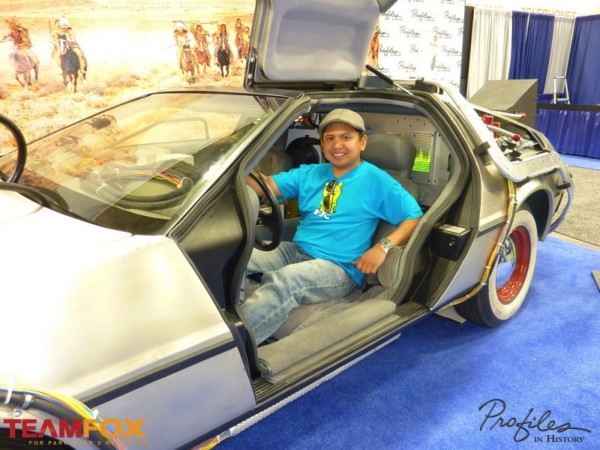 The Future
Back to the Future gave us a great hope for the future. It wasn't only entertainment, but a great part of many of our lives. I found myself relating back to it many times while just out and about. It's kind of sad to see that the timeline in the film will be entirely in our past after October 21st. Having it be part of our future gave a lot of hope. I'm kind of sad to see the optimistic future pass us by, but I'd like to think we are actually living in a different timeline because we caught a glimpse of what it could have been. I'm happy to be where we are now.