Today we have the super functional and neat Death Star Ice Cube Mold Review for you!
Who makes Death Star Ice Cube Mold?
There are several different companies on Amazon that make the Dearth Star Ice mold. They all look about the same quality and level. Some come with extra funnels to help you pour liquid into the mold. You can choose based on your preferred price, the amount you need, and extras like funnels.
Buy On Amazon
Sale
Silicone Ice Cube Mold Whiskey Ice Ball Maker (4 pack)
HIGH-QUALITY FOOD GRADE SILICONE MATERIAL: Food grade silicone molds are safe and non-toxic, more durable, could be contacted the food directly.
SMALL & LIGHTWEIGHT CIRCULAR DESIGN: Small and lightweight (About 130g per pack, more durable than those only 80g per pack) circular ice molds look more cute than square. The ice mold's inwall has decorative pattern, make ice balls look more cool.
EASY TO USE: First, cover with the lid. Second, pour the water into the molds from the top hole. Finally, put it into the refrigerator.
MAKES PERFECT ICE BALLS FOR YOUR GLASS: The ice balls perfect for Whiskey, Highball, Cocktail and Hurricane Glasses. Surprise your friends and family with ice balls in their drinks while keeping the drinks cold-not diluted.
We promise a 30-Day Money Back Guarantee
Death Star Ice Cube Mold Specifications
Each mold will split in half. Inside the mold is the pattern of the Death star. There will be a small notch on the inside of the top, so when you close the mold make sure that lines up with the bottom. Then you will simply fill with water from the hole in the top of the ice cube mold. You need to leave a small amount of room at the top for the ice to expand into. It should be about 90% full. You can pour a little bit of water out if you need to. If you fill it too full the halves will expand and you will get a bad result.
Then place the Death star Ice mold in the freezer overnight. It should freeze into a sold ball. When you are ready to use the Ice mold, simply run some warm water over the outside of the mold. The sections should easily come apart. You can also use this mold for chocolate or gelatin. Death mold jello shots anyone? 🙂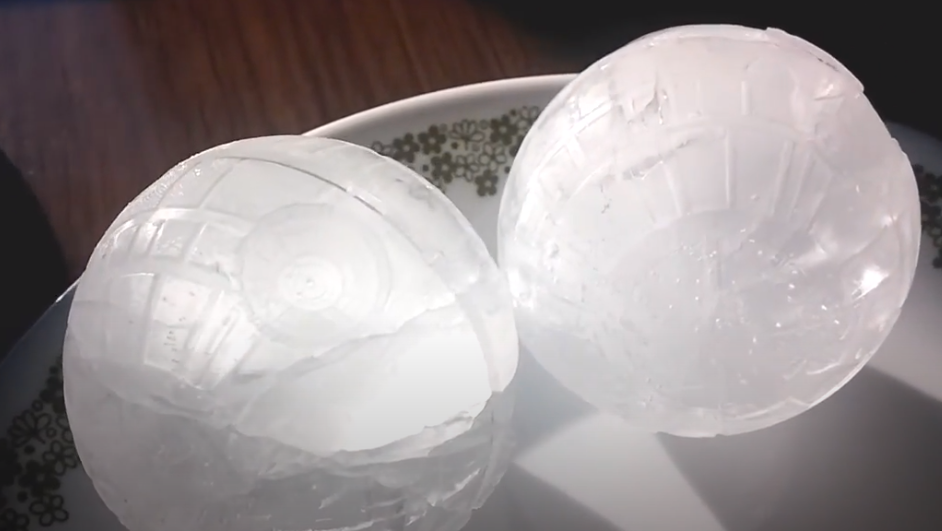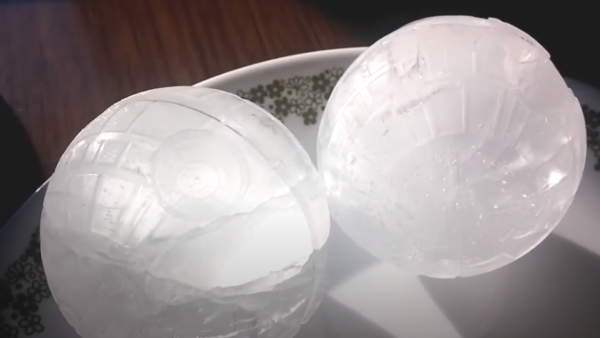 Death Star Ice Cube Mold Review
The Death Star ice cube mold does what you want it to do. Create a large ice cube in the shape of the death star. Depending on how the ice freezes, you may have several cracks or bumps in your finished product. Overall, the Ice cube is large and looks great in a glass with some whiskey or scotch. It will melt pretty rapidly on the outside and the markings will disappear, but you will be left with a large solid ice cube after the effect has been shown.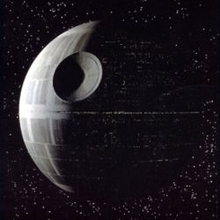 What is the Death Star?
The Death star is from the fictional movie, Star Wars. It was an absolutely massive space station that was armed with a planet-destroying super laser. It is a moon-sized space station, but because of this laser, it has the ability to destroy a planet. It was supposed to be 120km wide!
You can see the Death Star in the 1977 Star Wars film. The Second death star appears in Return of the Jedi and was even larger than the first. Both Death Stars were built by the Empire.
Most people are aware of the Death star and it has become a symbol of the Star Wars franchise. Many other fiction stories have since borrowed the idea of the Death Star from Star Wars and showcase similar weapons in their universe.
Final Thoughts on Death Star Ice Cube Mold Review
For fans of Star Wars movies, a death star ice cube is a no-brainer. It is an immediately recognizable icon that most people will enjoy. There will be some lines, bubbles, and cracks in the finished product, so do not expect perfection. It will also melt in your glass pretty quickly, so make sure you get the camera ready quickly to take your photo 🙂 It still makes a fun ice cube that is easy to make and can be reused many times.
It also looks much more detailed in chocolate or gelatin than the clear white-on-white ice mold. You could also try adding a small amount of food coloring to the ice mold to get more colored results.
It is a great conversation piece for any Star Wars party, social gathering with friends, or just quirky fun to use at home by yourself.
All Items Reviewed In the Death Star Ice Cube Mold Review
Buy On Amazon
REXWAY Star Wars Silicone Ice Cube Trays and Chocolate Molds FDA Proved (Set of 8)
A MUST-HAVE FOR STAR WARS FANS-Most popular Star Wars characters included. Now that you can have your own ice cube or chocolate of death star and X-wing fighters.
IDEAL FOR THEME PARTIES-Cookies, chocolate, ice cube in unique shapes of R2-D2, Darth Vander and more. Kids and Star Wars Fans would love them.
FDA PROVED SAFE FOR USE-Made of FDA proved, BPA free food grade silicone materials. It is safe to use for freezer, oven, microwave and dish washer.
CAN STAND HIGH TEMPERATURE-All the molds can withstand temperature -40 to 210 Celsius (-40F to 400F). Suitable for baking cookies or making ice cubes.
SOFT & FLEXIBLE DESIGN WITH SUPPORTING STRUCTURE-Easy to fit in the refrigerator, there are weight supporting structure that allows you to pile up the trays and save space in the freezer.
Buy On Amazon
Death Star Wars Ice Cube Molds Tray, Silicone Star Wars Ice Ball , Ice Maker Tool for Whiskey, Bourbon, Cocktails, Sugar, Chocolate and Juice Beverages, for Baking Party
🌐【Upgrade Material】 -- For our food-grade silicone, the SiO2·nH2O occupys more than 99%. Most ice molds can't reach this data. It plays an important role to increase the reliability and service life of the products.
🌐【Wide Temperature Range】 -- Through a lot of trial run with different food grade silicone, we can get better temperature and durability.The temperature range is -45F-485F. The star wars ice molds can be put in microwave oven to make chocolate, cakes. Cleaning it by rising or the dishwasher
🌐【Easy to Use】 -- The Death Star ice cube is non-stick, easy to fill, remove and clean. Pls don't overfill the molds,95 percent works well.
🌐【Various Molds and Occasions】 -- Applied as mousse mold, sugar mold, chocolate, ice cream, soap making tools. Applied in various occasions such as parties, beaches, wine party and holiday events, and so on.
🌐【Design from 3D Movie'】-- This mold ( 3inch) can make a 2.4 inch 'Death Star'! Great gift for all Death Star fans!
Buy On Amazon
Sale
Silicone Ice Cube Mold Whiskey Ice Ball Maker (4 pack)
HIGH-QUALITY FOOD GRADE SILICONE MATERIAL: Food grade silicone molds are safe and non-toxic, more durable, could be contacted the food directly.
SMALL & LIGHTWEIGHT CIRCULAR DESIGN: Small and lightweight (About 130g per pack, more durable than those only 80g per pack) circular ice molds look more cute than square. The ice mold's inwall has decorative pattern, make ice balls look more cool.
EASY TO USE: First, cover with the lid. Second, pour the water into the molds from the top hole. Finally, put it into the refrigerator.
MAKES PERFECT ICE BALLS FOR YOUR GLASS: The ice balls perfect for Whiskey, Highball, Cocktail and Hurricane Glasses. Surprise your friends and family with ice balls in their drinks while keeping the drinks cold-not diluted.
We promise a 30-Day Money Back Guarantee