Let's get started on this Painting VR Review.
What is Painting VR?
Painting VR is a 10,000+ square feet virtual painter's studio with inspiring tools, an unlimited supply of paint, and canvases of all sizes. Mix your colors, dip in your brush and get started on how to paint in VR.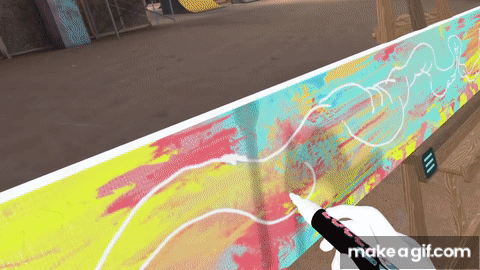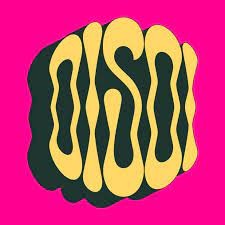 Who Makes Painting VR?
Painting VR is developed by Oisio Studio. They are a VR game studio. They have created some other VR experiences in VR but Painting VR is their main flagship product.
Which VR Headsets is Painting VR On?
You can play Painting VR on Steam VR or Meta Quest 2.


Painting VR Tutorial
There is no official tutorial in Painting VR. There is a small introductory video but nothing else. This makes things pretty confusing for new users. Absolutely nothing is explained, colors, tools, removing colors etc. It is extremely overwhelming.
Painting VR makes several references to joining their discord if you have any questions. I did this and found quickly the answers to the questions I had, but I wished they offered a longer tutorial to go over the many tools that are available. Many users are not going to want to join a Discord for the answers on how to wash off a brush.
Painting VR Review Experience
Painting in VR is one of those things that just makes sense. Many people who are new to painting are intimidated in buying a large amount of equipment and tools to see if they enjoy the hobby. Painting VR allows you to try out your hand at painting with the only investment being the cost of the game.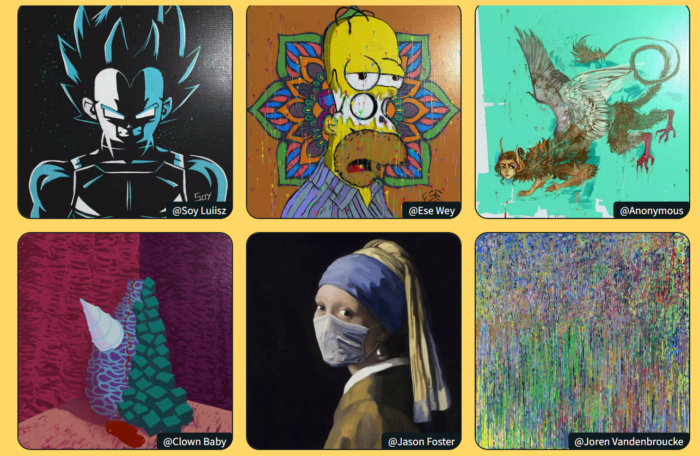 That being said Painting VR seems like it is geared more towards existing artists because of the complete lack of tutorials. Although there is no projector like in other VR painting games, you have the ability to take any image and apply it to the canvas. A great use for this is Paint by Number images available online but this is not explained anywhere and I imagine most users miss this option.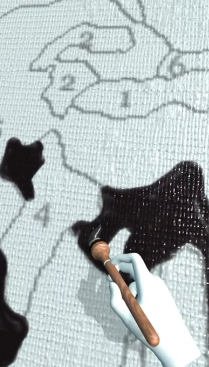 What Painting VR does, it does well. Put your headset on, grab a brush and start painting.
Brushes, Paints, and Tools
In real life, how you hold a brush and push it onto a canvas affects the result you see on the canvas and the same can be said here in Painting VR. If you want to create thin lines, you can barely touch your brush to the canvas and create beautifully thin lines. The different types of brushes add beautiful and unique styles with the flick of your wrist.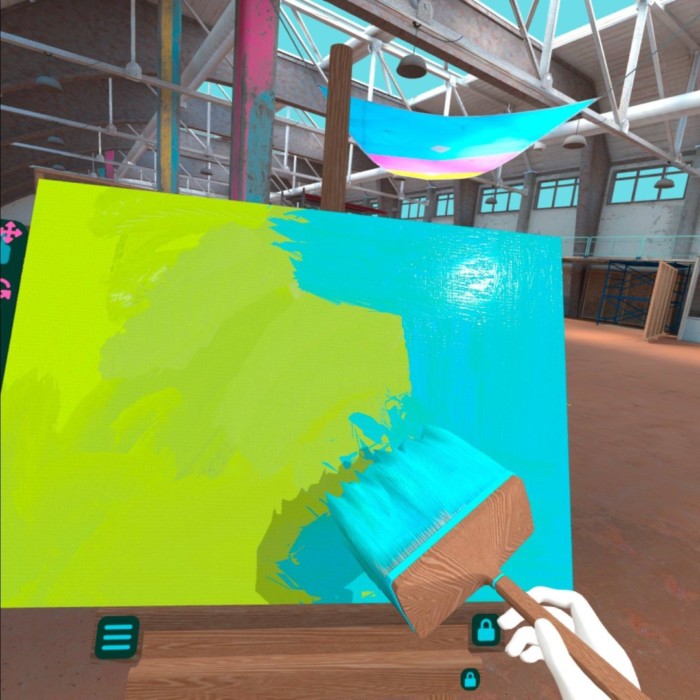 There are LOTS of different brushes here. Spray cans, various sized brushes, paint rollers, markers, paint spinners, a drill with a magnet brush? You name it, Painting VR likely has it. The developers are also very open to new painting tools if you reach out to them.
You start Painting VR with cans of primary paint colors. If you want additional colors, you create them. Mixing paint is just like it is in real life – If you want it to be. You can pour the various paint cans into each other or use a little bit on your palette.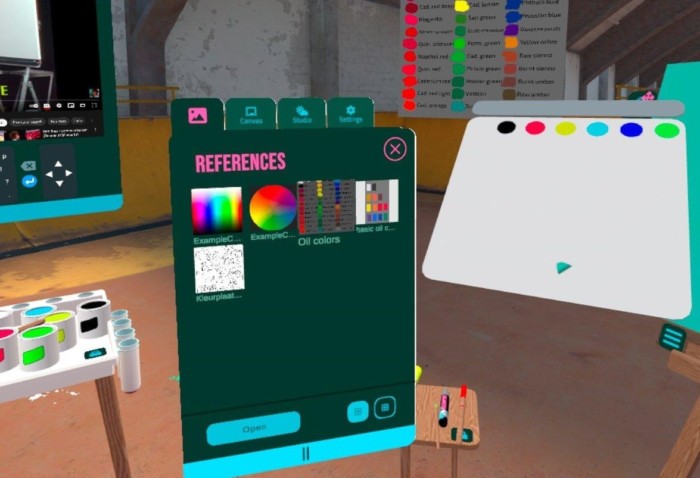 You also have the option of using the color-picking function. This great feature allows you to automatically select a color from your existing canvas or even a reference image. This makes it quick and easy to get the perfect color. There is also the ability to select colors from a pre-selected color palette of popular color choices, and I frequently found myself using that instead of trying to remember my color theory. Again this function is buried in a menu, and it will probably be missed by a lot of users.
This is also a nice undo button, which is helpful for new users who want to try various things out. There is also a redo button if you think it wasn't such a mistake after all.
When you are finished with your painting you are able to export, save and re-load them at any time.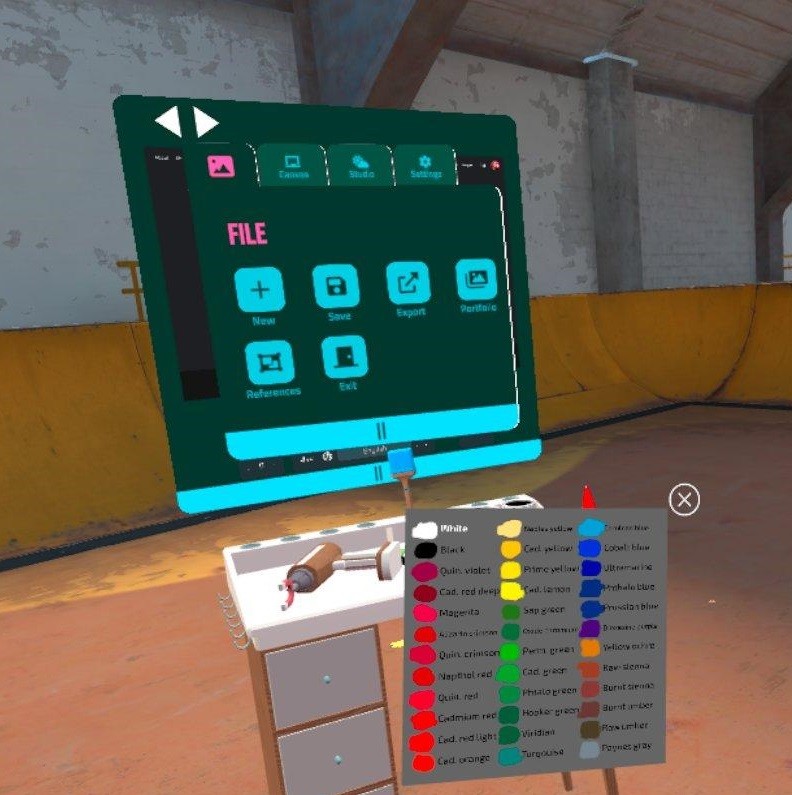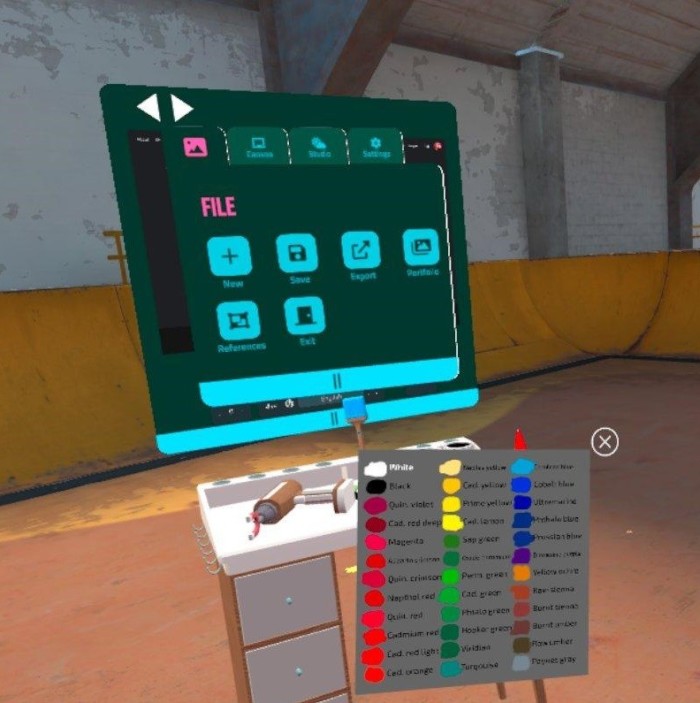 I also experienced a bug while playing. My entire screen went black and it required a restart of the game. This means you will likely lose progress on your artwork, which was pretty frustrating. I also had my brushes sometimes roll away on the floor.
Save Your Studio
You have the ability to create the perfect studio setup in the large warehouse. Position your tools exactly how you want them and then save them. Next time you load the game it is easy to load the studio selection and pick up where you left off.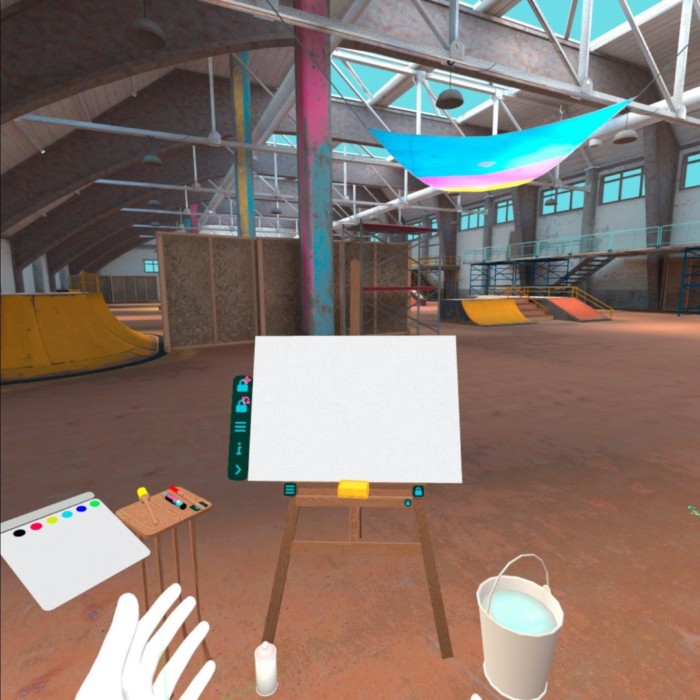 In Game Web Browser
There is an in-game web browser available. This allows you to listen to Spotify or Youtube, watch a painting tutorial, or pick any image from the search engine to get the ultimate inspiration. Pull up a Bob Ross Youtube and start making your own happy little trees.
This is currently no way to zoom into the image/video though. This can be not so great for getting a closer view of your image or that video tutorial. I found this to be pretty frustrating to try and get things to line up exactly where I wanted them to.
Who Will Enjoy Playing Painting VR?
Painting VR is currently not rated. I imagine it would be E for Everyone as there is no violence, blood, or questionable content. Anyone can pick up this game and start making artwork in VR. The lack of tutorials or directions makes it seem like this product is geared more towards existing artists than complete beginners although if you want to take the time to play around with it, there are definitely functions for beginners built in.
What Games are similar to Painting VR?
Painting VR is similar to other VR art experiences. Vermillion VR, Quill Theatre, and Color Space VR are the more popular ones in this coloring VR space.
How long is Painting VR?
There are endless hours of creativity available in Painting VR.
Can you play Painting VR Sitting Down?
Yes! Painting VR can be played sitting down although you still need some room to adjust the canvas and tools. You can also play it standing. You do not need a large play space or room movement but the game offers full room-scale movement.
Does Painting VR cause motion sickness?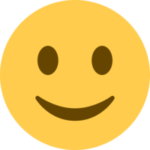 You play Painting VR in a stationary environment. There is a small amount of in-game movement if you decide to move around the location, but teleportation is an option. There are lots of different settings available and I suggest playing around with the movement settings to make it easier.
Painting VR is rated Comfortable.
Final Thoughts On Painting VR Review. Is Painting VR Worth It?