It's finally here! Halloween spooky season and 30 Days of the best Halloween Movies! We give you the best spooky Halloween movies to watch for each day of the most spooktacular month of them all. There is a wide range of films from psychological horror to just kind of scary, to downright the scariest movies of the season!
If you are looking for a list of not-so-scary Best Halloween Movies for Kids or those who prefer a little less bump in the night check out that list here.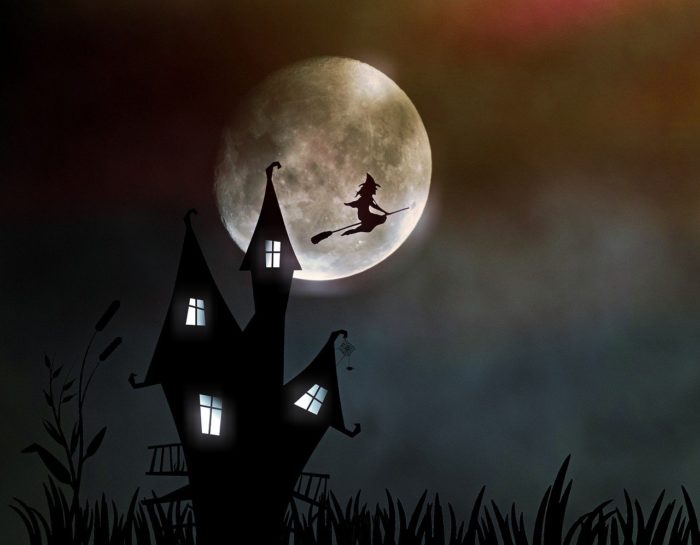 Let us get to the spooky movies!
31 Days of The Best Halloween Movies for Spooky Season
These can be viewed in any order!
After losing their posts at an university, three parapsychology professors go into business as "ghostbusters" who fight against ghouls, hobgoblins and supernatural pests of all kinds. After they found a gateway to another dimension, the evil gets released upon the city. The three professors now have to save New York from complete destruction.
Clue finds six colorful dinner guests gathered at the mansion of their host, Mr. Boddy — who turns up dead after his secret is exposed: He was blackmailing all of them. With the killer among them, the guests and Boddy's chatty butler must suss out the culprit before the body count rises.
A young boy named Luke and his grandmother go on vacation only to discover their hotel is hosting an international witch convention, where the Grand High Witch is unveiling her master plan to turn all children into mice. Will Luke fall victim to the witches' plot before he can stop them?
12-year-old Regan MacNeil begins to adapt an explicit new personality as strange events befall the local area of Georgetown. Her mother becomes torn between science and superstition in a desperate bid to save her daughter, and ultimately turns to her last hope: Father Damien Karras, a troubled priest who is struggling with his own faith.
Fifteen years after murdering his sister on Halloween Night 1963, Michael Myers escapes from a mental hospital and returns to the small town of Haddonfield, Illinois to kill again.
The Amityville Horror

(1979)
George Lutz and his wife Kathleen, move into their Long Island dream house with their children only for their lives to be turned into a hellish nightmare. The legacy of a murder committed in the house gradually affects the family and a priest is brought in to try and exorcise the demonic presence from their home.
Members of an American scientific research outpost in Antarctica find themselves battling a parasitic alien organism capable of perfectly imitating its victims. They soon discover that this task will be harder than they thought, as they don't know which members of the team have already been assimilated and their paranoia threatens to tear them apart.
Dr. Louis Creed's family moves into the country house of their dreams and discover a pet cemetery at the back of their property. The cursed burial ground deep in the woods brings the dead back to life — with "minor" problems. At first, only the family's cat makes the return trip, but an accident forces a heartbroken father to contemplate the unthinkable.
A single mother gives her son a beloved doll for his birthday, only to discover that it is possessed by the soul of a serial killer.
Four interwoven stories that occur on Halloween: an everyday high school principal has a secret life as a serial killer; a college virgin might have just met the one guy for her; a group of teenagers pull a mean prank, and a bitter old recluse receives an uninvited guest.
When Ellen, the matriarch of the Graham family, passes away, her daughter's family begins to unravel cryptic and increasingly terrifying secrets about their ancestry.
House on Haunted Hill

(1999)
A millionaire offers a group of diverse people $1,000,000 to spend the night in a haunted house with a horrifying past.
Children of the Corn

(1984)
A boy preacher named Isaac goes to a town in Nebraska called Gatlin and gets all the children to murder every adult in town.
Several friends travel to Sweden to study as anthropologists a summer festival that is held every ninety years in the remote hometown of one of them. What begins as a dream vacation in a place where the sun never sets, gradually turns into a dark nightmare as the mysterious inhabitants invite them to participate in their disturbing festive activities.
Rachel Keller is a journalist investigating a videotape that may have killed four teenagers. There is an urban legend about this tape: the viewer will die seven days after watching it. Rachel tracks down the video… and watches it. Now she has just seven days to unravel the mystery of the Ring so she can save herself and her son.
Paranormal Activity

(2009)
After a young, middle-class couple moves into what seems like a typical suburban house, they become increasingly disturbed by a presence that may or may not be demonic but is certainly the most active in the middle of the night. Followed by five terrifying installments in the franchise, this is the original found-footage shocker that started it all.
Little Shop of Horrors

(1986)
Seymour Krelborn is a nerdy orphan working at Mushnik's, a flower shop in urban Skid Row. He harbors a crush on fellow co-worker Audrey Fulquard, and is berated by Mr. Mushnik daily. One day Seymour finds a very mysterious unidentified plant which he calls Audrey II. The plant seems to have a craving for blood and soon begins to sing for his supper.
A young couple, Rosemary and Guy, moves into an infamous New York apartment building, known by frightening legends and mysterious events, with the purpose of starting a family.
New York detective Ichabod Crane is sent to Sleepy Hollow to investigate a series of mysterious deaths in which the victims are found beheaded. Locals believe the culprit to be none other than the legendary Headless Horseman.
A Nightmare on Elm Street

(1984)
Teenagers in a small town are dropping like flies, apparently in the grip of mass hysteria causing their suicides. A cop's daughter, Nancy Thompson, traces the cause to child molester Fred Krueger, who was burned alive by angry parents many years before. Krueger has now come back in the dreams of his killers' children, claiming their lives as his revenge. Nancy and her boyfriend, Glen, must devise a plan to lure the monster out of the realm of nightmares and into the real world…
Sally and Gillian Owens, born into a magical family, have mostly avoided witchcraft themselves. But when Gillian's vicious boyfriend, Jimmy Angelov, dies unexpectedly, the Owens sisters give themselves a crash course in hard magic. With policeman Gary Hallet growing suspicious, the girls struggle to resurrect Angelov — and unwittingly inject his corpse with an evil spirit that threatens to end their family line.
A Catholic school newcomer falls in with a clique of teen witches who wield their powers against all who dare to cross them — be they teachers, rivals or meddlesome parents.
Count Dracula adjourns to Earth, accompanied by Frankenstein's Monster, the Wolfman, the Mummy, and the Gillman. The uglies are in search of a powerful amulet that will grant them power to rule the world. Our heroes – the Monster Squad are the only ones daring to stand in their way.
In a small town in Maine, seven children known as The Losers Club come face to face with life problems, bullies and a monster that takes the shape of a clown called Pennywise.
Carrie White, a shy and troubled teenage girl who is tormented by her high school peers and her fanatically religious mother, begins to use her powers of telekinesis to exact revenge upon them.
The Rocky Horror Picture Show

(1975)
Sweethearts Brad and Janet, stuck with a flat tire during a storm, discover the eerie mansion of Dr. Frank-N-Furter, a transvestite scientist. As their innocence is lost, Brad and Janet meet a houseful of wild characters, including a rocking biker and a creepy butler. Through elaborate dances and rock songs, Frank-N-Furter unveils his latest creation: a muscular man named 'Rockv'.
Thanks to an untimely demise via drowning, a young couple end up as poltergeists in their New England farmhouse, where they fail to meet the challenge of scaring away the insufferable new owners, who want to make drastic changes. In desperation, the undead newlyweds turn to an expert frightmeister, but he's got a diabolical agenda of his own.
Jack Torrance accepts a caretaker job at the Overlook Hotel, where he, along with his wife Wendy and their son Danny, must live isolated from the rest of the world for the winter. But they aren't prepared for the madness that lurks within.
A killer known as Ghostface begins killing off teenagers, and as the body count begins rising, one girl and her friends find themselves contemplating the 'rules' of horror films as they try to survive a real-life one.
Night of the Living Dead

(1968)
A disparate group of individuals takes refuge in an abandoned house when corpses begin to leave the graveyard in search of fresh human bodies to devour. The pragmatic Ben does his best to control the situation, but when the murderous zombies surround the house, the other survivors begin to panic.
The Blair Witch Project

(1999)
In October of 1994 three student filmmakers disappeared in the woods near Burkittsville, Maryland, while shooting a documentary. A year later their footage was found.
Final thoughts on 31 days of best Halloween Movies
With Halloween just around the corner, it is time for Spooky season! Get in the mood by watching the best Halloween movies that we have selected. Did we miss your favorite spooky film? Comment below and we will add it to the list!