What Are The Best Oculus Quest 2 Accessories? Everything you need to use the Meta Quest 2 comes right in the box, but you can add many different accessories to the VR headset to make things more comfortable, more fun, and more functional! Let's go over the best Quest 2 accessories for VR.
Best Quest 2 Head Strap Replacement
The Oculus Quest 2 comes with a very basic cloth head strap in the box. It can be difficult to get it positioned properly and many do not find it comfortable. Many users enjoy replacing the head strap with a more cushioned and adjustable model.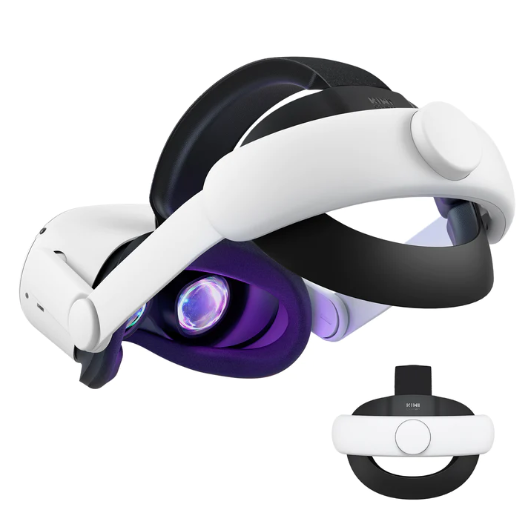 Why this is the Best Quest 2 Headstrap: This is the head strap I personally use. It offers better weight distribution and the ability to flip the unit up at the joint. This means you can quickly flip the unit up and grab a drink of water/coffee or answer a question from someone around you without taking the whole headset off.
It has a screw knob at the back which allows you to tighten the unit between different users very quickly and without much effort.  This is by far and away the "must-have" accessory for the Quest 2.
Click to purchase directly from KiWi Design.
Best Quest 2 Headstrap Replacement with Batteries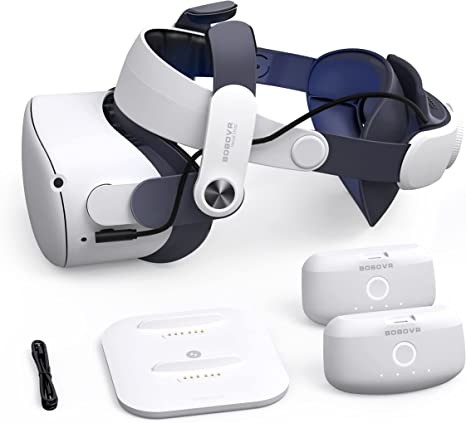 Why this is the Best Quest 2 Headstrap with Batteries: If you are looking for a never-ending amount of VR Playtime, look no further than the BOBOVR M2 Headstrap with replacement batteries.
This head strap is a great replacement choice for comfort.  It offers good load balancing for the attached battery on the back of the unit. It also comes with 2 different rechargeable batteries AND a magnetic charger. This means you can swap the battery out, place it on the magnetic charger and keep on playing. Once you do this a few times, you can likely do it with one hand without even taking the headset off.
Do Not Get Meta Quest 2 Elite Strap
Meta offers an elite head strap (and one with a battery). Not only is this official head strap way more expensive than superior-designed 3rd party models, but MANY users have also reported this strap breaking within a few weeks of use.
We DO NOT recommend getting the "official Meta Quest 2 Headstrap" for this reason. If you have one be EXTREMELY careful with it and report it to Meta if it breaks.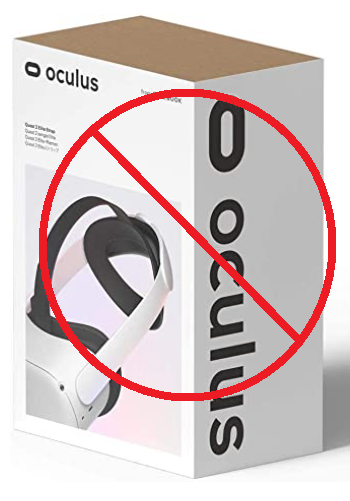 Thankfully there are lots of really awesome and reliable 3rd party units you can get instead.
Best Facial Cover for Easier Cleaning and Sweat Free Experiences
After the head strap, many users prefer to replace the foam interface that Quest 2 comes with. If you use any fitness games or find yourself sweating in the unit a new Facial insert cover will be a welcome addition. We offer two choices in Facial Replacements for Quest 2, because they are pretty similar and come down to personal preference.
Why this is the Best Quest 2 Facial Replacement: This is the set I personally use. It offers a new facial insert with air vents and a fancy PU leather foam replacement. This material allows you to easily wipe off any sweat with an antibacterial cloth or a towel for super faster after-workout cleanup.
It also comes with a nose guard and a lens cover to protect your Quest 2 from light damage and dust.
Click to purchase direct from VR Cover.
Why this is the Best Quest 2 Facial Replacement: This replacement interface for your Quest 2 allows for better ventilation while still keeping light leakage to a minimum. It also adds a piece to the nose area so there is less light being shown there. Most importantly the cushion part is a PU Leather material that won't soak up your sweat and allows you to easily wipe it off after use.
Click to Purchase direct from Kiwi Design
Best Quest 2 Carrying Case
Many users like to take their Quest 2 with them to a friend's house or even on an airplane! if you do, you need a way to do so. You also need an out-of-light (sunlight on the VR lens can damage the unit!) place to store your Quest 2 after you get it. A carrying case is one of the best places to keep your VR unit safe and secure.
Note – If you have purchased a different head strap your Carrying Case needs to make sure it can accommodate that so check the details for your head strap. Not all of them will allow the extra bulk the custom head strap adds. If you have the original stock strap you have a lot more choices.
Best Controller Accessories
If you enjoy sports games like Golf+, Walkabout Mini Golf, or Beat Saber, you can purchase controller items that may help enhance your gameplay.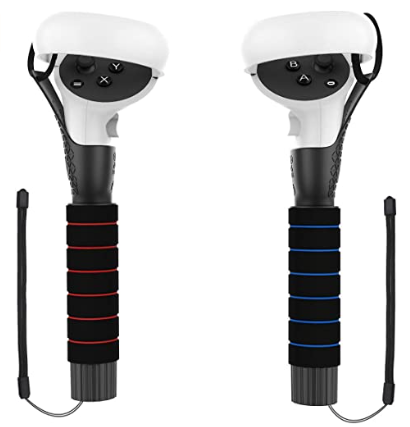 Why this is the Best Quest 2 Beat Saber Grip: If you are a fan of Beat Saber, you can get these extension grips to up your experience. These grips are also great for players with larger hands. You can also use these same grips for golfing, tennis, and finishing games.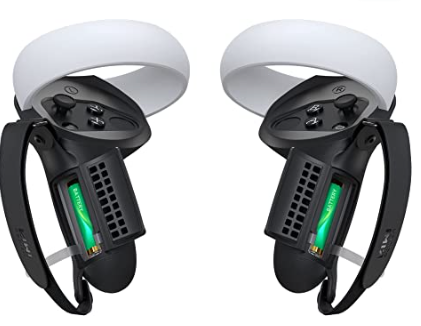 Why this is the Best Quest 2 Controller Grip: Once you have to replace the batteries in the Quest 2 controller you will realize that it is not so easy a feat. They are pretty securely placed on there.
These grips from Kiwi offer a much easier way to get the batteries in and out. They also include knuckle straps. If you hate having tiny strings around your wrists to play, these comfortable knuckle straps offer another option. You can completely open your hand and the controller will still stay in your palm.
Why this is the Best Quest 2 Boxing Gloves: If you are looking to add a bit more challenge to your fitness workouts you can add a pair of Weighted Hand gloves. These particular gloves weigh 2.5 lbs each but you can get them at different weights depending on your fitness level. These gloves can also be used at the gym with your regular workout too.
Works great for games like Thrill of the Fight, or Creed, but also just using them with any VR fitness game from Beat Saber to Supernatural will get you a better workout.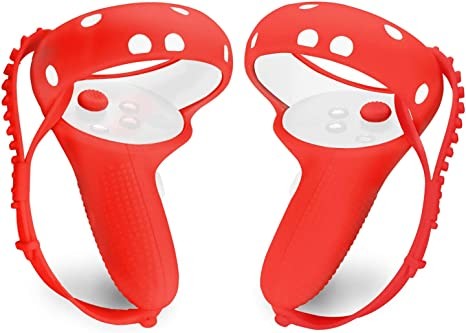 Why These Are The Best Controller Covers: These covers are certainly NOT needed, but many users feel uncomfortable having a controller that doesn't have a cover on it. The Quest 2 is not a Toy and it can easily get damaged if dropped or it gets wet(like dropped in the toilet wet). These add a little bit of protection in that area. They also include an adjustable anti-throw strap that is nicer than the string cords included with the original.
Although they look like mushrooms, those tiny dots allow the controllers to "see" properly. If you notice your controllers are not tracking as well, make sure to adjust this cover.
Best Battery Pack and Chargers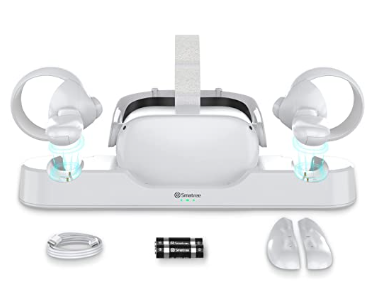 Why this is the Best Quest 2 Charger Dock: You will need to replace the batteries in your Quest 2 remote pretty often. A much more cost-effective method is to purchase a charging dock. This unit will allow you to charge your headset and your controllers at the same time meaning you will always be ready to play. It also offers a nice storage location as well.
Other Options to Extend Your Quest 2 Playtime
The Quest 2 Headset will get between two and three hours of usage from one charge. If you want to extend that time you can attach a head strap that includes an extra battery, play plugged in with a long charge cord, or simply place a battery pack in your pocket and connect a cable to that. All of these options come down to personal preference, so check out some of our options.
Best Headphones
Why this is the Best Quest 2 Headset: You can use any headset with your Quest 2, but this is one of the official ones. The Logitech G Pro Gaming Headset includes memory foam earpads that will help block out background noise. There is a small cable that is specifically designed for use with the Quest 2, but the unit also includes full-length cables so you can use this headset with your PC, Xbox Or Playstation. Also includes a removable boom mic.
Soundcore VR P10 Wireless Gaming Earbuds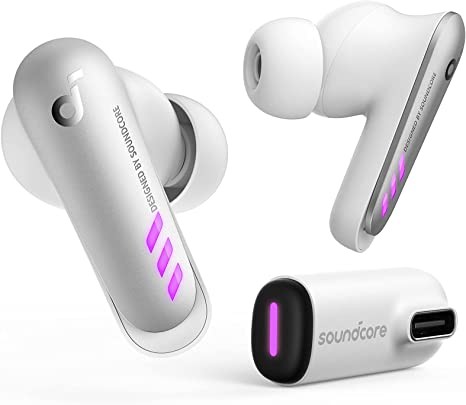 If you are looking for a Wireless option, then these Soundcore VR P10 Wireless Gaming Earbuds are one of your best bets! They come with a wireless dongle that allows you to sync these headphones up to your phone and then you can answer calls in the middle of your game (it auto lowers the game volume)!
Best VR Mat for Quest 2 Accessories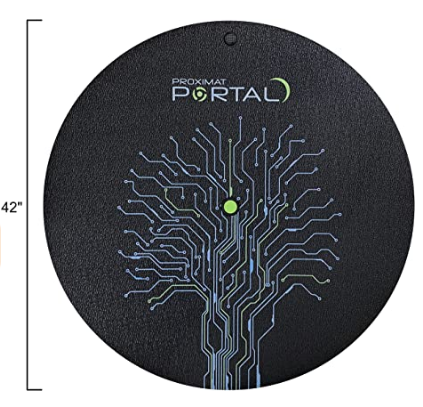 Why this is the Best Quest 2 VR Floor Mat: It can be quite common to accidentally get carried away in VR and run into objects in your room. A good way to help with this is to play on a VR Mat.
This mat includes two buttons that help keep you oriented. This cushioned mat will also help with standing fatigue. It can also be used as a yoga mat or exercise mat out of your VR headset. This particular Mat is 42 Inches and gives you lots of play space. If you need a smaller size they are available too.
Add Some VR Cover Designs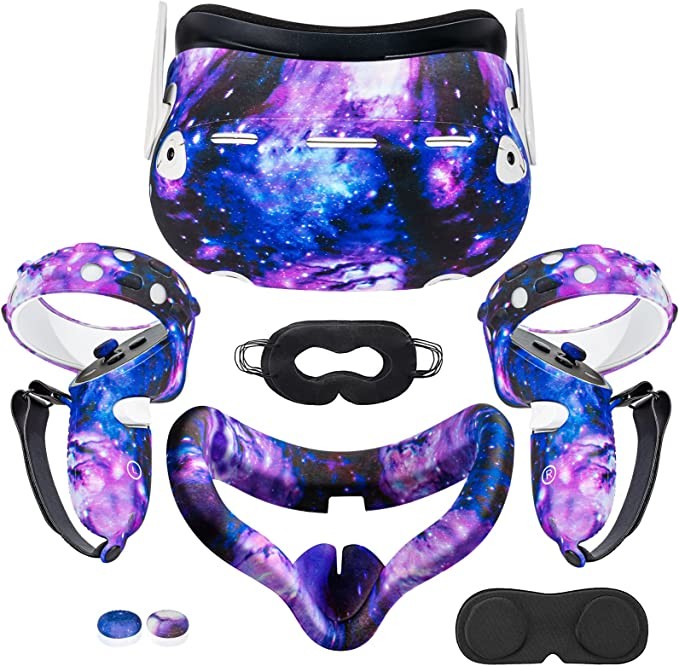 Lots of individuals are looking to personalize their Quest 2 with a cover design. Much like a phone case, there are thousands of different choices that you can add to your headset to make it uniquely yours.
A tiny word of warning, make sure that the design you choose does not cover the various fan ports, and sensors when you apply it.
Final Thoughts on What Are The Best Oculus Quest 2 Accessories?
One of the best things about the Oculus Quest 2 is that everything you need to get started in VR comes right in the box. As you get more comfortable playing there are lots of great Quest 2 accessories that can really help make your VR time more enjoyable. We hope you enjoy our recommendations of some of the Best Oculus Quest 2 Accessories and we will update this post when we come across great new ones.