Let's get started on this Puzzle Bobble 3D: Vacation Odyssey Review.
What is Puzzle Bobble 3D Vacation Odyssey or Puzzle Bobble VR?
Puzzle Bobble 3D Vacation Odyssey takes the old school bubble popping duo from Bubble Bobble, hands you a bubble cannon which you use as a sort of bow, and then you take aim to pop those bubbles!
Bubble Bobble is a platform game that goes back to 1986 by Publisher Taito. The two little dinosaur guys are called Bub and Bob. This franchise has made it through every version of computer the world has seen and it's awesome to see them now embrace the world of VR with Puzzle Bobble VR.
Who Makes Puzzle Bobble 3D Vacation Odyssey?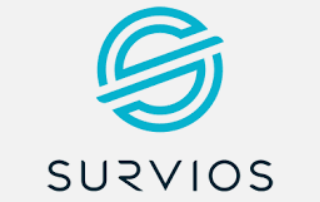 Survios is the developer for this game and they have a history of producing many VR games including Creed Rise to Glory, WestWorld Awakening, Raw Data, and Electronauts to name a few. As a professional VR studio, you can expect a quality game here!
Which VR Headsets is Puzzle Bobble 3D Vacation Odyssey On?
Puzzle Bobble 3D Vacation Odyssey is available on Oculus Quest 2.

Puzzle Bobble 3D Vacation Odyssey Gameplay Review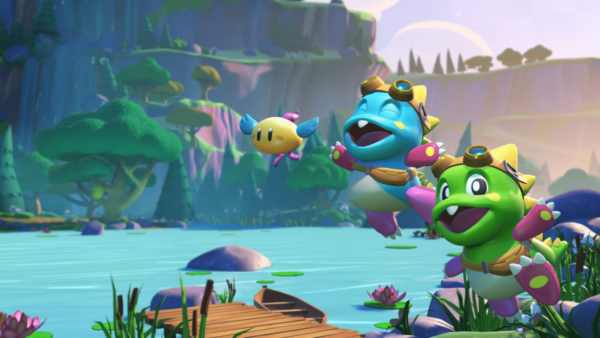 Then there are a few screenshots showing you the basic idea of Puzzle Bobble 3D Vacation Odyssey. Puzzle Bobble Vacation Odyssey starts off with calibrating which is your main hand. Puzzle Bobble 3D Vacation Odyssey controls and gameplay are not very complicated.
If you enjoy Candy Crush, Bejeweled, or any of the "Match 3" Puzzle games this will be right up your alley. You simply need to aim the colored bubble to hit similar colored bubbles as a group of 3 to cause them to "pop" and fall off the central orb.
But of course, the world of VR adds some interesting 3D play to this type of game. The bubbles in the middle will spin all around and over. Obstacles will get in the way.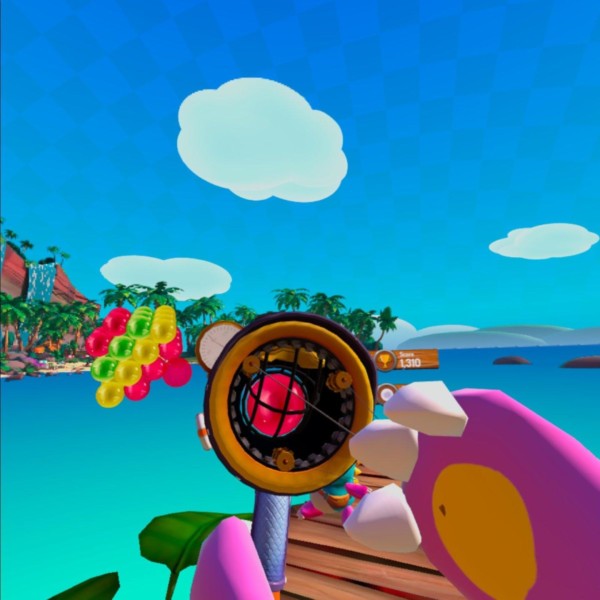 You hold the bubble cannon in your off-dominant hand. Bub throws you a colored bubble and you then place it on the top of the bubble cannon. With your dominant hand, you now pull the back of the bubble cannon and aim, kind of like a bow and arrow.
Depending on how far you pull back the bow and to which side will change the trajectory of the bubble shot. There is a little guide that shows you where the shooting bubble will end up. Knock all the colored bubbles off the center orb and then shoot the orb one final time to win.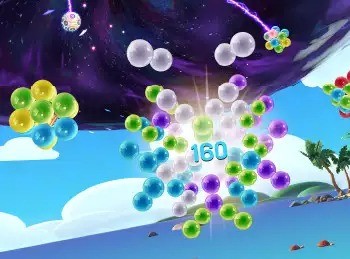 Each round gives you a different amount of bubbles to shoot to finish and the goal is usually to use the least amount of bubbles possible to clear the level.
After each game, you gain some coins. These coins can be used to purchase power-ups that will help make some of the higher levels easier to do. These powerups will float in front of you at all times which is sort of annoying since they are kind of expensive and the game doesn't seem to give you any.
The entire environment for Puzzle Bobble VR is a whimsical and tropical world. It is very light and playful. There is are tweeting birds and the environment is very positive and relaxing even. Good family fun.
Levels in Puzzle Bobble Vacation Odyssey
There are 3 modes of play in Puzzle Bobble 3D – Story Mode, Infinite Mode, and Online Duel Mode.
Story mode offers a gradual progression between levels. You try and get a score that gets you at least 3 stars. You need to get at least one star to pass the level.
It should be noted in story mode that many levels do NOT have a timer. Even though the music is going very rapidly in the background and it kind of tricks you into thinking you have to shoot rapidly. Take your time when you are aiming to get the best possible score.
As you progress to the higher levels, you need to start thinking with a little more 3D strategy. How far you pull back the bubble cannon will affect how hard the bubbles are hit and how much they might spin for example.
Infinite mode is a different beast. Here the puzzles in front of you are never-ending. They start at the bottom of the screen and you will rapidly need to shoot them as they approach the swirling purple storm at the top of the screen.
If the puzzles get too close to the storm, the music will change and lightning bolts will shoot out telling you the end is near! Do what you can to stop the bubbles! I personally found this mode quite fun and a good challenge. Shoot for the high school to brag among your friends!
How long is Puzzle Bobble 3D Vacation Odyssey?
There are over 100 Puzzle Bobble 3D levels. I played for several hours and got only several levels in. You can also play infinity mode forever! The amount of replayability in this game is very high. You can spend many hours getting lost, popping bobbles in Puzzle Bobble 3D Vacation Odyssey.
Puzzle Bobble 3D Vacation Odyssey Multiplayer Experience
There is a dual-party mode in Puzzle Bobble 3D Vacation Odyssey. But as I am reviewing this before launch I will have to come back and review this after the game goes live.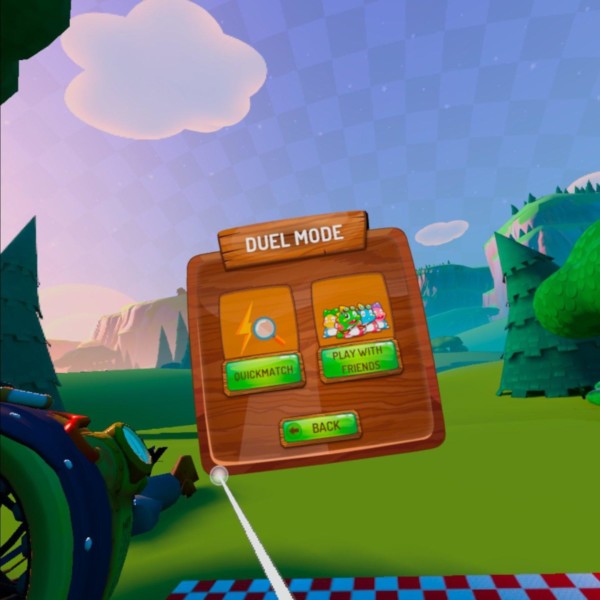 It looks like you can go head to head with an Oculus friend or a random player in real-time. If you pop a lot of bubbles you send "jammer" bubbles to your opponent's side.

Who Will Enjoy Puzzle Bobble 3D Vacation Odyssey?
This game is great for people new to VR, younger players, and seniors. Most people are familiar with Match 3 types of games. The controls are very straightforward and easy. The developers spent a lot of time making this very easy to use and understand. That is not to say it is not challenging because it certainly is as the levels progress.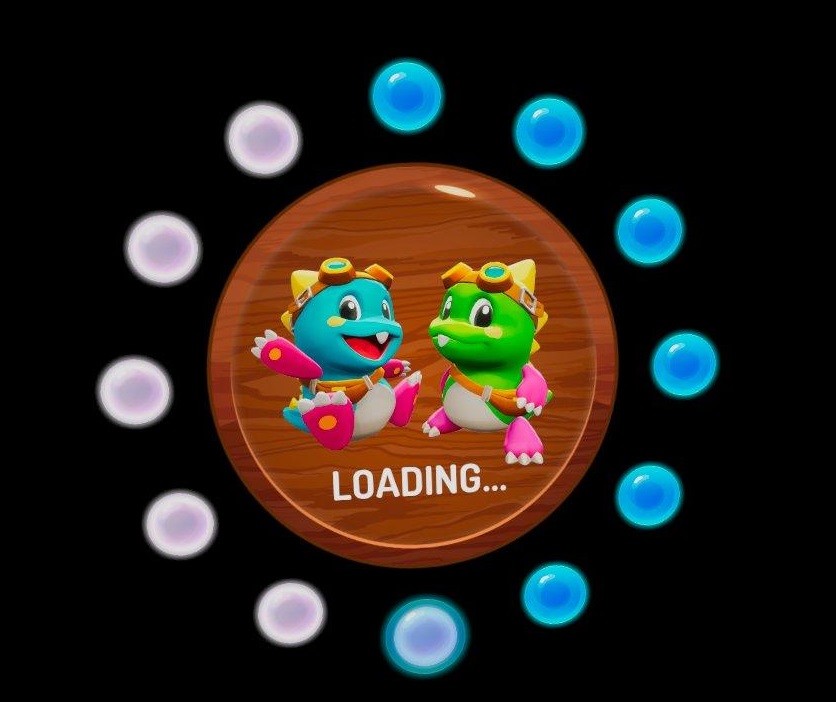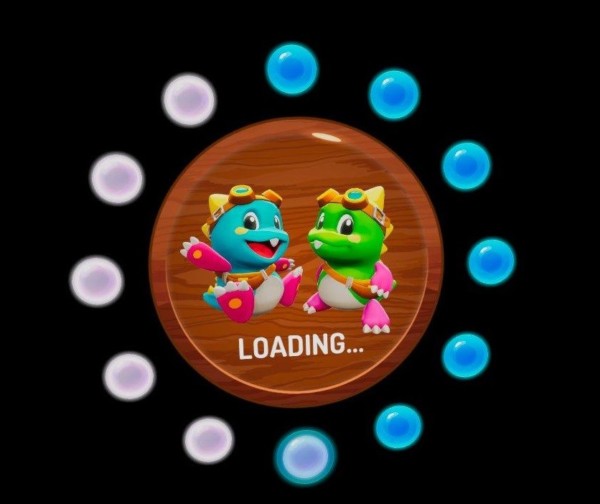 I've shown several VR games to people and some games where I thought the controls were straightforward, were still difficult for them. When these same users tried Puzzle Bobble everyone was able to start shooting and playing the game almost immediately. Some who "don't like video games" enjoyed this one, shrieking with joy and laughter, and I think that says a lot for the game.
Similar VR Games would be Rainbow Reactor Fusion, and Captain Tunehead.
Can you work out with Puzzle Bobble 3D Vacation Odyssey? Is Puzzle Bobble VR a Fitness Game?

Puzzle Bobble 3D has you rapidly making a bow and arrow motion. Although you are not dancing up aerobics or squats, constantly placing a ball into the ball cannon and then pulling back and aiming like a bow will likely get you to sweat.
This will work out your core, arms, back, chest, hands, and shoulders. According to my fitness watch, this is going to be on the lower end of ellipticals in terms of calories burned but still equal to roughly 100 calories in a 1/2 hour.
Can you play Puzzle Bobble VR Sitting Down?
Yes! Puzzle Bobble can be played sitting down although you still need some room to pull the "bow" back to shoot. You can also play it standing. You do not need a large play space or room movement.
Does Puzzle Bobble VR cause motion sickness?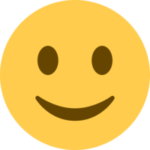 You play Puzzle Bobble VR in a stationary environment. You shoot the bubble cannon with your hands and a bow and arrow-like motion. There are zero in-game movements.
Puzzle Bobble 3D Vacation Odyssey should not cause any motion sickness issues.
Final Thoughts On Puzzle Bobble 3D Vacation Odyssey Review. Is Puzzle Bobble 3D Vacation Odyssey Worth it?
Puzzle Bobble 3D will be a welcome VR puzzle game for many players. It is worth it for those who enjoy the genre.