Following on the 2014 critical success with both fans and critics alike (Rotten Tomatoes score of 92% and 91% respectively), there is no arguing that Guardians of the Galaxy Volume 2 is one of the most anticipate movies of the 2017 summer season. With our heroes just days from hitting the big screen I decided to ask what people were looking forward to the most and I have to say, some of the answers were surprising. With that said – here are the top 10 things Fans are looking forward to in Guardians of the Galaxy Vol 2!
10. Starlord and Gamora
We all know that there was some real tension going on between these two in the first movie but I was unprepared for the number of people who were looking forward to finding out how/if Peter and Gamora will steam up the stage in this most recent installment of the Guardians adventures.
9. Gamora and Nebula

Again, I did not see this coming! We've seen a peak of the adopted sisters going at it in the Guardians of The Galaxy Vol 2 trailer, but people are really looking forward to seeing Karen Gillian's Nebula and Zoe Saldana's Gamora (The "Daughters of Thanos") go at each other in a big way. We've seen some bad-ass fights between them and have seen Nuebula trying to gun down her sister in the trailer, but how far will their animosity go?
8. Rocket and Groot
The only surprise here is that it did not come in higher on the list. The Rocket and Groot bro-mance was solidly established in Volume 1 – with a heart breaking ending [SPOILERS AHEAD IF YOU HAVE NOT SEEN THE FILM – And if you haven't… good god WHY???]
of Rocket holding a small piece of what remains of his Bro after Groot selflessly sacrifices himself to save the rest of the Guardians preceding the final showdown with Ronin the Accuser! We find that through this small piece, Rocket is able to Sprout "Baby Groot" (who famously drove fans crazy with his dance moves to The Jackson 5's "Oh Baby Give Me One More Chance" at the end of the first film) whom he is for all intents and purposes raising as his own – and in his own unique way.
7. Drax The Destroyer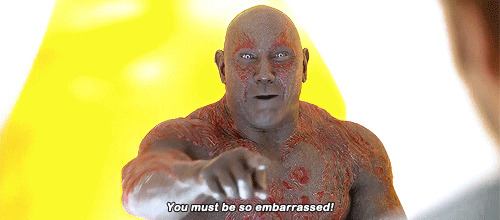 Personally, this is my second-most anticipated character in the upcoming film! With his dry delivery and literal interpretation of everything said to him, the humor Drax brought to the screen quickly made him one of my favorite characters. Dave Batista reprises his role as the revenge seeking husband and father who has turned his sights on Thanos. We've been promised more comical moments with Drax and with a character that much to my chagrin, did not make the top 10 list – Mantis.
6. Epic Space Battles
One of the crowning achievements of Jams Gunn's version of the Guardians of The Galaxy was without a doubt the space battles in the movie.More than one person described Guardians as "This generations Star Wars," myself included. (This is of course before we got new Star wars movies beginning in 2015).  Well if what we have seen so for holds true fans will be getting another healthy dose of space combat with the gang going up against The Sovereign! The reason behind this fight is yet to be seen but I am sure it will be a thrilling ride and a satisfying adventure for all those waiting to see more fast paced Space Action.
5. Yondu
Another Fan Favorite that I was not expecting to see so high on the list was Peter Quill's apparent father figure – Yondu. Michael Rooker's performance as the blue bodied, arrow wielding, non terran eating badass has fans clamoring for more Yondu! And more we will get with Yondu seemingly joining the Guardians full time after a falling out with the Ravagers – The band of noble thieves that came to the aid of Xandar and the Guardians at the end of the first Film – for his seeming refusal to kill Peter for swapping out the infinity stone after agreeing to turn it over. Who knew that not eating someone would cause such admiration – and at the same time such strife!
4. Ego The Living Planet
Another real surprise to this writer was this not coming in at the top of the list. One of the largest speculations that came out of Guardians Of The Galaxy over
the parentage of Peter Quill. We knew who his mother was as she sadly past at the beginning of the film, but who was daddy? Fans Speculations ranged from Adam Warlock, to Nova to the comics original sire of Starlord  J'son of Spartax. Well along comes Marvel and drops the bomb that in the MCU Peter Quills father will be none other than KURT RUSSEL! Or more to the point, Kurt Russel playing the part of EGO THE LIVING PLANET. That's right folks Star Lords dad is a planet. While it remains to be seen whether or not we will get to see Ego in his planetary form. If you are not familiar with the character you can find a primer for the Characters and Marvels Wiki Here!
3. Thanos
In yet another strange turn of events the number three character people were most looking forward to – is not even in the film. We have known for some time that Thanos would not be making an appearance in Vol 2 of this franchise, and yet the fans I spoke to really want to see Thanos show up. Director James Gunn explained his reasons for not including Thanos by saying in an interview with Cinema Blend
"It wasn't the most fun part of the movie last time for me, and I just didn't want to do it this time. … And again, it wasn't, the relationship with Thanos has nothing to do with it. It's not about their relationship with Thanos. It's about [Gamora and Nebula's] relationship to each other, and what is that. That was interesting to me, and I thought it was important to our story, and important to our characters. "
So, even though there is a demand, It looks like we will not be getting another dose of the MCU's big bad In this movie. Sorry kids!
2.  Guardians Vol 2 – The Soundtrack
Given the success of the first films soundtrack along with Gunn's use of the music as a plot point, it should come as no surprise that fans are looking forward to more incredible music in this installment. As of April 2017, it has sold over 1.75 million copies in the United States alone, and has been certified Platinum by the RIAA. On the Volume 2 soundtrack you can expect to hear music from ELO (Electric Light Orchestra), Fleetwood Mac, Glen Campbell, George Harrison, and Cheap Trick.
1. Baby Groot

Do I really need to say it? Fans went insane for the Dancing Baby Groot in Volume 1, did you think they were not going to capitalize on the merchandising opportunities in Volume 2?  And seriously, can you blame them. Look at that face. LOOK AT IT!!! You can expect people to go absolutely insane over a fully mobile Baby Groot. Fun Fact: Director James Gunn himself did the motion capture for the Dancing Baby Groot in the first film, showing off his moves to bring this sure to be iconic character to prominence in the MCU.
Guardians Of The Galaxy hit theaters everywhere Friday, May 5th. Will you be getting your Baby Groot on?