Let's get started on this Dance Central VR Review.
What is Dance Central VR?
Dance Central VR is a fully immersive dance rhythm VR game. Dance Central VR transports you to the world of a nightclub, introduces you to some characters, and gets you dancing with real dance moves!
Want to hit a nightclub and dance your heart out in VR? Dance Central has been around since 2010. It has a long history as one of the top full-body, rhythm dance video games. It has finally made it to the world of VR with Dance Central VR.
Who Makes Dance Central VR?


Dance Central VR is developed by Harmonix Music Systems, who like I had mentioned, have made Dance Central games for over 11 years. They have also made many other music games you likely know.. like Guitar Hero and Rock Band.
Which Headsets is Dance Central VR Available On?
Dance Central VR is available on Oculus Rift, and Oculus Quest 2.


Dance Central VR Review Gameplay
Dance Central VR is pretty different from a lot of the other VR fitness games out there. This one has a story to play through.
You are transported to a nightclub and you meet the main dancer, Audrey. This is similar to the demo version of the game. She asked you to dance and you become "virtual friends", including exchanging numbers via your cell phone. You then need to meet the other characters in the nightclub and dance with all of them pretty regularly.
Dancing in Dance Central is exactly the same as in previous Dance Central Games. The dance moves used are in fact REAL hip-hop dance moves including the proper names. (At least most of the time). If you took a hip-hop dance class in real life you would be doing many of these same moves. This means the game might be very difficult for people new to dancing or dance games.
The dancer in front of you will be doing the moves and you are expected to copy the movement they are making with your legs, arms, and hands. On the right side of the screen, the current dance step is displayed and the next move will be there as well.
Dance Central VR Tutorial
There is an extensive tutorial. It walks you through all parts of dancing, navigating, and moving your hands. In fact, it almost goes on too long, but there is a lot to go through in this game. For example, even how your hands are positioned in the game as you are dancing – fists, pointing, or open – will impact your score.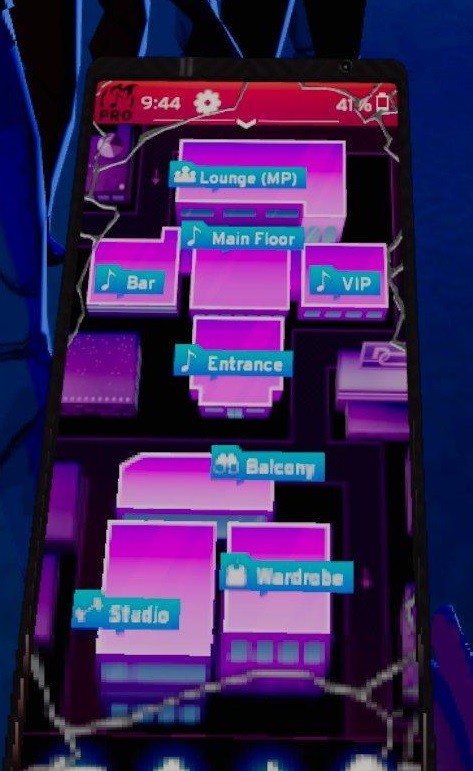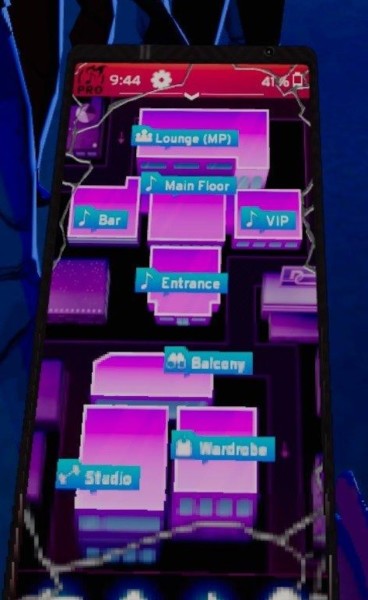 You travel around the various parts of the nightclub with a mobile phone that is by your left hip. This phone lets you get the text messages that progress the storyline and also lets you dance with the different friends and characters you meet. I have to admit this is not the best interface even though it tries. It's confusing at times and many people are not interested in a forced "campaign" mode and just want to dance and play the game.
I mostly just wanted to get to the dancing and I found that having to pull out my phone to go see another virtual friend, was just kind of a distraction. You can just ignore this part of the game if you prefer.
There is also a practice area in the Studio area that I fully recommend. This allows you to break down a part of a song you are having trouble with and do it over and over till you master it and get it perfect.
Overall, there is A LOT going on in this game. It is almost 3 gigs in size making it one of the larger VR games on the Oculus Quest. It is pretty impressive, this nightclub world Harmonix has created for you to enjoy in VR, that doesn't require a PC.
Dance Central VR Art Style
The art style in Dance Central VR is a kind of modern comic book. The people look sort of real and yet still cartoony. This isn't a bad thing, it is just a different style. The environments look spot on. You totally feel like you are IN a nightclub even if the people in the nightclub look a bit strange.
There is an avatar maker and a locker where you can unlock clothes, cell phone covers and change them on your avatar.
Dance Central VR Song List
There are 32 songs included in Dance Central VR. They are ALL going to be songs you are familiar with and know. From Kendrick Lamar to Lady Gaga, to Salt-N-Pepa, to Meghan Trainor, to Chainsmokers, to Earth, Wind, and Fire! There is a WIDE selection of different popular music built in.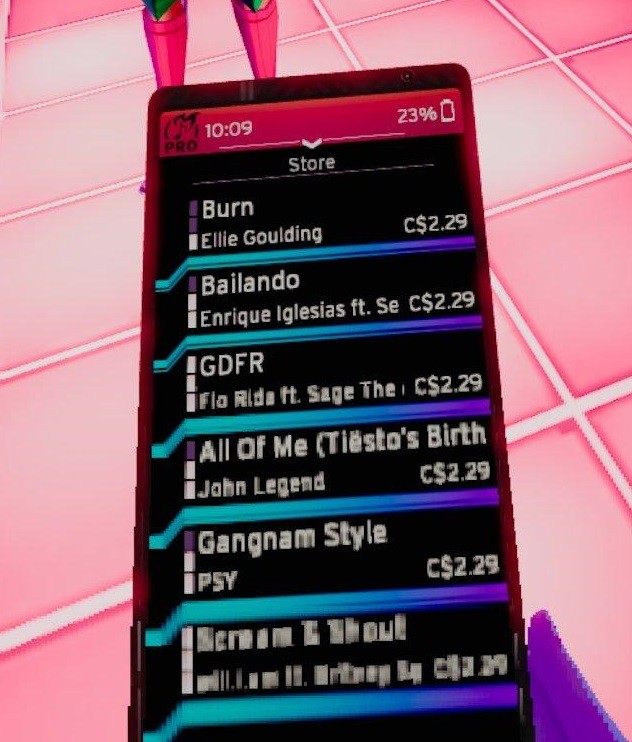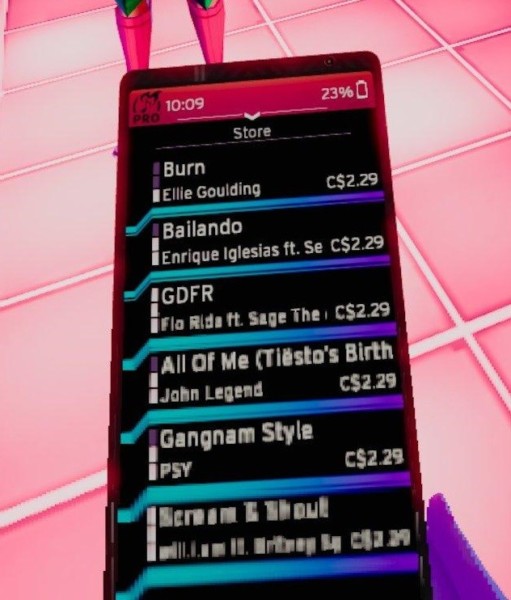 There are also several songs available for purchase DLC content. There are no custom songs on Dance Central (the ability to upload songs from the internet).
Dance Central VR Multiplayer Experience
You have the ability to send a "dance challenge" at any time to any of your Oculus friends who also have the game. You pick a song and dance to it. At the end of the dance, you will make a few funny poses as a taunt and the whole thing is sent to your friend as a challenge. They will get the challenge and then respond back. It's a fun back and forth.
There is a worldwide leader board that allows you to see what your friend's scores are too.
They have recently expanded the Dance Central VR multiplayer experience. There is now a LIVE multiplayer lobby area where you can play any number of dance mini-games or a live one-on-one challenge. You can play with your friends only or with random people. You do this by going to the Lobby(MP) area. It's a bit tricky to set up a private room. (Find the settings and then invite person appears at the bottom when your oculus friends are in the game)
It was great fun to invite some of my Oculus friends to a private area, show off our avatars, and dance together. We personally found that shutting off some of the "strike a pose" and "back and forth" dancing games which were not really that great made this area more fun. Just the straight-on dance together or dance against each other. It was a fun way to encourage each other and could definitely be part of a weekly workout group class.
There is no Party Mode or ability to pass the headset back and forth and that's a shame because previous Dance Central Games were a really fun party game. That should be taken into account as we continue this Dance Central VR review.


Can you work out with Dance Central VR? Is Dance Central VR a Fitness Game?
Dance Central is basically taking a hip-hop dance class. The moves are similar to a cardio dance routine, but it is designed for replicating REAL dance moves and is not a typical gym cardio workout.
That means it is a little less intense than some of the other VR fitness games out there, but not necessarily easier. If you have never taken a dance class before you are still doing real dance moves and that might be tricky for many.
You ARE still doing a fitness activity. You can play around with some of the settings or try out PRO mode to get a more complicated and higher workout experience.
Dance Central includes a built-in fitness tracker as part of the game. You can optionally fill this out and see how many calories you are burning in real-time.
Yur.fit rates this game as equal to doing Ellipticals or 4-6 Kcal/Min.
Does Dance Central VR cause motion sickness?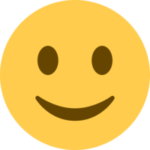 For the most part, you are standing stationary in Dance Central VR review. This means minimal chance of motion sickness.
In the multiplayer section, there is the ability to move around. You have the option to do snap turning or smooth turning. During this part with smooth turning enabled, the game makes your character do these weird kicking-out feet walk movements, and it definitely causes a few uneasy feelings. Keep snap turning on if this is you.
In the main game itself, where you are stationary and dancing, Dance Central VR should not cause any motion sickness issues.
Final Thoughts On Dance Central VR Review
**Some of these pictures appear blurry, but this is a function of the Oculus camera, the game does not have this blur.