Like clockwork, Capcom has revealed a new character for Street Fighter V at NYCC yesterday. A new background character in Street Fighter V, that is! Hey! You knew it was coming. There's NO baiting here!
After Yoshinori Ono let the crowd down for new roster changes, he reassured fans that Street Fighter 3's protagonist, Alex, will be joining the ranks of Street Fighter V in some other fashion. Pointing to the background as fans were looking onward to the Capcom Booth during his announcement. Here's another shot from the current build at NYCC. Smart thinking. Regardless, there was positive reception to his "return".
You can see Alex standing there. According to Eventhubs, the wrestler might have a bigger role in Street Fighter V that's better than just a new background character in Street Fighter V. Perhaps a non launch. Not that there's anything wrong with that. There have been great background appearances from other characters in the Street Fighter series that gave the iterations some form of continuity(Adon in Street Fighter 3: New Generation and 2nd Impact, is one of my personal favs. ). As for more footage from NYCC, Twitch and youtube has your back.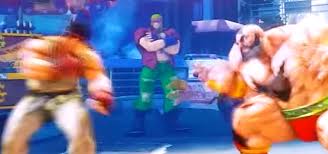 "
Two new roster reveals are due now: one old and one new. Hopefully, one might be bronze since the series seems to be pointing in that direction. Laura was recently brought out. Borrowed? Dan's not coming. I'm probably figuring that one. As for blue? Well, Geki was purple, and killed by Gen in UDON's story-telling, so I guess he's a no-show, too.